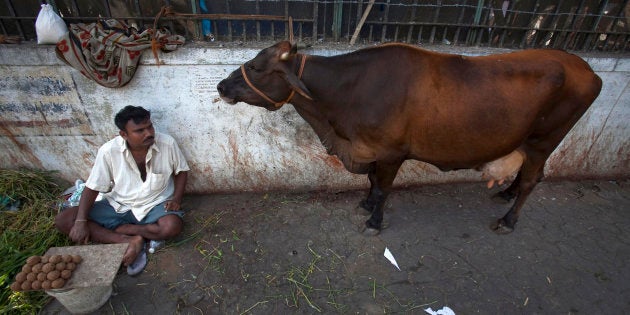 The notification of the Centre framing new rules for the Prevention of Cruelty to Animals Act on Friday, making it rather impossible to buy or sell cattle for slaughter in the country, is an indirect beef-ban that infringes upon the constitutional rights of the states as well as the citizens.
By a simple gazette publication, the government has met a long-pending ideological demand of the RSS and the BJP with little consideration of its far-reaching socio-political consequences. In the process, it has also begun the decimation of an industry that's worth about Rs 100,000 crore, besides rendering thousands of people jobless overnight.
If the states abide by this order, people in the country cannot eat beef unless they raise their own cattle or procure meat from exclusive cattle farms, that are a rarity in India. More over, people who raise cattle for agricultural and dairy purposes now have to bear the burden of taking care of them for many years after their utility is over. In the long term, the care of the cattle will cost more than what they could earn because on an average a cow lives for 20-25 years, but provides milk only for 10 years.
The only relief possible now, that too not uniformly across India, is resistance by some states asserting their rights and challenging the new rules legally because cattle-slaughter is a state subject that the Government of India is trying to contravene by using its concurrent jurisdiction on prevention of cruelty to animals. More over, a government deciding what people should or shouldn't eat is a violation of the constitutionally guaranteed fundamental right to life (Article 21). Legally, it has long been established that right to food is an integral part of right to life.
Kerala, which is one of the top consumers of beef with a very small stock of locally raised cattle and buffalo, has decided not to implement the new rules, and protestors have started organising "beef festivals" across the state. The state which consumes about 3.6 million kg beef a year, which is the highest in India as a proportion to the population, and slaughters the largest number of cattle, excluding buffalos, gets most of the animals from other states.
In fact, Kerala's beef consumption sustains part of the cattle-economy of the neighbouring Tamil Nadu. Kerala Chief Minister Pinarayi Vijayan called the new rules an attack on the essence of India while MK Stalin, the DMK leader in Tamil Nadu, demanded a repeal of what he called the "beef ban law" because it infringes on the right of citizens to make food choices.
Many other states such as West Bengal, Mizoram, Meghalaya, Nagaland, and Sikkim, where people eat beef and cow-slaughter is not illegal, also may challenge the cattle-order.
In terms of violating Article 21, the order affects the religious minorities such as Muslims and Christians the most because together they account for about 68 per cent of the people who eat beef in India, according to an analysis of the National Sample Survey Office (NSSO) data by The Hinduand India Datalabs. Hindus account for only 1.39% of the beef-eaters and the trend has been on the decline over the last decade. Clearly, it's a move that almost exclusively affects the minorities and hence has an unmissable political significance.
Among the Indian states, the worst affected will be Uttar Pradesh that consumes the highest quantity of beef, which incidentally is only buffalo meat because cow-slaughter is banned in the state. Expectably, the state also slaughters the highest number of buffalos in India - 6.2 million, according to the latest Basic Animal Husbandry Survey. With the new rules coming into play, none of them could be bought from the market. In other words, unless people violate law, it's practically impossible to slaughter them. More over, by law, all these animals need to be protected and cared for by their owners. At a minimum of Rs 3000 per animal, per month, this will be an unprecedented burden on top of massive economic losses that the slaughter-ban will cause.
It will make raising cattle unviable, and sooner than later will affect milk production as well as agriculture. Mandatory long-term maintenance of an uneconomical animal will be the biggest disincentive for cattle-owners and milf farmers. This disincentive is highly like to lead to a rmixed crop-livestock farming system, with the livestock segment supplementing farm incomes by providing employment, draught animals and manure." as noted by the 2015-16 Economic Survey.
It's not just cattle-meat based economy, state's autonomy, people's rights, food habits, nutrition, jobs and direct export earnings (of about Rs 23,000 crore) that the de facto ban will affect, but also other industries such as leather and pharmaceuticals. Leather and leather goods, that's solely dependent on cattle-slaughter, earn about US$ 5.85 billion a year and twice as much from the domestic market. India accounts for nearly 13 per cent of the global market in hides/skins and more than half of its leather industry employees are less than 35 years of age. Unremarkably, leather is a major pitch in Prime Minister Narendra Modi'sMake in India campaign. With inflexible restrictions on sourcing the fundamental raw material, this pitch is just hot air.
Above everything else, as Vijayan described, the "ban" is an "attack on our plurality". Although politically the new rules may satisfy a certain ideology and seem to affect only certain sections of people that this ideology wants to marginalise, including those who are employed in the sector, a closer look clearly shows that the new rules will have far-reaching socio-economic impact that a struggling country will be unable to cope with. Just like the baffling mid-night announcement of demonetisation, this notification also betrays an impulsive trait of a government that makes little sense.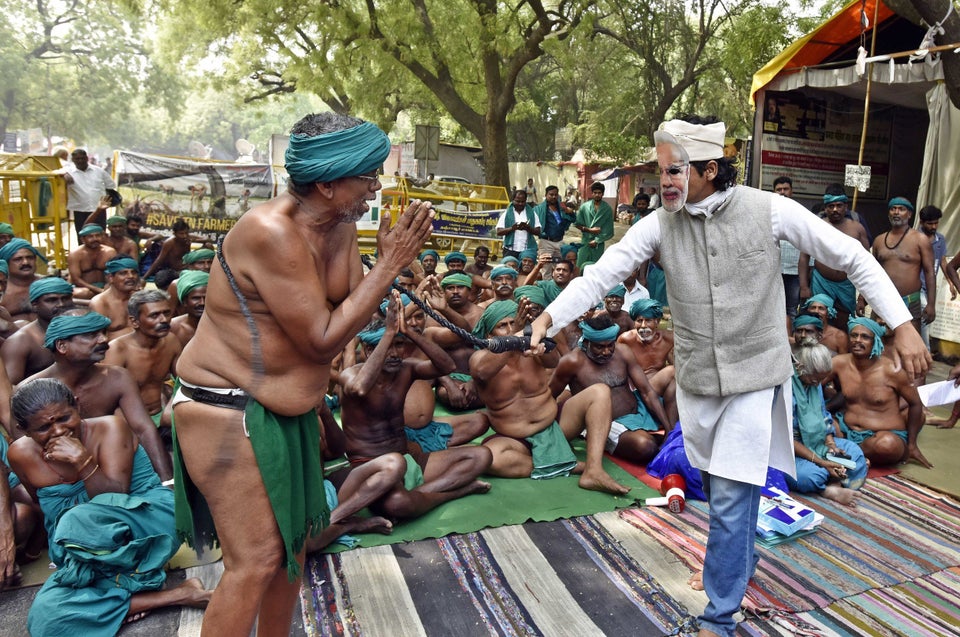 Tamil Nadu Farmers Protest In Delhi