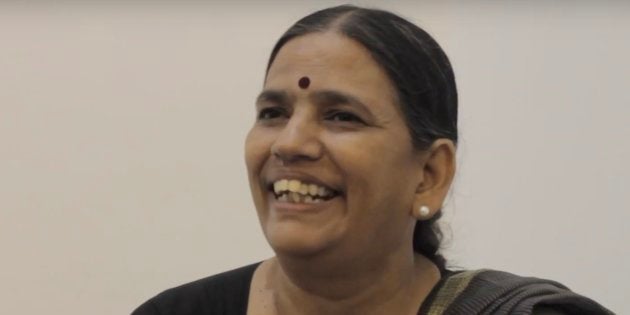 NEW DELHI— "My fight is for the loosening of chains," lawyer Sudha Bharadwaj once said in an interview with this correspondent in 2011, when asked why she represented those accused of being Maoists in Bastar, Chhattisgarh.
At the time, Bharadwaj was one of the few advocates willing to take up cases of those swept up as collateral damage in the Indian government's decades-long war against the Communist Party of India (Maoist).
Her clients included those detained in frequent village raids conducted by security forces, the families of those killed in these raids, young women brave enough to speak out when they were raped by soldiers, and workers, villagers, and local gram panchayat members who resisted the forcible takeover of village lands for the construction of roads, factories, mines, roads and infrastructure across Chhattisgarh.
Sometimes, the chains wrapped around her clients seemed impossible to break, Bharadwaj said, but it was every public-spirited lawyer's duty to at least seek to loosen them.
On Tuesday, Bharadwaj was one of at least five lawyers and activists arrested by the police under several provisions of the Unlawful Activities (Prevention) Act. The arrests came two months after a similar multi-city raid in which five lawyers and activists, including advocate Surendra Gadling, were swept up by the Pune police.
Both Gadling and Bharadwaj are members of the Indian Association of People's Lawyers (IAPL), a collective that offers legal advice to the needy.
Lawyers say the arrests are part of a country-wide crackdown by the ruling Bharatiya Janata Party (BJP) on lawyers and activists representing the country's most marginalized groups, as a way to silence the unrest simmering amongst the Dalit and Adivasi communities.
Broader pattern
"Given the profiles of those arrested, it is clear that the government is targeting those representing Dalits and Adivasis," said Arjun Sheoran, a lawyer at the Punjab and Haryana High Court. "The government is targeting the most visible and articulate ones."
Sheoran said he had observed a similar pattern in Haryana, in the case of Rajat Kalsan, a Dalit lawyer who has represented clients in over 100 cases filed under the Scheduled Castes and Tribes (Prevention of Atrocities) Act. Kalsan's cases include the infamous 2010 Mirchpur case in which a 60-year-old Dalit man and his paralysed daughter were burnt alive by Jats in Hisar, Haryana.
In September 2017, the Haryana police registered a criminal case against Kalsan for allegedly instigating a group of Dalits to file a case against the dominant castes in their village.
Kalsan was forced to go into hiding while Sheoran, his lawyer,sought anticipatory bail.
"The lower courts turned down his bail," Sheoran said. "We only got bail when we approached the high court."
The police continue to try and intimidate Kalsan before significant court hearings, Sheoran said.
Protest criminalised
"Earlier, activists fighting for human rights themselves became victims of human rights," said B. Suresh Kumar, a Hyderabad-based lawyer and IAPL member. "Now it is the turn of advocates to be arrested for defending their clients."
Kumar referred to the case of advocate Murugan, a lawyer at the Madurai High Court, who has been imprisoned in Tamil Nadu for almost 18 months.
"Murugan was defending an alleged Maoist, and has now been made an accused in the same case," Kumar said. This July, S Vanjinathan, a lawyer representing those accused of engineering a riot in the course of a protest against Sterlite Industries in Tuticorin, was arrested for allegedly participating in the protests.
"Any rights movement is being turned into a criminal movement," Kumar said. "And lawyers trying to fight the cases in court, find the same cases foisted on them."
The process is the punishment
One of the unusual things about fighting cases in Chhattisgarh, Bharadwaj once said in an interview, was that the evidence mustered by the prosecution was so poor, and the cases so ill-thought out, that there was a better chance of acquittal than elsewhere in the country.
From 2005 to 2013 — when anti-Maoist operations in Chhattisgarh were at their zenith — data collated by the Jagdalpur Legal Aid Group, a Bastar-based collective of women lawyers, revealed an astonishing 96% of cases in Chhattisgarh's Maoist-affected districts ended in acquittal, compared with a national average of 61.5%.
However, cases also dragged on for longer, and judges were loath to give bail to those accused of being Maoists. In 2013, the most recent year for which data is available, almost 70% of prisoners awaiting trial in the state's Maoist-affected districts spent more than a year in prison before they were either acquitted or granted bail, compared with a statewide average of 30%
JagLAG's analysis also revealed instances in which the police fabricated evidence, or were overzealous in charging suspects. In one case, for instance, an Adivasi was booked under the Arms Act, intended to regulate the use of firearms, for possessing kitchen knives and a large kitchen utensil.
Lawyers in the Bilaspur High Court and policemen in Raipur have often privately admitted that in cases where people were alleged to be Maoists, the judicial process was the punishment: the accused knew they would eventually be acquitted, the police knew that as well; but both sides knew that the accused would still spend months — or even years — in jail before they were released.
As a lawyer who cut her teeth in Chhattisgarh, Bharadwaj must loosen chains once more — only this time, she must do so for herself.