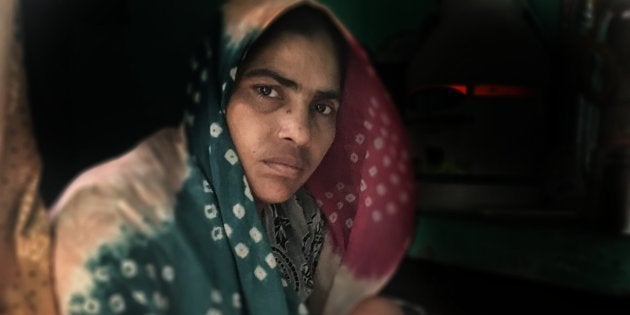 HAPUR, Uttar Pradesh — The last time that Naseem spoke to her husband, Qasim, they talked about household matters like the daily expenses, rent, and food for their children. By the end of the conversation, the small built woman, with a solemn face and wide eyes, had managed to extract 100 rupees for the day's shopping.
When Naseem saw her husband again, eight hours later on June 18, it was in a video that has since traveled from the hinterlands of Hapur in western Uttar Pradesh to the rest of the country.
The one-minute footage captures Qasim's horrific end at the hands of a mob of Hindu villagers, who accused him of trying to slaughter a cow in the fields between the Muslim-majority village of Madurpur and the Thakur-majority village of Bhajera Khurd.
Naseem saw her husband, lying in a field after he was beaten, bruised and bloodied, half-naked, and writhing in pain. The mob surrounding the dying man refused him water.
"My world came to an end. I watched him die. I have watched him die over and over again," she said.
The 35-year-old woman said, "I did not believe that some unknown men had beaten my husband to death. We have no enemies. I did not understand it. It was not until I saw the video that I believed it."
Naseem, however, would have no respite from the horror.
A day later, Naseem saw the photo that was going viral in the Muslim neighbourhood of Saddikpura in the town of Pilkhuwa, where she had lived as a child and then as a married woman: Qasim with his face to the ground, his arms and legs spreadeagled, being dragged through a field by a mob, in the presence of three policemen.
"I don't know what to say. How would you feel if this happened to your loved ones," she asked. "People say the video and photo has gone everywhere. Is the country watching? I want to ask everyone how they would feel?"
My world came to an end. I watched him die. I have watched him die over and over again.
Qasim was from the Qureshi community, traditional cattle traders and butchers. Residents of the Bhajera Khurd village said that they suspected Qasim of engaging in cow slaughter in the past and that is why his presence in the nearby fields had caused the villagers to charge out. Qasim's family members vehemently denied any allegations of cattle-smuggling. Qasim, they said, used to trade in goats and buffaloes.
"Even if they suspected something, they could have given him two dandas and handed him to the police, or they could have accused him and handed him to the police, Naseem said, as her eyes welled with tears. "Why did they have to destroy our family?
"They had already beaten him, he was dying, why did they have to drag him like an animal, like a dog or a cat, through the street?"
They had already beaten him, he was dying, why did they have to drag him like an animal.
The UP police, which has since apologised for the "insensitivity" shown by the three policemen, has claimed that there was no ambulance on site and they were trying to get Qasim to a police van in order to rush him to a hospital. The three policemen have been transferred.
"Sorry, what do you mean sorry?" Naseem asked. "If sorry was enough then my husband would have been alive today. He must have said 'sorry.' He must have said give me to the police. He must have said give me water, but they did not even give him water."
Ever since the video and photo of horrific events of June 18 have surfaced, Naseem says she is living a nightmare.
"I don't want to watch the videos, but my heart won't listen. Does the heart listen when you want to see your man?" she said. "I want to see how he was able to bear it. I want to hear his words, whom he remembered and whom he did not."
If sorry was enough then my husband would have been alive today.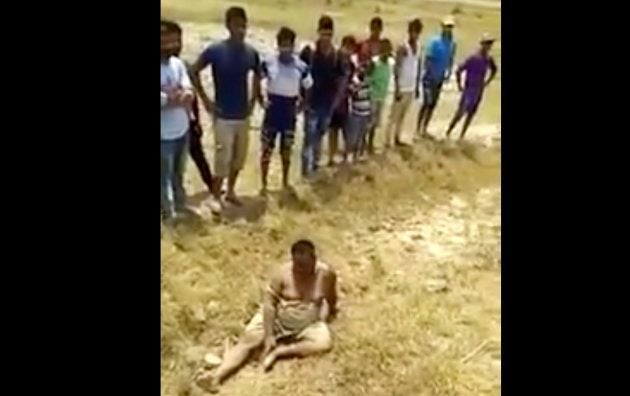 'This is happening because of Modi'
A study by IndiaSpend found that 84 percent of victims in cow-related violence since 2010 are Muslim, and 97 percent of the attacks took place are after 2014, when the Bharatiya Janta Party (BJP), led by Narendra Modi, came to power in New Delhi.
"Ever since the Modi government has come, Muslims are getting killed and the excuse given is cow slaughter," Naseem said, as her daughter worriedly asked her to not speak of matters other than Qasim's death. "This is happening because of Modi. Modi has failed to restrain his Hindus. Muslims are getting killed and it makes no difference."
Naseem said that cattle trade had been going on forever between Hindus and Muslims, but her community had never before feared for their lives.
"Why is Modi letting this happen? These killings are not about saving cows. They are attacking our livelihood. They want to see us poor and suffering. They want to make sure that we cannot even light the chullahs in our homes," she said.
This is happening because of Modi. Modi has failed to restrain his Hindus. Muslims are getting killed and it makes no difference.
UP police takes a U-Turn
As news of the horrific lynching triggered public outrage, the UP police insisted that it was a case of "road rage." The FIR registered by the police makes no mention of murder instigated by rumours of cow slaughter.
But on Saturday, Superintendent of Police (SP) for Hapur, Sankalp Sharma, told HuffPost India that the "reason" for the Qasim's alleged murder was "inconclusive."
The videos of the attack on Qasim and Samiuddin, a Muslim man from Madarpur village, who, some believe tried to intervene, are now being treated as key pieces of evidence in the investigation.
"We are open to all versions," said Sharma.
In the first video, which shows Qasim lying bruised and bloodied in a field, persons in the mob can be heard making specific references to cow slaughter. One man says, "You have beaten him, enough is enough, understand that there are consequences."
Another man is heard saying, "Had we not reached in two minutes, he would have slaughtered the cow." Someone says, "Why was he trying to slaughter a calf?"
A second video, which went viral on Saturday morning, further discredited the UP police's stand.
The second video shows some men hitting and hurling abuses at Samiuddin, even as the elderly man is bleeding and finding it hard to stand. While someone tugs at Samiuddin's white beard, the mob tries to force a confession of cow slaughter from him.
Samiuddin, who survived the assault, was admitted to the Intensive Care Unit (ICU) of a private hospital in Hapur.
Two persons from Bhajera Khurd, Rakesh Sisodia and Yudhishtir Singh, have been arrested in connection with the murder of Qasim. The police is looking for another 20-25 persons in connection with the violence.
Sharma said that the police found no cows, no equipment for cow slaughter and no meat at the scene of the crime. "We only found the victims," he said.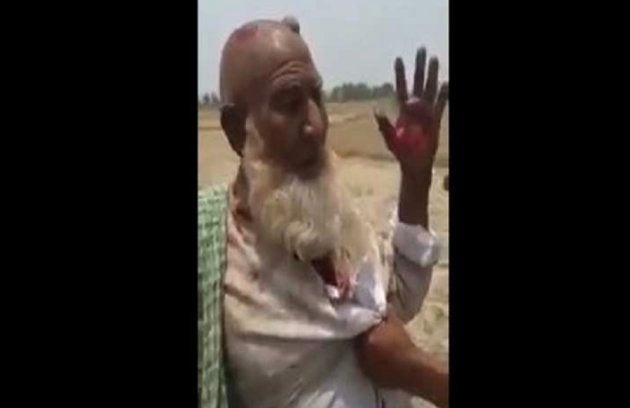 A sense of despair
Naseem never went to school while growing up in Saddikpura. She was married of at the age of 12 to Qasim, who, she says, was at least 15 years older to her.
Of the seven children they had together, with the exception of one boy, the couple did not send any of them to school. Naseem said that her husband's daily earnings ranged from ₹200 to ₹500 a day, and with rent of ₹1,500 a month, they never had the money for anything other than making ends meet. "We don't even have TV. We cannot afford a single luxury," she said.
Her neighbours, gathered at her modest home, recalled the lynching of Mohammad Ikhlaq in Dadri and spoke of another attack on a cattle trader in the town of Daasna.
"We never feel safe. We feel suffocated," said Naseem.
Another woman in room said, "If the Hindus hate us so much then why do they sell cattle to Muslims?"
A burqa-clad woman in the room, said, "For what is being done to us Muslims, we have shown a lot of patience."
Another woman said, "They think they have done this great thing by killing Qasim but Allah will show no mercy."
An elderly woman, who was visiting from Madarpur village, added, "We are trapped. We know the government does not care for Muslims, but we also need help from the government, at this point. They need to catch the culprits, they need to make sure that Naseem gets some kind of compensation to raise the younger children."
Despite the news of the lynchings that she had heard about, Naseem had never asked her husband to give up trading in animals. "We are afraid, but what can we do? We cannot stop living," she said.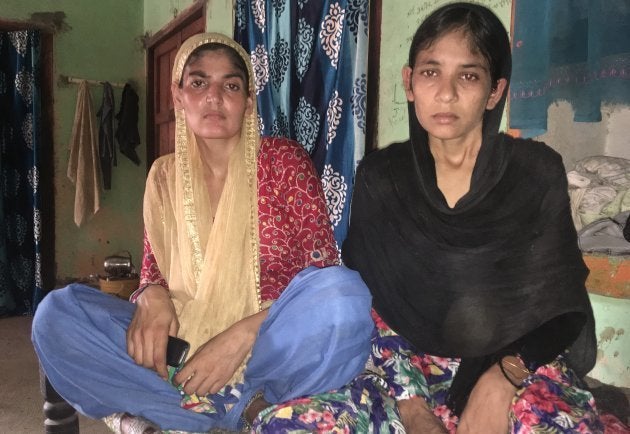 Pulling an old man's beard
In Madarpur village, two sisters, Shaida and Zaida, had spent the morning mentally processing the images of a mob beating and abusing their elderly father, Samiuddin.
"Everything" about the video was horrifying, the sisters said, but the image of someone pulling at their father's beard shattered them.
"It is Allah ka noor, it is a mark of respect for our elders. If it happened in front of me then I would have taken the life of those men with my own hands. I don't care what happened to me later," said Zaida.
Neither Shaida, 20, nor Zaida, 17, read or write. They know of the events of June 18 from the two videos and from their families and other villagers.
They do not believe that Samiuddin, a farmer, who grows wheat in his field, could have been part of a scheme to slaughter cows.
"He is so old. He would not even have the strength to lift anything big enough to kill a cow," said Shaida.
Echoing Naseem's sentiment, she said, "Even if he was planning to do something wrong, they could have reported him to the police. People can't just beat others to death."
If it happened in front of me then I would have taken the life of those men with my own hands.
Is the UP Police lying?
There is one thing that the families of the victims and of the accused have in common. Neither side trusts the UP police to carry out the investigation.
The FIR filed by the police says that Qasim and Samiuddin were hit by a motorcycle near Bhajera Khurd village and they were beaten by unknown persons in the scuffle that followed.
Sharma, the SP of Hapur, said that it was not the UP police that had insisted on making the case about road rage. The FIR, he noted, was registered on the basis of the complaint filed by Yasin, Samiuddin's brother.
Speaking at a press conference in Delhi on Friday, Mehruddin, another brother of Samiuddin, said that the police had directed Yasin on how to write the complaint. "We said that we wanted justice, and the police reassured us that this would happen, and so my brother signed," he said.
The family of Rakesh Sisodia, who has been arrested in connection with the violence, are equally disenchanted with the police. Uday Sisodia said that his brother, Rakesh, had repeatedly phoned the police, asking them to reach the village before the situation turned violent.
The police, according to Uday and other villagers of Bhajera Khurd, arrived almost an hour after the trouble started. "We want the police to release my brother's phone records. It will prove that he was trying to call them and they arrived late," he said.
It will prove that he was trying to call them and they arrived late.
Accusing the police of a cover up, the villagers of Bhajera Khurd said the police had recovered a cow and calf from the scene of the crime, and left them with two villagers for safekeeping.
Sharma says no cows were found in the field.
HuffPost spoke with the villagers, a father and son, who, on the condition of anonymity, said that they had kept the animals with them on the intervening night of June 18 and 19.
The father said, "Three policemen came at about five in the evening and asked us to keep the cows. They came with a vehicle at about five the next morning and took them away."
Pointing to the defunct Muslim graveyard in the village, he said, "I tied the cows with my own hands right over there. They told us to never talk about this with anyone or else."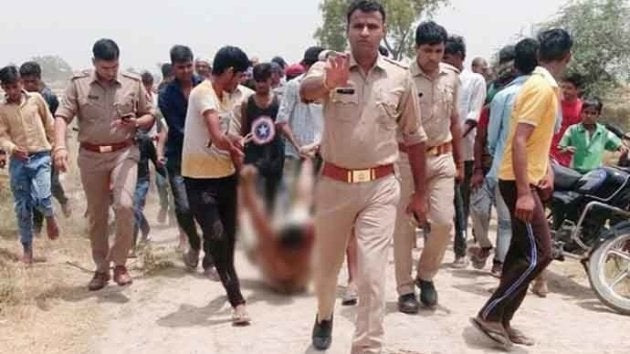 Where is the justice?
While Naseem is observing Iddat, a four-month period of confinement following the death of a husband, she intends to keep track of the developments in Qasim's case. "I want to stay informed about everything that is going on," she said.
When Asif, her 17-year-old son, died in an accidental drowning two years ago, Naseem was heartbroken. But the sorrow of her husband's death, she said, is slowly turning to rage.
"I want the culprits hanged. I want justice. I will keep pushing for it," she said. "If I don't get it, I will raise hell."
Although the police was forced to say "sorry" after the photo of Qasim being dragged by a mob in the presence of the police went viral, his family said that no one had come to make a personal apology to them.
"If the police officers were dragged like this, how would they feel? How would they feel if their children were orphaned. What should be done with the police officers? Where is the justice?" Naseem said.
"I want Modi to say that this will never happen to any Muslim again," she said.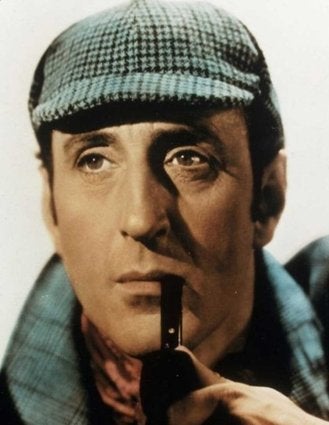 The Best Sherlock Holmes Of All Time