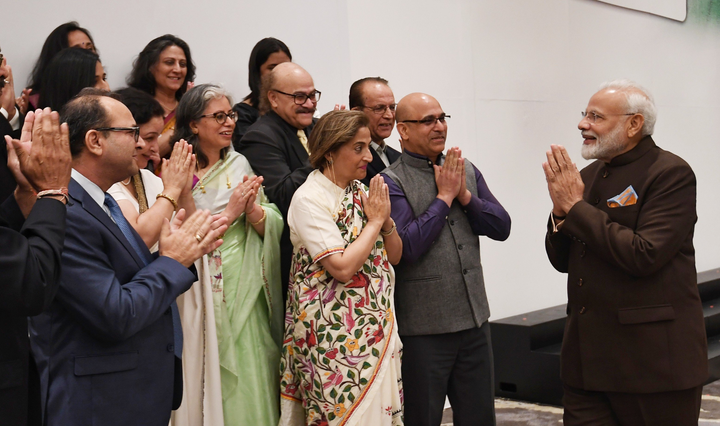 Prime Minister Narendra Modi claimed that "winds of change" were blowing in Kashmir as he met with a 17-member delegation of Kashmiri Pandits in Houston and promised them a new Kashmir.
This comes even as it is close to two months since the Valley has been under lockdown, political leaders of the state are under house arrest and Kashmiri news from Kashmir continues to be muzzled.
"Kashmir mein naee hava bah rahee hai (New winds are blowing in Kashmir) and we will all build a new Kashmir together that will be for everyone," Modi told the delegation even as Kashmiris continue to be calculatedly kept out of the narrative of the state being portrayed by the government.
After the meeting Modi tweeted :
PTI reported that the Kashmiri Pandit diaspora has supported the Modi government and have hoped that they can return to their homeland.
"Modi Ji brought smiles to the faces of our Kashmiri Pandit delegation, by promising a new Kashmir that we will build together, for everyone," Rajiv Pandit, who was part of the delegation, told PTI.
He recited a religious verse (shlok) for Modi and the Indian leader joined him by reciting its last line.
Surinder Kaul, who led the delegation, told PTI, "the Prime Minister told us you have suffered a lot and together we have to build a new Kashmir."
Lalit Kaul, from Boston, said, "It was gracious of Prime Minister Modi to meet us and acknowledge that our community has suffered a lot! His assurance that he is on the job and things will improve gave all of us a renewed hope."
Another Kashmiri Pandit delegate from New Jersey, Rakesh Kaul said that meeting Modi during was important to give him (Modi) unequivocal support at the global level for revoking Article 370 and request him to initiate steps which will address the ethnic cleansing of Kashmiri Pandits.
"We need restorative justice and a homeland that we can live in with safety, sustainability and without fear," he said.
Subhash Razdan, who came from Atlanta, said that he wanted to meet Modi because he has rekindled the hope for Kashmiri Pandits for a future possible return back to the homeland.
""We don't care even if they put gold on the streets of Kashmir... we want Azadi"."
"If he took the challenge for the sake of unity, the least we can do is to reinforce his mission Kashmir," he said.
However, reports from Kashmir paint quite a different picture. Huffpost India had earlier reported that Kashmiris are pushing back against the Modi government's narrative that everything was absolutely normal in Kashmir.
Hayat Ahmed Butt, the Srinagar district president of the Jammu and Kashmir Muslim League, said, "The Indian government is talking about development, but we don't care even if they put gold on the streets of Kashmir," he said. "We want azadi."
"It's not just the men, but women, children and the elderly are coming out and marching in the protests," Butt said.
Popular in the Community