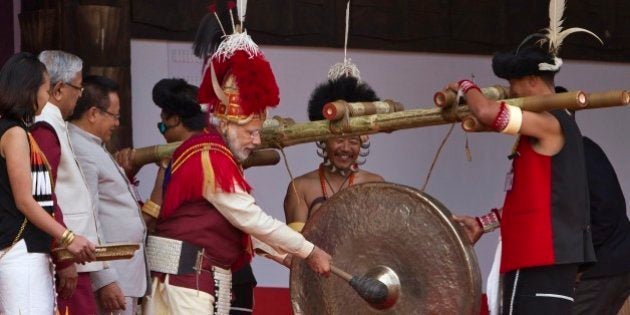 The Narendra Modi government today signed a historic peace accord with the National Socialist Council of Nagaland (NSCN)'s Isak-Muivah faction, after six decades of conflict.
"The Nagaland political issue had lingered for six decades, taking a huge toll on generations of our people. It has taken so long to resolve because we did not understand each other," Modi said.
He blamed former British rulers for spreading misinformation among Nagas and Indians to ensure they kept fighting. "This is a legacy of colonial rule. It is a tragedy of independent India that we lived with that legacy," Modi said. He added that "this deal is the way forward, and would serve as a pathway to resolve other insurgencies in India."
"I thank god for this momentous occasion," said Thuingaleng Muivah, who co-founded the organization with Isak Chishi Swu and S.S. Khaplang in 1980. The group had the sole aim of establishing an independent 'Nagalim' state that would unify all areas inhabited by Nagas in northeast India and Burma.
In 1988, Khaplang split to form his own faction, NSCN (K), which fought pitched battles with the other faction and with the Indian armed forces. It is still opposed to a peace deal with India, and was blamed for the deadly attack on June 4th, where 18 soldiers were killed, prompting the army to pursue them across the border.
Isak Chishi Swu was not present on the occasion because he is unwell. Modi wished him "a speedy recovery." Home minister Rajnath Singh, defence minister Manohar Parrikar and national security advisor Ajit Doval were present at the event.
The peace deal is a culmination of over 80 rounds of talks between the government and NSCN (IM), which had been banned and labelled as a terrorist organisation following its formation. The organisation has about 4,500 cadres, and controls large areas in the state.