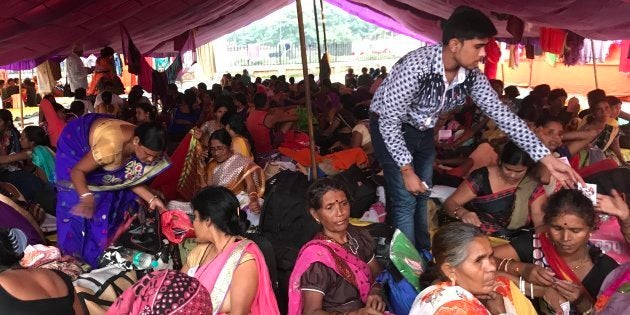 NEW DELHI — On 11 September, Prime Minister Narendra Modi announced a hike in the remuneration of Anganwadi and ASHA workers by over 50%. The move, which will come into effect from October, has been hailed as a "Diwali gift" for the lakhs of women who work to provide basic healthcare and nutrition in under-served areas.
While India still accounts for over 50% of the world's undernourished children, both infant and maternal mortality rates have improved in the last decade. However, both ASHA and Anganwadi workers, who are directly responsible for delivering services on the ground, say they are not happy with the proposed hike.
After it takes effect, Anganwadi workers who get an honorarium of Rs 3,000 will receive Rs 4,500 and those who used to get Rs 2,250 will get Rs 3,500. The honorarium of Anganwadi helpers will also be hiked from Rs 1,500 to Rs 2,250 and incentives will be doubled for ASHA workers.
"We were very hopeful that whenever we would be given the next hike, it would be significantly higher than what we get now. We are not satisfied with this announcement," said a 40-year-old Anganwadi worker from Burari, Delhi, who has been doing this job for 11 years. She did not want her name to be used.
A Full Plate
ASHA and Anganwadi workers are frontline health workers who work under the central schemes of National Health Mission (NHM) and ICDS (Integrated Child Development Services), respectively, to help children and pregnant women in rural and suburban areas access basic healthcare and nutrition.
Apart from providing pre-school education to children aged less than six years, Anganwadi workers and helpers also conduct regular surveys and provide information on health, education, child growth and family planning in the communities where they work.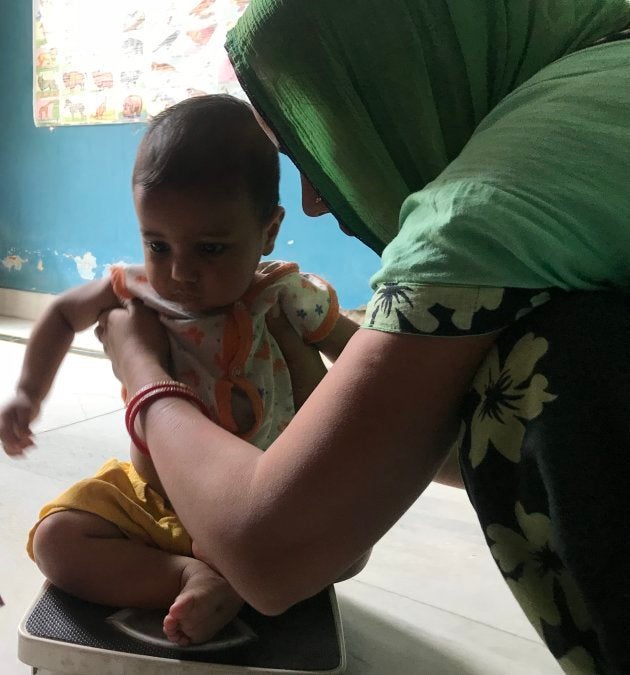 While many Anganwadi workers complain that they often have to put in more than eight hours of work, ASHA workers have no fixed working hours. Tasked with monitoring women throughout their pregnancies, they can receive a call for help at any time of the day. In addition, ASHA workers have to ensure immunisation of all children in their areas, give basic information regarding health and sanitation, provide medical help for basic injuries and assist the elderly.
On top of these duties, both Anganwadi and ASHA workers have to maintain daily records which are regularly checked by their supervisors. They are also asked to perform extra tasks such as BLO (booth-level officer) duties and surveys for which they do not receive much compensation.
"We try to give our best to our work. But how can we focus properly on it when we are ourselves under great financial duress? How do we provide our family with proper nutrition and education?," asked another Anganwadi worker from Delhi who also did not want to disclose her name. "We are doing such important work for the country. We are helping ensure that the coming generations are healthy and safe, still we are given less wages than what even a daily wage labourer gets."
We are helping ensure that the coming generations are healthy and safe, still we are given less wages than what even a daily wage labourer gets
Most of the women HuffPost India spoke to for this article did not want their real names to be used for fear of retribution from their supervisors and project officers.
Is The Hike Enough?
At the Kisan-Mazdoor Sangharsh rally held in Delhi on 5 September, ASHA and Anganwadi workers raised two important demands—a minimum monthly wage of Rs 18,000 and to be recognised as government employees. Both these demands were not addressed by the prime minister's "gift".
"We do not want this charity. We want what is rightfully ours. We put in our heart and soul in our work. So many Anganwadi workers in Delhi are even given additional charge of two or three Anganwadi centres. We want to be permanent employees who are treated with respect," said 37-year-old Poonam Rani, an Anganwadi worker from Mehrauli, Delhi.
Modi's announcement also does not address the extra expenses borne by the workers themselves and the delay in receiving honorariums. Many workers complain that they pay money every month out of their own pockets to buy stationery and toys for children. "For Poshan Maah (nutrition month), to mark which Modi made this announcement, we spend from whatever little we get to make nutrition charts and banners," Rani adds.
In Delhi, Anganwadi workers are paid Rs 9,678 every month and helpers receive half that amount. The current honorarium for workers across states varies between Rs 5,000 and Rs 11,500 per month.
For ASHA workers, who are not even entitled to a monthly wage and are paid 'incentives', or protsaahan raashi, as Modi called it, the situation is even more difficult. Whatever basic incentives they do get are also subject to deductions if they are not able to score points defined for them as 'core activities'. Currently, the amount for these activities varies between Rs 500 and Rs 1,500 in different states. Apart from this, the workers are paid additional incentives of a few hundred rupees for each child delivery they assist in.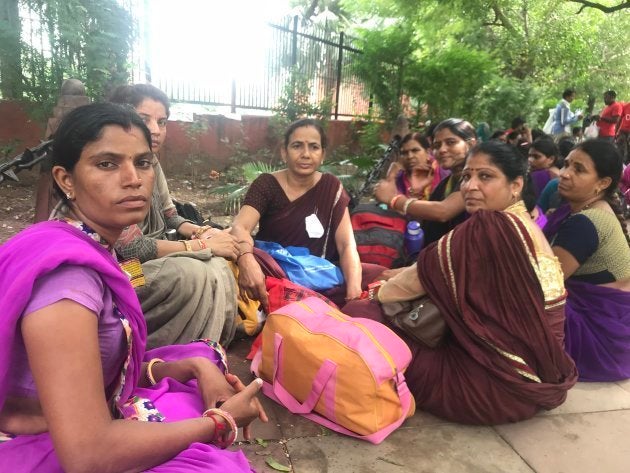 "We get just Rs 50 for getting a pregnant woman registered in a government hospital and Rs 100 on helping them complete their visits to the hospital for all 9 months. For assisting in the delivery, we get Rs 200. In case the pregnant woman goes out of the village for delivery, our money gets deducted," said a 45-year-old ASHA worker from Delhi.
She has another fear as well.
"I do not feel very hopeful about this hike. They should give something to us in writing," she added.
In July, the Haryana government had announced a "substantial increase" in the incentives for ASHA workers. But Sandeep Kaur, an ASHA worker from Mewat, Haryana, told HuffPost India that she and others like her have not received any additional amount so far.
In response to HuffPost India's question regarding the low incentives, a Ministry of Health and Family Welfare (MoHFW) official said in an emailed response that "the range of incentive related tasks for ASHAs goes beyond pregnancy and newborns" and that, according to the PM's announcement, workers would be given more incentives for additional visits to children up to 15 months of age.
Queries emailed to the Ministry of Women and Child Development had not received a response at the time of publication.
Apart from the hike, Modi had also announced that ASHA workers would be covered under the Pradhan Mantri Jeevan Jyoti Bima Yojana, a government-backed life insurance policy, and Pradhan Mantri Suraksha Bima Yojana, a government-backed accident insurance scheme, without paying any premium. Workers, however, are not sure whether this will get implemented.
"It is not the first time we have been told that we will get insurance. Besides, if they really were doing this with good intent, they should have offered us health insurance too," said the 45-year-old ASHA worker cited earlier.
The website of the Ministry of Women and Child Development mentions insurance coverage for Anganwadi workers and helpers, but the women HuffPost India spoke to said they have no information about this.
Anganwadi and ASHA workers also said that they don't have benefits like provident fund, ESI (Employees' State Insurance) card or pension.
'A Slap In The Face'
According to Shweta Raj, president of the Delhi ASHA Kaamgar Union, which is associated with the All India Central Council of Trade Unions, the treatment of scheme workers reflects the general attitude in India towards working women.
"In our country, women, especially those who work in factories, anyway get paid less than men for the same amount of work. And Anganwadi and ASHA workers are not even called 'workers'. Their work is seen as seva or social work. We demand that their work should be seen as any other regular job and they should be paid according to payscales that apply to all the other government employees."
Shivani Kaul, president of the Delhi State Anganwadi Workers and Helpers' Union, said that the announcement was a "slap in the face for all the scheme workers who put in so much work for the government".
"These workers need to be given regular employment and a minimum wage and we will support only that party which ensures this to us in writing in the next election," she added.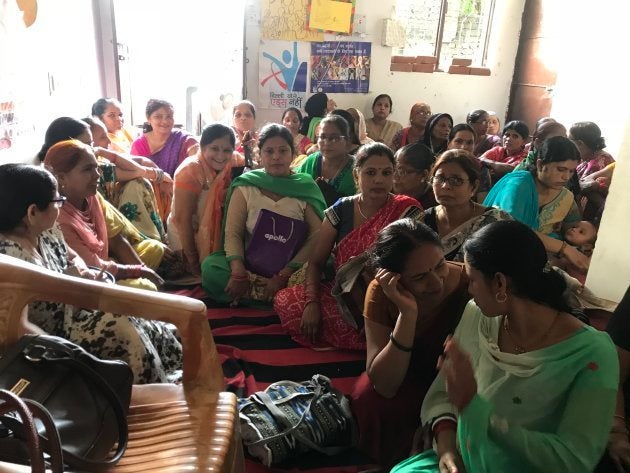 Responding to HuffPost India's questions about the demands of ASHA workers for minimum wage and being recognized as government employees, the MoHFW passed the buck to state governments, saying that "public health being a state subject, making ASHAs government employees could not be considered by any of the central governments". It also said that the work of ASHAs could not be linked to wage employment since they were not regular full-time employees. The ministry also re-emphasised that "ASHAs are honorary, community based volunteers and are not workers".
The conditions in which these women work was perhaps aptly described by Telangana Chief Minister K Chandrasekhar Rao who, while announcing a hike for ASHA workers last year, said they were treated like "bonded labourers".
For now, both workers and union leaders say they will wait for a month to see whether what was promised will be implemented or not.
Manira Chaudhary is an independent multimedia journalist working in New Delhi. She tweets at @ManiraChaudhary.
Popular in the Community