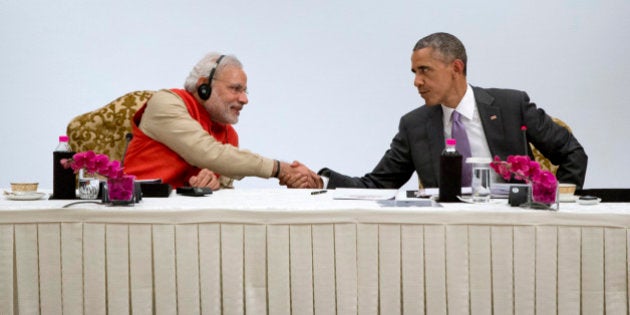 NEW DELHI—Prime Minister Narendra Modi has clearly come a long way - literally.
On Thursday, he arrived in New York City for a three-day-visit to attend the U.N. General Assembly and a series of bilateral engagements on its margins.
This would not have been possible till May, last year, when the United States lifted a decade-long visa ban on him after the 2002 Gujarat riots. U.S. officials denied Modi a visa just as he was preparing to travel to New York to address Indian-Americans at a rally scheduled in Madison Square Garden in 2005.
This is Modi's second visit to the U.S. as Prime Minister. But, the world has not stopped talking about how Modi was denied visa from the world's most powerful country for 10 years.
Noted economist Jagdish Bhagwati, in an interview to NDTV, said that the visa was denied to Modi on the request of the UPA government.
"Everybody knows this in India. The visa was denied to him at the request of the UPA government. And, Modi is an informed and practical person. He knew it too," Bhagwati said.
Bhagwati is of the opinion that filing a "mild complaint" by the Manmohan Singh government on the Modi visa issue was not enough.
"The fact that they did not take a tit-for-tat approach means that they were not serious. The Americans were simply obliging," he told NDTV.
Speaking about Modi visit to the US, last year, Bhagwati said that the Americans "thought the Prime Minister was dealing with the hangover from the fact that he was denied a visa."
"But, Modi didn't come across as someone who held on to old memories and grudges," he said.
In 2005, the U.S. State Department invoked a little-known U.S. law passed in 1998 that makes foreign officials responsible for "severe violations of religious freedom" ineligible for visas. Modi was the only Indian ever denied a visa to the U.S. under this provision.
In the interview with NDTV, Bhagwati gave 7 on 10 to Modi's performance so far as "professors don't give 10 on 10 to anyone." He said that Modi had done well on social issues but he "has gone too slow on trade and foreign investment."