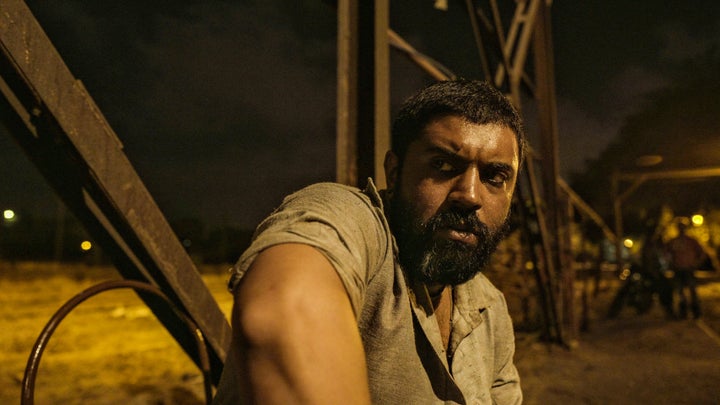 Moothon begins at Lakshadweep, with a long aerial shot of the beach, caressing the sea. It's where Mulla lives—a teenager in loose shorts and shirts, with a perpetually sun-burnt skin and enticing dimples, though he rarely smiles. At school, he gets bullied, at home his uncle is quite strict and only his two friends bring some relief. As he sits on the beach, staring at the wide expanse of blue ocean, Mulla keeps thinking about his Moothon, his elder brother, who left them when he was very young. Moothon, the second directorial of Geetu Mohandas, begins from here—the little brother's search for his elder brother.
Oddly, it's when his search ends in the grimy, seedy underbelly of Mumbai that Moothon seems to lose track, drifting into a generic narrative of Mumbai slums, small-time dons, the dirty lanes of Kamathipura, the madams, the dingy dance bars, the hijra community, the drugs and the child-trafficking. The camera leaves nothing to the imagination, as it conscientiously absorbs the ugly—the dirt, poverty and the abject misery that permeates the streets. Mulla typically ends in a shabby hostel for destitute children, where he narrowly escapes a molestation attempt. An inmate introduces him to his mother, Rosie, whom he says is "Kamathipura Ki Katrina Kaif". And Rosie (Sobhita Dhulipala) isn't the most original of characters—she is the quintessential Bollywood trope at Kamathipura; spirited and street-smart. Similarly, Bhai's helper, the scrawny Salim, is also a very under-written character. There are interesting turns that aren't quite developed. When Akbar (Nivin Pauly) approaches a transgender to take care of his sibling, he quickly shuts the door, wipes the lipstick, bindi and the wig, removes the sari, slips into a t-shirt and jeans and gently smiles at the mirror, leaving hints that Akbar broke their romance. There is an ambiguous scene between Akbar and a woman (which we are assuming is Ameena) at a dance bar.
Even the leading man, Akbar, isn't free of such obscurities. He saunters into the frame, the camera shows his broad shoulders as he picks Mulla from the lane. Akbar looks formidable—there is a visible scar on his forehead, eyes are lined with kajal and he is quite heavily built, with long-sleeved loose kurtas clinging to his body. While we get his solid backstory, his present sounds vague as we fall back on assumptions. Morsels of his "toughness" are thrown by scruffy boys in the streets, Rosie and his associates, but all we get is a strange, unsmiling dour don who's doped, wears beauty masks and talks about trafficking boys. Akbar never grows beyond that.
What retrieves Moothon from drifting into a middling narrative has to be Akbar's stunning flashback. His romance with Aamir, the beautiful mute young man, who can't keep his eyes off Akbar as he is slashing his body with a knife and flagging himself as part of a Muslim ritual (Kuthu Ratheeb). As Akbar rises from the sea, washing the turmeric off his body on a moonlit night, Aamir unblinkingly watches him from the shore. Mohandas handles their romance with sensitivity, gently giving them space to fall in love and savour it. There is a beautiful moment in the sea, as they stand submerged in water, their eyes transfixed into each other. That's when Akbar begins to respond to him. The actors are spot on here—both Nivin Pauly and Roshan Mathew are sublime, letting their eyes do the talking. I don't remember the last time Indian cinema showed gay romance with such compassion, finesse and naturality.
While Nivin Pauly easily slides into the other part of the dual character—the soft, religious Lakshadweep boy, he is surprisingly convincing as the Don, though he is let down by writing. Especially the scenes where he straddles between Don and the brother.
Moothon falters mainly in the Mumbai portions, making it at times unnecessarily dark and messy, and more so when we aren't participating in the conflict between the siblings or their surroundings as intended. Let's say, just for the Aamir-Akbar love story, Moothon deserves a watch. Rest are all forgiven.