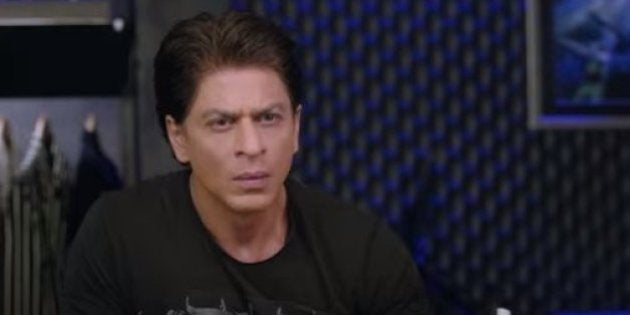 Did you know how awesome, cool, funny, humble, kind, considerate, thoughtful, brave, rational, secure, fit and hot superstar Shah Rukh Khan really is? No no, don't start googling that Discovery Channel documentary he was in. Watch Maneesh Sharma's Fan instead. It's infinitely more action-packed and is meant to serve the same purpose as a non-fictional documentary which has run through the star's zillion publicist filters.
If you're a Shah Rukh Khan fan like me, you probably live in mortal fear of the world coming to know that you actually laughed through parts of Dilwale. Or have nightmares of losing jobs, BFFs and serial Facebook liker buddies for having watched Om Shanti Om more than a socially-approved number of one, self loathing-inducing, time. In Fan lay your, and your favourite star's redemption. Because how much longer can you hope to win arguments by saying, 'but he did Chak De India too, naa' at parties? You're more likely to bag a promotion by showing your certificate from a sit-and-draw competition from 20 years back.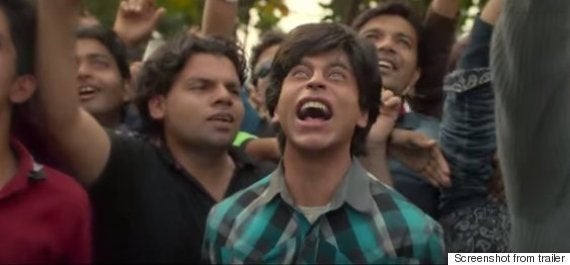 Then the Fan trailer turns out to be a hoax as big as ready-to-cook biryani. It is perhaps the only film in recent times in which you mind Shah Rukh Khan playing Shah Rukh Khan, so much. Fan reveals Khan's unwillingness to be vulnerable, his refusal to offer the cult of his stardom up for critical assessment. The film reveals his nearly petulant insistence on being 'perfect' - morally unwavering, politically correct and more emotionally reliable than anyone else around him.
In Fan, Maneesh Sharma insists Shah Rukh Khan, the person behind the star, is exactly like you see them in the movies and builds a series of characters and sequences to establish that. Including, the fan, played by Shah Rukh Khan himself. Shah Rukh Khan the fan exists in the film to make Shah Rukh Khan the star look like god's gift to humanity.
If you have watched the trailer, you know Fan is about a starry eyed fan turning into a stalker-like sociopath after his screen-god fails to notice him. What happens next in the film, as our entertainment editor Suprateek Chatterjee observes in his review, will not blow your mind.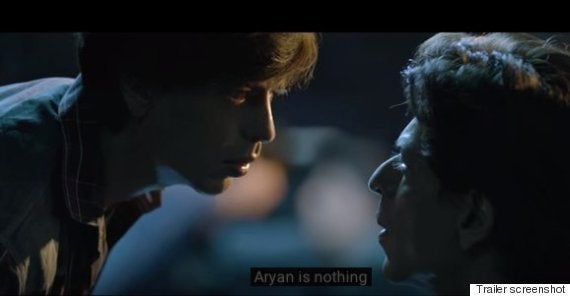 What will, however, is the realisation that how the film is an unapologetic ego-bolstering exercise for Shah Rukh Khan. While the fan's character in Fan oscillates between grey and dark, the star is a steadfastly white. The quintessential nice guy. The kind that passes off as 'nice' for male leads in Bollywood films - peppered with a generous amount of arrogance and cockiness.
Sharma builds a series of circumstances which will make you unequivocally sympathise with and marvel at Shah Rukh Khan the 'star'. The director, for even a moment, doesn't let you forget that Fan's Aryan Khanna is actually Shah Rukh Khan. From montages of Shah Rukh Khan films to Khan's signature poses and endorsements, Khanna is absolutely, completely Khan.
The first trope in this grand PR exercise is Shah Rukh Khan, the fan. Now who call sell Khan better than Khan himself? So Khan, the fan, is this pitiable, foolish, and later on psychotic creature that Khan, the star tries to admonish, civilise and save, but tragically fails. Noble and compassionate, check.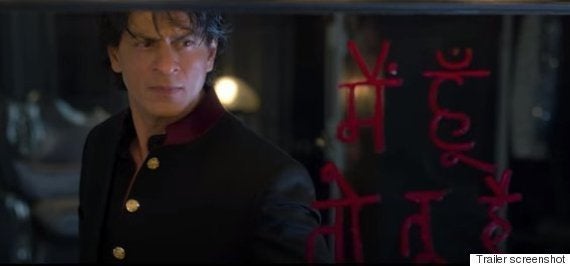 The second are the parents of the fan, named Gaurav Channa. In one sequence towards the climax, when Aryan Khanna arrives to the parent's house, Channa's father complains that his son has gone askance after meeting the star. What could be a rare moment of conflict for a star, is turned into another blatant PR sequence. Immediately, Channa's mother croons that instead of letting their son get carried away by the glitter of films, they should have instead told him about the star's hard work. Hard working, check.
Khanna's competitor is a young, pompous Sid Kapoor. He is a manipulative, arrogant prick. Khanna bashes him up and makes headlines. The film also tells you, that's because Kapoor misbehaved with Khanna's wife. Khanna is unfazed by the bad press. Self-assured and chivalrous, check.
Then there's a rich, vain industrialist whose daughter's wedding Khan is supposed to perform at. The man ticks off Khan about how much money he has spent on him. Khan, oops, Khanna, smiles through the conceited tirade. Self deprecating, polite and humble, check.
And finally, guess who tracks down and saves the world from the said fan-turned-Ram Gopal Verma movie idea? Not the police, of course. Courageous and super smart, expert at trapeze, martial arts and high speed biking, check.
We've liked Shah Rukh Khan film after film doing the same let-the-fallen-rise pose. We've liked Khan despite him not as much leaning out of his comfort zone. In one sequence of the film, Channa is seen muttering, "So many came and went, but look at him, he hasn't budged from his position for 20 years." That's perhaps true for Shah Rukh Khan. But did he have to wave his achievement at us like that through a film? Not really.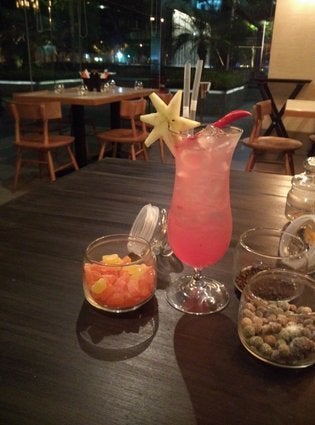 12 Summer Cocktails With An Indian Twist From Mixologists Across India