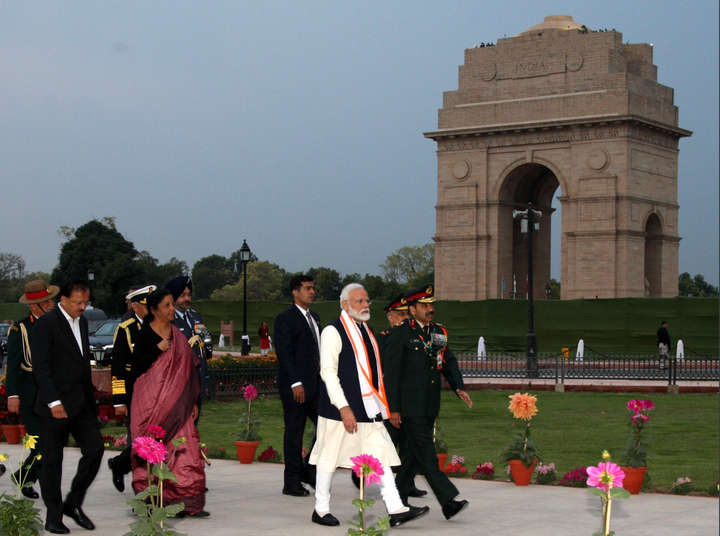 Prime Minister Narendra Modi was hailed by many for taking the initiative to make a war memorial for Indian soldiers slain in wars post-Independence. However, his markedly political speech, targetting the Congress, has irked many including former service personnel.
While inaugurating the National War Memorial in New Delhi, the prime minister lashed out at the Congress saying, "From Bofors to AgustaWestland chopper deal, all the investigations are pointing to one family and it says a lot. Now these people are making all efforts to make sure that the Rafale aircraft doesn't arrive in the country."
Several former members of the Indian armed forces criticised Modi's speech, calling it inappropriate for the occasion.
Col Pavan Nair VSM (Retd) not only found the speech inappropriate, but said that it should have been the President inaugurating the memorial.
Speaking to Huffpost India, Col Nair said, "I have heard the part when he mentioned the family and dynasty. [It is] Most inappropriate on a solemn occasion like this. But for me it was highly inappropriate that the prime minister and not the President, who is the Supreme Commander of the armed forces, inaugurated the memorial. [It is] Against protocol and military ethos."
Other veterans took to Twitter asking the prime minister whether he considered the event an election rally.
They also accused Modi of using the armed forces for votes.
The inauguration itself was a show of grandeur with IAF helicopters showering rose petals as Modi lit a flame positioned at the bottom of the stone-made obelisk. A fly-past in 'Missing Man' formation (an aerial salute performed during funerals and memorials) was also part of the event.
Spread over an area of approximately 40 acres, the memorial comprises four concentric circles, namely― the 'Amar Chakra, the Veerta Chakra, the 'Tyag Chakra' and the 'Rakshak Chakra' with names of 25,942 soldiers inscribed in golden letters on granite tablets.
Popular in the Community