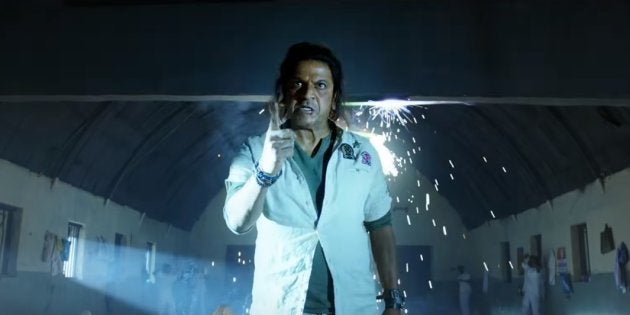 The Villain was the most-anticipated movie from the state of Karnataka in the second half of 2018. And now that it is here, all I can say is I'm angry and sad that the film has turned out to be a bungled mess of stupid ideas. Director Prem has taken two of the biggest stars of Kannada cinema, Shiva Rajkumar and Sudeep, for a ride.
Both the actors get thunderous applause when they are introduced to the viewers via songs and dialogues. If that's what fans expect in movies starring their favourite demigods, so be it. These are petty issues that can be brushed aside once the actual story begins, I thought. But every line, every gesture and every scene in this nearly three-hour movie is written for the cheerleaders in the front row. However, I'm afraid that even they will begin to feel irritated after the initial volley of whistles.
Shiva Rajkumar and Sudeep didn't become stars overnight. They are terrific actors whose range has been explored in several movies. The cool cop you see in Tagaru (Shiva Rajkumar), and the badass villain you're afraid to get closer to in Eega (Sudeep) seem much better showboats for their careers. Those movies utilized the value of their stardom and the actors gave thoroughly enjoyable performances. In The Villain, though, when Ramanna (Shiva Rajkumar) jumps off buildings and lands on other terraces—in parkour fashion, no less—there's more disappointment in the air than excitement.
The Ram-Ravana conflict has become stale now. Unless filmmakers know how to use mythic characters to tell their stories (Mani Ratnam's Thalapathi comes to mind), they should stay away from painting their characters black and white and, of course, from calling them Ravana and Ram to signify the qualities their characters represent.
Ram (Sudeep), whose glances and on-screen re-entries are underlined by the "Raavana... Raavana" background music, is an underworld don who calls himself an underworld don. His tomfoolery makes it hard for anybody to accept him as a person who commits mass murders in the blink of an eye. The incoherent writing doesn't help. And there's a whole stretch involving the kidnapping of Seetha (Amy Jackson in a role that deserves a Razzie) and unfunny rape jokes that worsen the situation.
Shiva Rajkumar's character doesn't have anything to do with romance, surprising for a multi-starrer. And for an actor who has starred in a 100+ films as the lead, it's time for him to step into another phase of his career. His character is hell-bent on finding Ram in Prem's The Villain (Prem is the real villain here). And the director must have given himself a high-five for linking these two characters with the "mother sentiment".
Jogi wouldn't have been a blockbuster if not for the mother's yearning to see her son. And, in The Villain, it's the same banal thread that turns the meek proceedings into poison. It's 2018 and we'd really like to see something more than a string of mass scenes, songs in foreign locales and the buried avva (mother) sentiment. Similarly, Prem must cut down on his fascination for bringing in actresses from Mumbai and London. Rachita Ram, who shakes a leg with Shiva Rajkumar in the Bolo Bolo Ramappa song, looks like a better fit than Amy, who looks lost throughout the film.
Also, the action choreography that was supposed to be one of the pillars of a movie of this scale is lethargically designed. Ram picks up an extra and throws him away like he's a tiny watermelon. Here's one more big-screen blunder that I couldn't resist laughing at: Ram and Ramanna, who are closing in on each other in London, are teleported to Karnataka in a matter of seconds.
Wait! I haven't stopped complaining about the movie yet. All the supporting actors—Mithun Chakraborty, Srikanth and Tilak—vanish without a trace and their characters do not add anything to the narrative. What are well-known faces doing in a movie that doesn't respect their presence? There's more bile in my stomach, but for now, I'll leave you with this—the coming together of Sudeep and Shiva Rajkumar should have been a celebration, not an abomination!