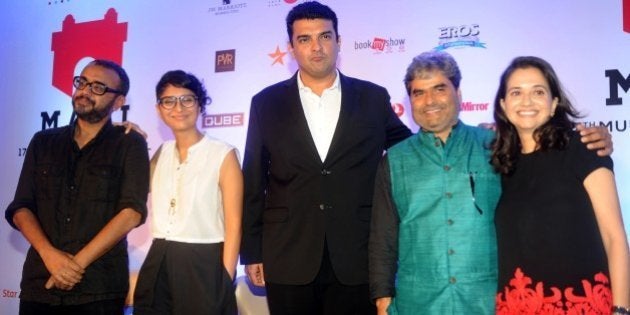 The Mumbai Film Festival isn't something cinephiles take lightly. For many, it's an annual pilgrimage. On the first day, like every year, I met and spoke to people who had taken leave from work to attend the festival, and some who have spent a lot of money to stay in Mumbai for the entire week.
By now, it's common knowledge by that this edition of the festival, like last year, was saved from certain death thanks to herculean efforts made by passionate people like Kiran Rao, Anupama Chopra, Manish Mundra, and Smriti Kiran, amongst many others.
We're all grateful that this festival is happening, no two ways about it. Which is why it pains me to state the obvious: simply making sure it's happening isn't enough for a festival that needs shines on the world map, one that competes seriously with, say, a Busan International Film Festival to be considered as one of the best in Asia.
One day, hopefully, that will happen. For now, few who attended the first 'real' day (more on that in a bit) on Friday will feel bullish about MAMI's long-term prospects, unless these teething problems are sorted.
The day, for many who chose to attend screenings in Andheri and Juhu, was marked by cancellations, confusion, and disappointments. As far as I know, three screenings were cancelled, leading to much disarray and irritation.
A packed theatre of attendees who had eagerly come to watch The Lobster, this year's Cannes jury prize winner, had to leave after being told that the screening was cancelled (it was rescheduled to 9 pm later). Earlier in the day, people who'd lined up eagerly for the acclaimed Brazilian film The Second Mother had to scramble to find alternatives after it was also cancelled. Before all this, a screening of Chilean drama El Club was also rescheduled.
I had booked two of the above three films and ended up beginning my day with the in-competition Argentinian film Parabellum — an interesting dystopian drama that uses tragicomedy and bleakness but, despite ending with a stunner of a final shot, turned out to be somewhat half-baked and underwhelming. I then watched Heavenly Nomadic, Kyrgyzstan's Oscar entry, which relies on arthouse clichés like they're going out of style (plot-twist: they are).
The day ended with what was intended to be the 'opening film', Aligarh, which didn't play on Thursday night after the opening ceremony (as is customary, not to mention logical) in lieu of a private party at — of all places —Antilla instead. For those who haven't made the connect yet, Mukesh Ambani, owner of that 27-storeyed symbol of opulence, is the chairman of Reliance Industries Limited, whose telecom brand Jio is the festival's title sponsor.
Anyway, Aligarh, whose selection was greeted with much enthusiasm, played to a full house at Regal that applauded generously throughout the film. For me, however, it turned out to be a bit of a damp squib.
Blame it on the hype, I guess. A sombre drama based on the real-life persecution of Aligarh Muslim University professor Shrinivas Ramchandra Siras (portrayed by Manoj Bajpayee), Aligarh is honest, lovingly-photographed, and takes a commendably bold stand on extremely delicate issues. However, I thought it suffered from lacklustre characterisation, as exemplified by Bajpayee's inconsistent diction (it swings wildly between Marathi-accented Hindi and a purer UPite dialect for no discernible reason), and nearly sabotaged itself with some rather badly-staged courtroom scenes. Strange, considering its director Hansal Mehta is the same man who made the award-winning Shahid (2011), whose courtroom scenes were praised for their relative authenticity.
I've had better first days at the festival, to put it mildly, but MAMI is not something we give up on. Here's hoping day two goes at least a hundred times better.