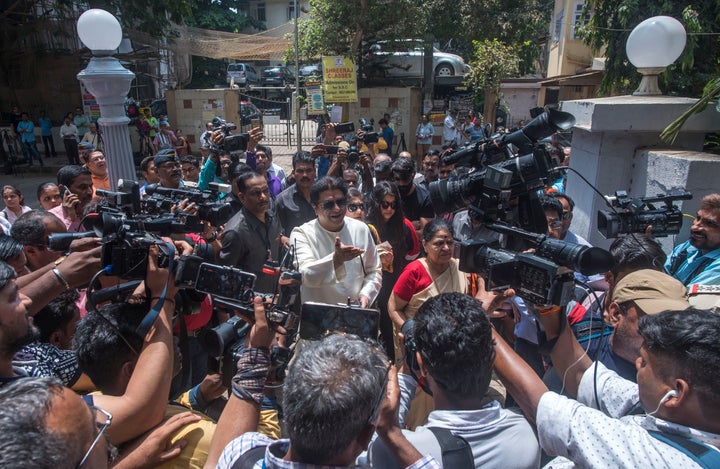 NAGPUR, Maharashtra: "I won't shut my mouth no matter how many inquiries you slap on me," with these words Maharashtra Navanirman Sena chief Raj Thackeray made his intentions clear despite facing questions from the Enforcement Directorate officials for over 9 hours on Thursday.

The MNS chief was summoned by ED in connection with financial transactions related to Matoshree construction, a company of which Thackeray was once a co-owner.

Many MNS workers were detained, section 144 was imposed in many parts of Mumbai and the Enforcement Directorate office in Ballard Estate area was turned into a fortress by the police as Thackeray reached the ED office at around 11.30 am along with his wife Sharmila, son Amit, daughter Urvashi and some of his close aides, however, only Thakeray was allowed to enter inside the ED office.

The MNS chief was questioned by senior ED officials till 8.20 pm after which he was allowed to go.

Thackerey was given a rousing welcome by hundreds of MNS supporters when he reached his home in Dadar West. His supporters kept on shouting slogans and the MNS chief had to come out twice to calm them down.
It is not yet clear if ED will again call Thackery for questioning.

The ED's summons is related to a case pertaining to alleged irregularities related to IL&FS group's loan and equity investment in a company called Kohinoor CTNL, which was set up by Unmesh Joshi, the son of senior Shiv Sena leader and former Maharashtra chief minister Manohar Joshi.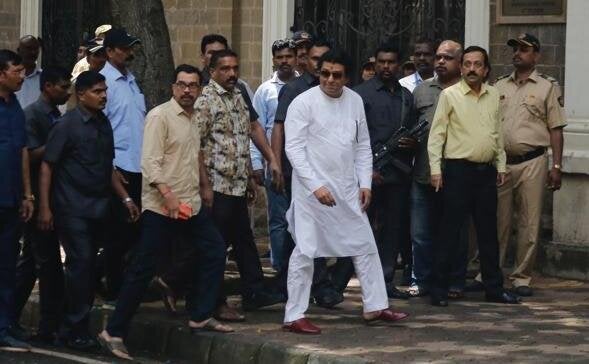 The Case Against Him
The Indian Express reported that in 2005, Unmesh Joshi, along with IL&FS and Raj Thackeray-owned Matoshree Construction, jointly bid for the NTC's Kohinoor Mill, buying the 4.8-acre property for Rs 421 crore.
At the time, Thackeray was still part of the Shiv Sena. He broke away in 2006 and formed the MNS.
Thackeray exited Matoshree Construction in 2008.
The ED grilled Unmesh Joshi for around 8 hours on Monday.
Crackdown On Supporters
Mumbai police detained many MNS leaders including Thackeray's close aide Sandeep Deshpande and MNS's Thane district chief Avinash Jadhav early this morning to prevent any untoward incident in the city.
The police action against the MNS supporters came despite Thackeray repeatedly requesting his supporters not to protest or observe bandh.
"Our leader had instructed us to maintain calm today and we are trying to follow his orders. But if anything wrong happens with our leader then we won't sit silently. This government will have to pay a heavy price for any such misadventure," Jadhav told reporter when he was being detained by the policemen from Navapada police station.
Congress and NCP have openly backed Thackeray and termed the ED notice to him as "politics of revenge" by BJP. On Thursday, many NCP leader including NCP chief Sharad Pawar's daughter Supriya Sule came out in support of Thackeray and decried the Modi government of being insensitive.
The BJP's alliance partner Shiv Sena also backed Raj in this case and Shiv Sena spokesperson Sanjay Raut announced that the entire Thackeray family is with the MNS chief in this case.
"Blood relations are above politics," Raut said while announcing Shiv Sena chief and Raj's cousin Udhhav Thackeray's support for Raj.
A day before Raj appeared before ED, Udhhav had said that nothing would come out of the inquiry against him.
"Remove Modi and Shah from the horizon of Indian politics," he kept on reiterating in 10 rallies he addressed during Lok Sabha election campaign while also trolling and fact-checking the prime minister.
Maharashtra finance minister and senior BJP leader from the state Sudhir Manguntiwar, however, denied the allegations that ED notice to Raj had anything to do with politics.
"Elections are always going on in our country, so there is no question of timing. It is about information. When the ED gets information, they act," Manguntiwar said.