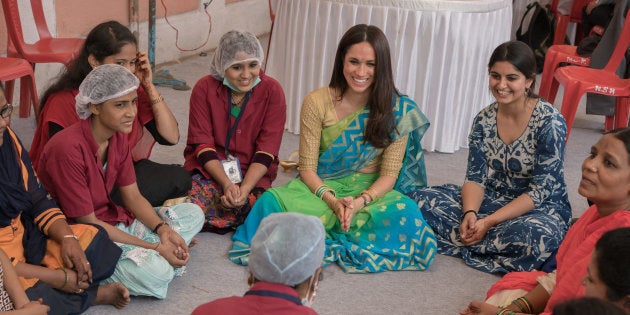 MUMBAI, India — When Suhani Jalota won Glamour magazine's College Women of the Year award in 2016, little did she know this would be the start of a deep relationship with Hollywood star, and soon-to-be Duchess of Sussex, Meghan Markle.
Jalota, who was a 21-year-old student at the Duke University in North Carolina at the time, is the founder of Myna Mahila Foundation, a women's menstrual health foundation that provides affordable sanitary napkins to women from Mumbai's most impoverished neighborhoods.
Today Myna Mahila Foundation is one of seven charities, chosen by Markle and Prince Harry, where guests can send contributions in place of gifts for the royal couple.
"What means a lot to us is that Ms. Markle chose a small organization like ours when there are many large ones operating across the world," Jalota said. "More than the donations, the spotlight on our NGO will undoubtedly benefit us in ways we can't imagine."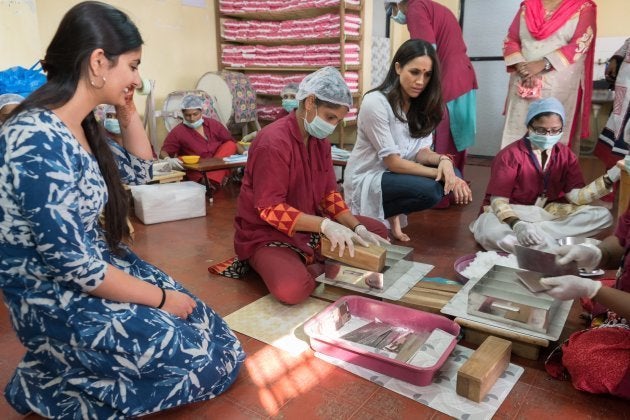 It all began in New York
In May 2016, Markle was one of the guests at a party, at the NoMad hotel in New York City, to honour the 10 women shortlisted by Glamour. One of them was Jalota, who had won $20,000 for the Myna Mahila Foundation.
The foundation seeks to empower women by providing them with the tools and materials to manufacture their own sanitary napkins, and then sell them to their community at a fraction of the cost of regular napkins.
A study conducted by the NGO Spot On! in 2014 had found that, in India, nearly 23 million girls drop out of school each year when they start menstruating. These girls can neither afford napkins, nor do they have someone they can speak to about their menstrual health and hygiene because of the stigma associated with menstruation in the country.
The more Markle learnt about the Myna Mahila Foundation, the more she got into it. In 2017, she flew down to Mumbai and visited the small factory.
Markle even wrote about Jalota's foundation in Time magazine in March that year.
"Ninety-seven percent of the employees of Myna Mahila live and work within the slums, creating a system which as, Nobel Peace Prize nominee Dr. Jockin Arputham shared with me, is the key to breaking the cycle of poverty and allowing access to education," she wrote. "In addition, the women's work opens the dialogue of menstrual hygiene in their homes, liberating them from silent suffering, and equipping their daughters to attend school."
Success Stories
Myna Mahila Foundation currently employs 15 women to manufacture their low-cost pads, and another 20 saleswomen who fan out into Mumbai's densely populated informal settlements to sell their products. The foundation claims to have about 3000 customers in all, 90% of whom buy their products on a regular basis. The foundation expects to reach 10000 women by end of 2018.
The women working at Myna Mahila Foundation, like Archana Amre, say the foundation has offered them steady employment and has broadened their horizons.
Twenty-five-year-old Amre, who passed Class 12 but couldn't afford college, has even been invited to attend the royal wedding with Jalota and a colleague.
"As a kid, I always dreamt of getting inside a plane. That's all I wanted. But to sit in a plane and go to London to attend the Royal wedding? This feels like a dream," she said. "I've never been more excited about anything in life."
Previously, Amre was worked in a self-help group for women and was a local kabaddi player.
"I've been working with Myna Mahila for the past 8 months and it has transformed my life," she said.