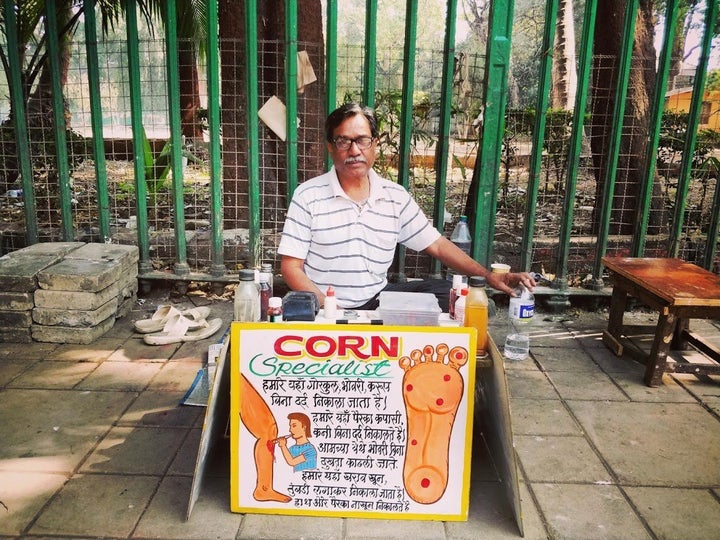 Dilip Pannalal retired as a pedicurist from a salon 14 years ago. It was the end of his professional life as a pedicurist, but also a new beginning. From an upscale parlour in South Mumbai he moved base to a footpath outside the Veeramata Jijabai Bhosle Udyan Zoo in Mumbai's Byculla East. Armed with a toolbox, a stool and a vibrant sign that read 'Corn Specialist' in bold, Pannalal began his new career. Ever since then, the 55-year-old has treated thousands of people, who have come to him with their foot ailments, right there on the footpath.
Pannalal isn't the only one in this peculiar profession. A handful of corn specialists like him have made the pavement outside the zoo their clinic. Corn specialists—who are unique to Mumbai like its dabbawalas, ear cleaners and mattress fluffers—provide pedicures, foot massages and treat sprains apart from removing corns. Their professional identity is an important part of their culture. Most of them belong to the Gihara community, a notified tribe that is spread across Rajasthan, Uttar Pradesh and Madhya Pradesh. They are largely involved in occupations like ropemaking, making turbans and that of curing foot ailments.
"I was eight years old when I first came to the city with my father. I always wanted to be a painter, but also wanted to protect the legacy of my community," said Pannalal, who learned the skill of corn removal from his father. The Gihara community is one of the few migrant communities that continues to follow their traditional practice in its rawest form. People of the Gihara community began migrating to Mumbai in the 19th century from villages around Indore and Ujjain in Madhya Pradesh.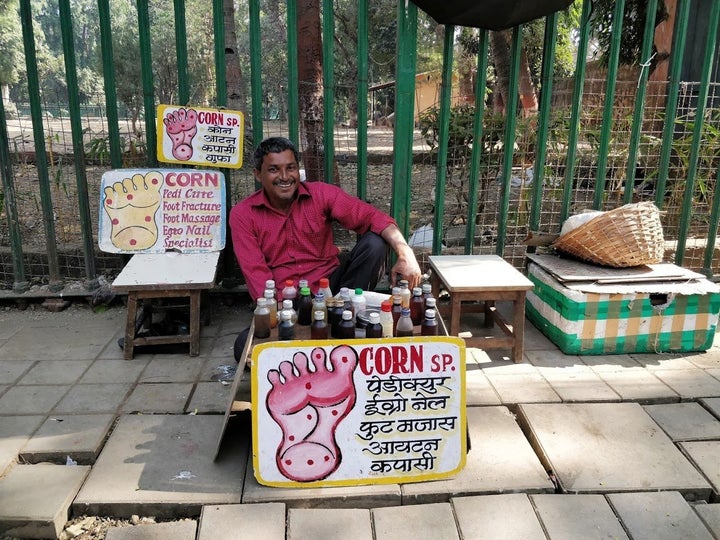 "Earlier, our forefathers used to provide foot massages and cure corn ailments in villages where this was a common problem. But that hardly fetched any money. Thus they started migrating to larger cities like Mumbai in search of other work," said Mukesh Ratan Utkar, a 54-year-old corn specialist, who previously worked at the Lakme Salon in Churchgate.
Utkar said that while some of those who migrated were employed at the Mazgaon Dock, they continued to provide pedicures for the British to make extra money. "As their practice gained popularity, they started sitting outside Rani Baugh, formerly, Queen Victoria's garden that attracted a lot of tourists — restarting their practice of treating corns with their age-old knowledge and traditional skills," he added.
The traditional skills, passed on for generations, are apparently what gives them the edge over surgeons. "We remove the bacteria from the root, unlike doctors who just operate on the surface," said Pannalal.
The corn specialists also make their own herbal medicines from recipes passed on by their ancestors. The 'doodhi medicine' made from the asthma plant is used to clean the area that is operated, the 'neem medicine' is used to kill the bacteria and the 'red flower medicine' made from a flower called Markapurum, is applied after the surgery to ensure that the wound doesn't get infected. The customer is also given some of the red flower medicine to take home. There's also the special black liquid solution, ingredients of which are 'top-secret', known only to the members of the community.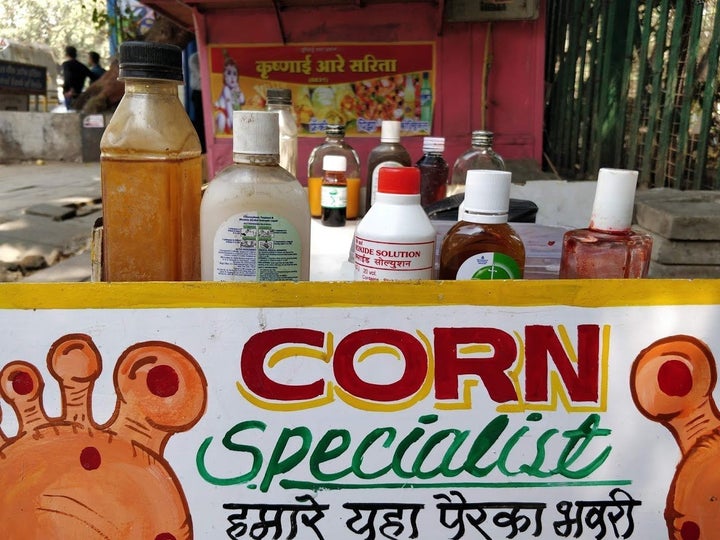 "We also weld steel to make the tools ourselves," said Shekhar Motidas, Pannalal's nephew who began his roadside corn removing services four years ago. The equipment include a blade-like tool to chisel out the skin around the corn and a thick tweezer to pluck out the corn. A long, thin rod is used to apply the medicinal back liquid that burns the part of the skin where the corn existed, so that it doesn't form again. "We make sure to dip the tools in hot water every night," said Shekhar.
The corn specialists have loyal customers from all walks of life. They charge Rs 150 for corn removal and Rs 500 for a pedicure. "I always choose to come here. It is quick, cheap and most importantly, effective," said Mohammad Moin, a tailor from Bandra. His feelings resonate with 24-year-old Kamlesh who works at a shop in Dadar. "I was a bit nervous about getting my corn removed at a roadside stall rather than in a clinic, but I've heard a lot about their credibility. They have the know-how to operate on it without conducting a surgery. I wasn't disappointed at all," he said. Locals in and around Byculla East are well acquainted the corn specialists, who also often have adventurous foreigners as customers. They do not use local anaesthesia, but say it only feels like a pinch.
The corn specialists work everyday from 10 am to 7 pm and Sunday is their busiest day. "We hardly take a day off. During monsoons, we put up tents. We need to earn every day to feed our families," said Moti Pareshram, another corn specialist at Byculla East who, like most of them, makes Rs 800 a day. This affords them a very basic lifestyle. With hardly any family left in the villages, they live in chawls in and around Byculla. Most of them start by working at parlours to have a pool of savings so that they can later shift to their traditional, yet uncertain profession of roadside corn removal.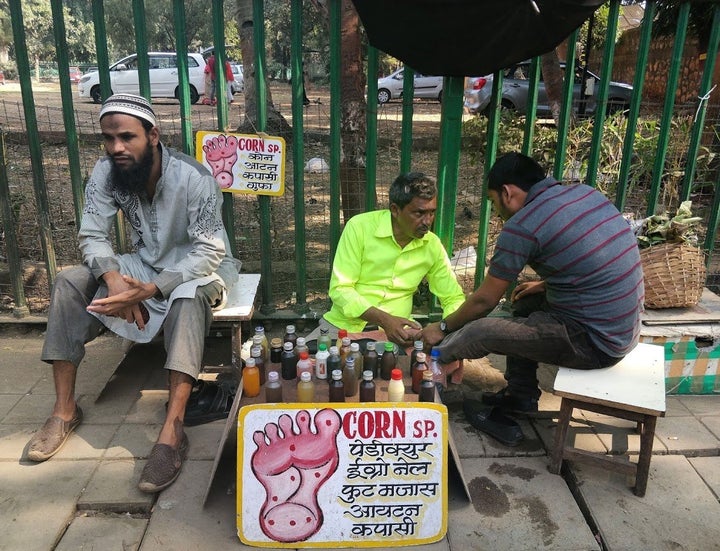 However, unlike other hawkers, these corn specialists said they have never been asked to move. "The Morarji Desai government even conducted a survey to get us licences, so did the current government. But we are yet to receive them in paper," said Pannalal. He said he has found the perfect place for his operations. "Dilip is the one of the oldest here. But there's not much competition amongst us. We all charge the same money, have our own set of customers, and belong to the same community," said Utkar.
Since this professional knowledge is only passed on within the community, the knowledge pool of has shrunk. Today only seven specialists remain in Byculla East and a few in Andheri. Some can even be found in Ahmedabad, Pune, Delhi and Indore. But according to Pannalal, the practice thrives the most in Mumbai.
Advocate and city historian Rajan Jaykar recalls how a man named Dujaram would come to cut the nails of his father and treat his corns back in the 1960′s. Though he never inquired about his community then, Jaykar, said, "Several migrant communities have been coming to Bombay and most eventually move on to conventional jobs as their traditional occupations are no longer feasible. But the way these corn removers have managed to do so, in such a competitive city, based solely on the word of mouth is truly phenomenal. Perhaps, it isn't just their corn removal skills, but also their knowledge of medicines that has sustained them."
But this may not be the situation for much longer as the younger generation is choosing more stable and lucrative career options. Both of Pannalal and Utkar's children work in parlours and have been equipped with the necessary skills of corn removal. "I would like my son to carry on the legacy, but it is up to him. My daughter also works in a parlour, but women in our community are generally not allowed to do corn removal," Pannalal said.
Pannalal's son Nitin, however, thinks that the practice is here to stay, at least in the near future. "I know a lot of us in the community, who, like, me want to carry on the work that our forefathers have been doing for so long. But then some of us are also studying to secure more conventional jobs," he said.
The future may be uncertain. But, as of now, the tiny, yet efficient, roadside corn specialist community continues to cure people of their foot ailments. Embracing their cultural and professional identity with pride, they continue working in the maximum city in order to keep their intangible heritage alive. As Pannalal said, "Our past is a treasure trove of various traditions and knowledge systems. We are just striving to keep this one alive."