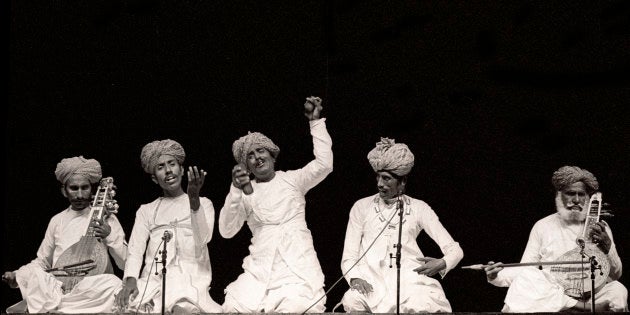 Twenty families were first allegedly boycotted, then threatened and turned away from their homes even as police continued to look for two men who killed a Rajasthani folk singer in Jaisalmer's Danta village.
The entire episode started when during Navaratri, a faith healer, Ramesh Suthar, complained that Amad Khan, a singer from the Manganiyar community of Muslim folk singers, did not sing the Raag Parcha correctly because of which he could not reach a state of trance during a ritual.
Reports suggest that on the same night, Suthar and two of his relatives, Shyam Ram and Tara Ram, allegedly dragged Khan out of his house and killed him. His body was found in the temple next morning, after which his family silently buried him.
Ramesh Suthar, who belongs to an upper caste Hindu community, and others from his community allegedly threatened others of the Manganiyar community in the Danta village and forced 20 families to leave the village and seek refuge with their relatives in Balad.
The incident has put the spotlight on the Manganiyar's of Rajasthan – a Muslim community that has been singing praises of Hindu gods for generations.
Manganiyars originate from Rajasthan's Jaisalmer and Barmer, and in Pakistan's Sindh province.
Though they are Muslims, for centuries they have been singing peans of Hindu gods.
Shalini Ayyagari, an Assistant Professor at the University of California, Berkely, writes in her dissertation, Small Voices Sing Big Songs: Music and Institutional Culture in Western Rajasthan:
"Customarily the Manganiyar, a community considered to have been extremely low caste and lacking voice and class mobility, have provided family genealogies and ceremonial music to their hereditary patrons for remuneration for at least the past three centuries. They have been affiliated not only with individual patron families, but entire family lineages over many generations through social and economic co-dependence. With modernization the importance of these customary patronage relationships is waning and in their location, development initiatives, cultural tourism, and more modern modes of musical production are filling in, pointing to new ways of understanding the ways in which cultural subjectivities can be imagined and inscribed through music. "
Manganiyars have lived under the patronage of Hindu landlords and nobility for years.
They pass on their singing tradition from generation to generation and are said to have been entertainers in courts of Rajput princess. They even travelled with them to war to provide entertainment.
The genre of Rajasthani folk music sung by them is world famous.
The Hindu in a report about the community says that while till 1950 their music was confined to only Rajasthan, with the help of an activist, Komal Kothari, groups of singers and performers from the community have travelled far and wide in India and outside.
A week after the mass exodus of the members of the community from the Danta village, Scroll reports that Suthar has been arrested. But the villagers are scared to return.
Popular in the Community