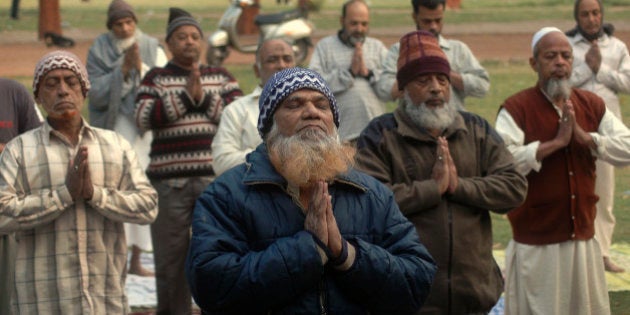 NEW DELHI -- With ten days left for International Yoga Day, the Modi government urged Muslims to participate in the celebrations, and suggested that they can take Allah's name instead of chanting 'Om' or reciting shlokas.
Shripad Naik, the minister who is organising the mega yoga event at the Rajpath on June 21, met with Muslim organisations on Thursday, PTI reported.
"Shlokas are not compulsory. Shlokas are merely prayers but it is not compulsory. They can even take the name of Allah instead of chanting shlokas," Naik said. "I request the Muslims to participate and unite the country."
"If people do not want to chant 'Om', they can say 'Allah'," he told IANS.
On Dec. 11, 2014, the United Nations General Assembly passed a resolution declaring June 21 as International Yoga Day, an initiative which was spearheaded by Prime Minister Narendra Modi, who spoke enthusiastically about India's tradition of exercise and meditation when he visited New York in September, last year.
But the run up to the Yoga Day has been rocky. The All India Muslim Personal Law Board objected to the Modi government's proposal of making the Surya Namaskar mandatory in school on the grounds that "Muslims bowed only before Allah."
Bharatiya Janata Party's controversial lawmaker Yogi Adityanath retaliated by suggesting that those who objected to the Surya Namaskar, an exercise performed in reverence to the sun, should go jump in the sea.
These simmering tensions have sparked a nationwide debate on whether yoga is religious.
In an effort to prevent yoga day from being mired in controversy, the Modi government decided to remove Surya Namaskar from the official program. "We did not include Surya Namaskar to avoid controversy. And, moreover, it's difficult to do it. But Surya Namaskar is not religious. We want the whole event to go smoothly," said Naik.
Both Naik and the Muslims organisations, which he met with on Thursday, said that yoga had nothing to do with religion, PTI reported. "If people aren't fit there won't be any development. The protests are misleading. Muslims would be co-partners not just participants," he said.
Maulana Syed Kaukab Mujtaba Abidi, president of Majlis Ulema -e-Hind in Uttar Pradesh, echoed his sentiments. "There's yoga in namaaz but namaaz isn't yoga. Those who oppose it are enemies of humanity because yoga is for the well being of humans," he said.
Abbas Ai Bohra, representative of Daudi Bohra Community, said that out of the total of 177 countries which have given co-sponsorship for U.N. resolution celebrating International Day of Yoga, 47 were from Organisation of Islamic Countries, IANS reported.
Meanwhile, preparations are in full swing to host over 30,000 yoga enthusiasts at the Rajpath on June 21, but External Affairs Minister Sushma Swaraj said on Tuesday that Modi won't be attending the mega-event.
Swaraj described yoga as India's "soft power." "Through that soft power, our goal is the world attains peace also bring down violence in the world," she said.



Popular in the Community