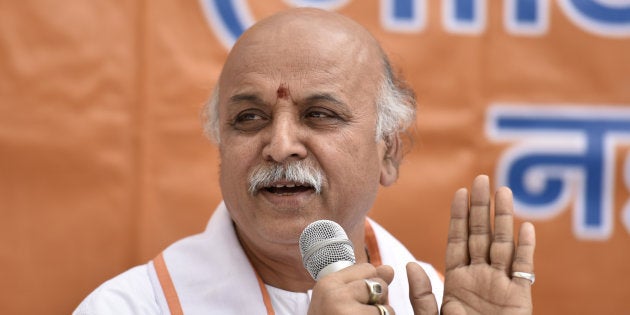 Speaking at the Virat Hindu Sammelan in Ahmedabad on Sunday, Pravin Togadia, a cancer surgeon and the international working president of the Vishwa Hindu President, called for a "Hindu-first policy on matters concerning welfare, development and prosperity."
Togadia called on the Centre to pass laws for the construction of the Ram Temple in Ayodhya and to ensure population control across communities, the newspaper reported. The Hindutva hardliner said that those who have more than two children should be barred from availing welfare schemes and from voting. "Just like Hindu couples, who now don't opt for more than two children, Muslims should also be allowed to have just two kids," he said.
On the construction of the Ram Temple, Togadia hinted that kar sevaks would move to construct the Ram Temple if the authorities failed to do so, The Times of Indiareported. "Those in Delhi and elsewhere should now listen with their ears open that once again people of this country, if required, will launch another kar seva to build a grand Ram temple in Ayodhya," he said.
HT reported that this is the first VHP convention to be held in Gujarat after the religious violence that engulfed the state in 2002. Gujarat's Assembly election is slated to be held by the end of the year. In the aftermath of its stunning victory in Uttar Pradesh, there has been some speculation of the BJP attempting to go for early elections in Gujarat to capitalize on the "Modi wave."
On Monday, Togadia said that government should stop using the tax given by Hindus to provide subsidies to Muslims unless the same were given to Muslims, The News Minute reported. He questioned why Muslims were given for religious tours but Hindus were not.
The VHP leader demanded free education for 10 crore Hindu school student "on the lines of similar benefits given to 95 lakh Muslim students," the Hindustan Timesreported today.
Togadia also gave out two helpline numbers, HT reported. The first is a "Hindu Healthcare Helpline" number, which Hindus can call if they cannot foot the bills for a private hospital. The second number is for Hindus to call if they have general security concerns.