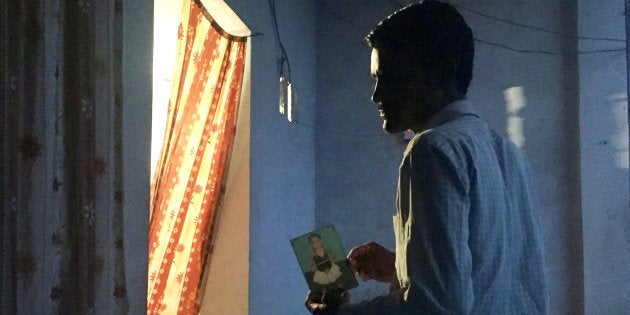 GORAKHPUR, Uttar Pradesh — Rihana Khatoon turned to her husband and said she loved the name Jasmine for their daughter. Mohammad Zahid preferred Khushi, the name he gave her when she was born.
"He's just being stubborn," his wife said, "I thought Jasmine would be a lovely name for school."
"I'm not being stubborn," Mohammad replied. "Khushi is the name that describes her best. It means joy."
In the few minutes they had bickered on a warm and humid morning last week, the young couple spoke of their five-year-old daughter as if she were still alive. But it wasn't long before their eyes were heavy once again with the horror and grief they have carried since losing her on 11 August.
It was the second day of the oxygen crisis that had erupted at the Baba Raghav Das Medical College in Gorakhpur in Uttar Pradesh.
There are two images stuck in Rihana's head from that day. The first is of her husband using an Ambu bag to manually pump oxygen into their daughter's lungs. The second is of the unused diapers she had left on the hospital bed.
Staring at the floor, she said, "When I asked a nurse to change her diaper, she said, 'What's the point? Your daughter is going to die anyway.' I told her, 'Please don't say that.' My daughter died soaked in her own urine."
As her voice trailed off, Mohammad waited a few minutes before saying, "I expect her to come around the corner, look into my pocket and say, 'Papa, where is my Five Star chocolate.' I always had one for her. She was my doll. When I went to work, she would wave at me until I turned the corner."
The government hospital in Chief Minister Yogi Adityanath's constituency allegedly ran out of liquid oxygen on 10 and 11 August because hospital officials had delayed paying the supplier dues amounting to ₹70 lakh for over five months. At least 30 children died in 48 hours.
Devastated parents narrated how they were given Ambu bags to manually pump oxygen into their ailing children for several hours. But even before any manner of investigation was under way, the CM had ruled out lack of oxygen as a possible cause of death in any single case, sealing the chances of an impartial future probe, at least by a state agency.
Mohammad and Rihana were told that their daughter had encephalitis, an inflammation of the brain caused by several viruses, bacteria and parasites, which is a deadly killer in the marginalised communities of eastern UP. But they believe that it was the oxygen shortage that killed her.
The first response of the state government was to cite death toll numbers from the previous years to prove that 30 deaths at the medical college were hardly unusual. While Health Minister Siddharth Nath Singh said it was normal for August to see a high number of fatalities in the encephalitis-prone region, Adityanath had blamed the deaths on the lack of cleanliness.
The insensitivity cuts deep.
"My daughter was not a number. If all they have to say is that it is normal for children to die in August, then what chance do the children of the poor have?" asked Mohammad. "Would they have dared say such a thing if the child of a minister or rich man had died? Would they want to hear something like that if it was their own children?"
Indignant and frustrated, he went on. "Look at what the CM said. Does my house look dirty to you? We have a toilet indoors. We use mosquito nets in the night. We even have invested in Aero water."
When I pointed out there were rubbish heaps and open drains leading up to his house on the outskirts of the city, he said, "I'm ashamed of it. But is that my fault? I keep my house clean and even the area outside. Is it not the responsibility of the government to ensure the streets are clean? Nothing has changed in the nine years that I have lived here."
My daughter was not a number. If all they have to say is that it is normal for children to die in August then what chance to the children of the poor have...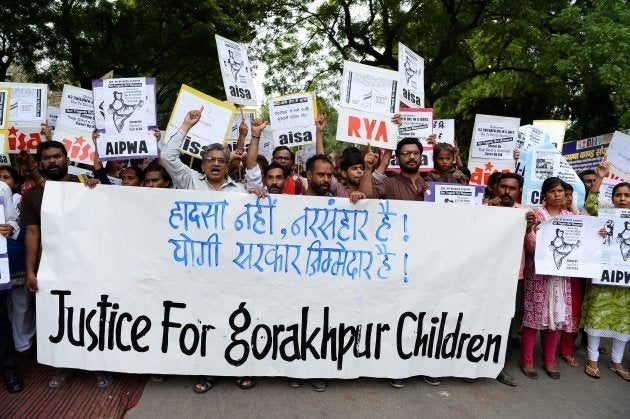 One Month On
One month after the tragedy, the state government has neatly tied up the narrative.
Its official investigation echoed the sentiments of the CM. It concluded that there was a disruption in the supply of liquid oxygen for a three hours on the night of 10 August, but no lives were lost during that time. The blame for the delay in payment and ensuing chaos have been pinned on six hospital officials, including the principal of the BRD Medical College. They have been fired and booked on various criminal and corruption charges.
But there are concerns about the impartiality of the state investigation. Observers have highlighted the inherent contradiction in expecting a fair and balanced report from senior state officials after the chief minister made his stand clear just hours after the crisis.
Even those who publicly declare their support for Adityanath, like the well-known Gorakhpur-based anti-encephalitis activist RN Singh, are troubled.
"That was wrong. It was not possible to go for a thorough and impartial investigation," said Singh.
That was wrong. It was not possible to go for a thorough and impartial investigation.
The firing of six hospital officials is of little solace to Mohammad, who wants the state government to acknowledge the enormity of the tragedy, take responsibility, and apologise. "Otherwise it will happen again," he said matter-of-factly.
One month on, Mohammad is living a tortured existence. Lying awake at night, he goes over and over the same doubts: "Where was my mistake? Should I not have taken her to a government hospital? Should I have phoned my relatives? Did I press the Ambu bag in the correct way?"
He also wants to ask several questions: How did the government rule out lack of oxygen as the cause of death? Did the investigators look into the specific case of his daughter? Will officials reach out to the parents of children who died on those two days?
Medical experts noted that not very much is known about the modus operandi of the state government's investigation. The Hindustan Timesreported it relied on facts available on record as well as the reports of the teams of doctors who had visited the hospital, including three from the Centre.
To begin with, KP Kushwaha, the former principal of the BRD Medical College, pointed out that it would be extremely difficult to determine whether a child had died because of the lack of oxygen on 10 and 11 August.
Since no autopsies were carried out on the children, Kushwaha said the only hope of arriving at the truth would be to examine the records of each case followed by a "verbal autopsy" with extremely rigorous standards.
"For such a study you need people who are free from pressure from anybody and the people who are working at the hospital to be also free from manipulation. Doctors, nurses and technicians would all have to be interviewed separately," he said.
Describing the state investigation as more political than a medical one, Kushwaha said, "Parents have every right to know what happened to their child."
"Parents have every right to know what happened to their child."
Mohammad and Rihana may have no choice but to swallow their anger. The couple has talked about reaching out to other parents and challenging the government, but they don't know how to go about it. The media, too, has moved on. All that Mohammad can do is speak with the odd journalist that stops by his house.
Around 30 km away from Mohammad's place, in a house overlooking paddy fields, a 60-year-old grandmother is coping with the loss of her four-day-old grandson on 11 August. Ishrawati recalled that she and her son used Ambu bags to manually pump oxygen for several hours.
"They told us that if you don't use it, your child would die. I had never seen or used an Ambu bag. You have to stand the whole time that you are doing it. I could barely stand, my hands were hurting, but I dared not stop," she said.
Ishrawati snorted when this reporter told her that the official investigation had concluded that the oxygen shortage was not linked to the deaths last month. "They are lying," she said.
I could barely stand, my hands were hurting, but I dared not stop.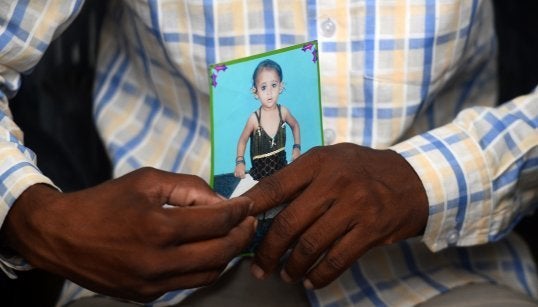 A "System" Designed To Fail
Despite the state government's best efforts to downplay what had occurred in Gorakhpur last month, the tragedy snowballed into a national storm. Journalists from all over the country descended on the city. Even for a country that has seemingly little value for human life, people were horrified that so many children had died because hospital officials had failed to pay the bill for the supply of a lifesaving gas.
Mohammad had fleetingly emerged as the face of the public anger against the BJP government in UP. Moments after his daughter died on the evening of 11 August, the angry father had rushed out to meet the reporters swarming the medical college. The story of how he had pumped the Ambu bag until his fingers were stiff was reported all over the country.
Mohammad will have to go through life never knowing why his daughter died. What he does know is that he still has to take care for his wife and son. For them, he must continue cycling to his workplace and sell plumbing equipment for a wage of ₹200 to ₹300 per day. But it was his daughter he would come home to after a long shift.
As he goes over the last 12 hours of his daughter's life, Mohammad said he feels angry not just at the government but also at himself for having failed to save her. It was as if he had tried everything but the "system" was designed to fail him.
It was as if he had tried everything, but the "system" was designed to fail him.
At the private hospital that Mohammed had first rushed his daughter on the evening of 10 August, he spent almost his entire saving, even though she was admitted for a few hours. It didn't matter. He was ready to sell his bike, his house, his wife's jewellery to pay for her treatment, but it was the private doctor who insisted that going to the BRD Medical College was the only way of saving her.
"I was running out of time. I didn't have the money at the exact time. And you know they make you give every penny at a private hospital before doing anything. At the first private hospital, I was 50 rupees short but they wouldn't let it go. My daughter's condition was getting worse. I told them take my mobile, take my ID," he said.
Mohammad then cycled home to collect the last of his savings to hire an ambulance that would take his daughter to the BRD Medical College, several kilometres away.
As he entered the government hospital, he remembers being overwhelmed by its size and the chaos unfolding inside. There was no one to tell him where to go or what to do. But with his daughter now almost senseless in his arms, he knew he had to act quickly.
Despite his best efforts, it took him nearly three hours to fill in the paperwork, buy her medicines and get her admitted to the Intensive Care Unit (ICU) ward. "It took me half-an-hour to find the area where they sell medicines. But then the doctor changed the prescription so I had to go back. I didn't have money to buy another set so I begged the shopkeeper to exchange it. But he wasn't agreeing. Somehow I convinced him. I lost another half-an-hour," he said. "What should I say now? It was hell."
"What should I say now? It was hell."
The BRD Medical College in Gorakhpur is the only tertiary care facility available to marginalised communities as far as Bihar and the border region of Nepal. The government hospital has been overcrowded and understaffed for almost five decades. Even though it is located in the CM's constituency, it is crippled by corruption, poor infrastructure, shortages of medicines and a woefully inadequate number of doctors and nurses, who end up working dangerously long hours.
Three to four children to be assigned a bed at the medical college is the norm, rather than the exception. Khushi shared a bed with another sick child in the Intensive Care Unit. Here, Mohammad and Rihana heard the word "encephalitis" for the first time.
"A woman doctor in the ICU ward said, 'Do you know what has happened to your daughter? She has encephalitis.' Children who have encephalitis don't survive.' I told her, 'Please, ma'am, don't say that,'" he said. Turning to me, Rihana added, "Is it true? Is it true that children who have encephalitis don't survive?"
Do you know what has happened to your daughter? She has encephalitis. Children who have encephalitis don't survive.
The worst thing, Mohammad said, was never knowing what was going on.
"We stood for hours looking at her but not knowing whether she is getting better or worse. We did not even know there was an oxygen shortage. A nurse came and showed us how to press the Ambu bag, but I'm not a nurse. I have no training. Why were we asked to do it? Is that not negligence on the part of the hospital?"
Rihana added, "The doctors yell at you if you ask questions. Do they think that because we are poor and uneducated that we won't understand? Even the nurses don't explain anything. If they use a syringe, they throw it on the floor. You have to pick it up and put it in the dustbin."
They were surrounded by death. Mohammad recalled that the boy with whom his daughter was sharing the hospital bed died. Rihana recalled the infant in the next bed also died.
"I know my daughter was dead when her entire body turned stiff. You can tell. But the doctors wouldn't tell us. There was so much media at that point. There was too much pressure. The doctors started hiding the bodies of the dead children," said Mohammad. "You cannot imagine the scene."
That chilling scene at the hospital, however, was not the note on which we ended our conversation.
Despite all the pain, Rihana and Mohammad never stopped sharing stories about Khushi. As they put away her photographs, the couple talked about how much she had loved clothes. When she noticed that talking about it made her husband smile, Rihana fell silent.
Mohammad continued, "We would tell her, 'There is a wedding, do you want to come?' She would say, 'Yes, I want to wear the dress with the motis.' She had named all her clothes," he said. "She was growing up to be very mischievous."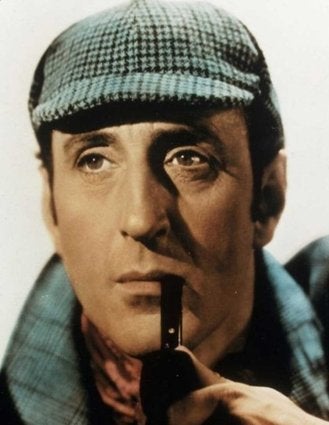 The Best Sherlock Holmes Of All Time