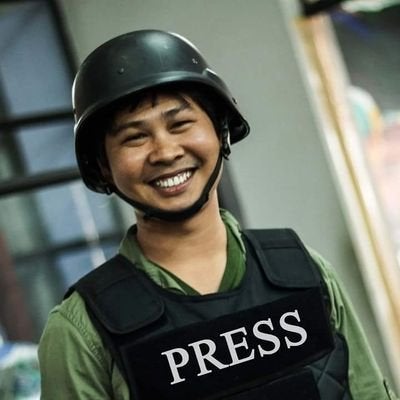 U.S. Secretary of State Rex Tillerson on Friday called for the immediate release of two Reuters reporters who have been detained in Myanmar for three days.
"Our local representatives at the mission in Myanmar, at the embassy, are expressing our concerns over the detention of individuals, demanding their immediate release or information as to the circumstances around their disappearance," he said.
Burmese officials apprehended Wa Lone and Kyaw Soe on Tuesday evening, after the pair had been invited to meet with police officials in the city of Yangon. They reportedly left to go to a restaurant with two officers, and were reported missing when they did not return.
Government spokesman Zaw Htay confirmed the arrests to Reuters on Wednesday.
"Yes it is correct that they were arrested," he told the international news agency, which is based in London. "Not only your reporters, but also the policemen who were involved in that case. We will take action against those policemen and also the reporters."
The journalists were taken into custody for allegedly intending "to send important security documents regarding security forces in Rakhine State to foreign agencies abroad," according to Myanmar's information ministry. They face charges under the colonial-era Official Secrets Act, with a maximum jail sentence of 14 years.
Reuters has closely covered the conflict in Rakhine State, where hundreds of thousands of minority Muslims known as Rohingyas have fled to escape violent, state-sponsored persecution. Wa Lone and Kyaw Soe had both been reporting on the crisis.
Their arrests attest to "the erosion of press freedom in the country," United Nations Secretary-General Antonio Guterres said Thursday. "Probably the reason why these journalists were arrested is because they were reporting on what they have seen in relation to this massive human tragedy."
In a Facebook post on Friday, the U.S. embassy in Myanmar said the journalists' families have not been allowed to visit them, and "don't even know where they are being held." The embassy also called the arrests "highly irregular" and demanded an explanation from the Burmese government. "For a democracy to succeed, journalists need to be able to do their jobs freely," it said in an earlier statement.
"I have been arrest," Wa Lone texted to Reuters Myanmar bureau chief Antoni Slodkowski on Tuesday night, before his phone appeared to have been switched off. Reuters employees in Yangon filed a missing persons report, went to three police stations and asked a series of government officials about their disappeared colleagues, according to the publication. As of Friday, Reuters said it still had not been contacted by officials regarding the detentions.
Wa Lone and Kyaw Soe Oo "have been reporting on events of global importance in Myanmar," Stephen J. Adler, Reuters' president and editor-in-chief, said Wednesday. "We learned today that they have been arrested in connection with their work. We are outraged by this blatant attack on press freedom. We call for authorities to release them immediately."
Wa Lone, 31, joined Reuters in June 2016. He previously worked for English-language newspaper The Myanmar Times, and has written for HuffPost as a contributor. Kyaw Soe Oo, 27, has reported for Reuters since September.
U Myint Kyaw, a member of the Myanmar Press Council, an independent organization that advocates for the news media, said he is "very concerned about the arrests of these two journalists."
Between 80 percent and 90 percent of government documents in the country are considered confidential or secret under the law, he told The New York Times.
"Very few documents are public documents," he said. "We don't have a Freedom of Information Act in our country yet."
Media freedom "unfortunately does not have a place" among the Burmese government's priorities, according to Reporters Without Borders. "Widespread racist attitudes towards the Rohingya people restrict free and independent coverage of the humanitarian crisis [there]."
Shawn Crispin, a senior Southeast Asia representative of the Committee to Protect Journalists, said Wa Lone and Kyaw Soe Oo's arrests "come amid a widening crackdown which is having a grave impact on the ability of journalists to cover a story of vital global importance." CPJ calls for their immediate release, he added.
State officials in Brussels, the U.K., Japan and Sweden have also expressed concern and said they are following the situation closely.
This article has been updated with additional reactions to and details about the arrests.
Popular in the Community