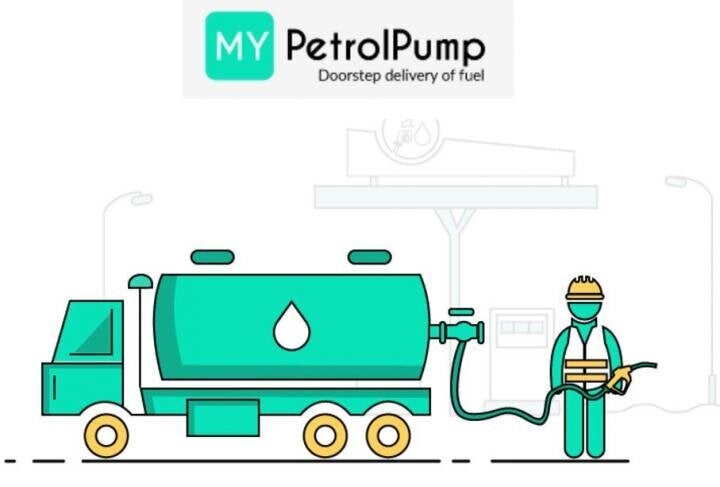 AHMEDABAD, Gujarat—Last month, MyPetrolPump, a fuel delivery startup that launched in 2016, made headlines after it raised funding of $1.6 million. The company, which home-delivers diesel (not petrol, ironically, as that is not permitted) that is filled into your car at your selected location, had been gaining attention since its launch because getting fuel at your doorstep was such a novelty in India at the time.
The idea seems simple enough but the startup, which had already roped in a handful of apartment complexes and schools as customers, ran into regulatory trouble just a year after its launch. It's back in action again, but like many tech companies, may just be operating in a regulatory grey zone, preferring to let the rules catch up with it.
"Setting up, operating and scaling up an on-demand fuel start-up is a challenge in India owing to the plethora of regulations, licensing and guidelines that begin from acquiring fuel till the point the process of storing and consuming the fuel so acquired," said Pankaj Mehta, Managing Partner at Fortune Legal, a Delhi-based law firm.
This is complicated by the fact that fuel is classified into different classes governed by different regulations, which makes the process of getting a licence to acquire fuel unnecessarily hard, he added.
Even then, it's easy to understand why so many public and private dealers are jumping on to the fuel delivery bandwagon now. India's petrol pumps have been struggling to deal with the massive demand for fuel for a while now, making the sector ripe for a disruption. The government has also recognised this and revised the laws that govern the petroleum industry in 2018.
What trouble did MyPetrolPump get into?
In mid-2017, the Petroleum and Explosives Safety Organisation (PESO), a government agency responsible for ensuring the safety of the public from petroleum products and making sure that dealers follow protocol, released an order directing state-run oil marketing companies as well as private retailers to no longer supply fuel to MyPetrolPump, citing safety concerns.
"The act of supply of petroleum products is illegal and fraught with danger to the public and property in the absence of guidelines pertaining to safety and procedures," stated the PESO-issued circular.
MyPetrolPump got back on the road a few months later with a redesigned mobile dispenser. But did the Ministry of Petroleum and Natural Gas and PESO actually green-light its operations?
The startup doesn't seem to have direct tie-ups with any Oil Marketing Companies. It still sources its fuel from private dealers and tops up its fleet of vehicles from regular dispensing units which is illegal since doorstep delivery bowsers can only be filled at "specially prepared areas attached to a service station."
Responses to RTI requests filed by the Empowering Petroleum Dealers Foundation—a national union of petroleum dealers—in April 2019 revealed that neither PESO nor the MOP&NG "has granted any license in favor of MyPetrolPump for on-demand fuel delivery under Petroleum Rules, 2002."
When HuffPost India reached out to MyPetrolPump's co-founder and COO, Nabin Roy, he requested a confirmation letter from the editor but upon receiving that, he went silent and did not answer the questions.
This sector is on fire
MyPetrolPump aside, there's been a spurt of activity from the government, startups, and traditional Oil Marketing Companies in the on-demand fuel delivery sector of late. Dharmendra Pradhan, the Minister of Petroleum & Natural Gas, first confirmed that the government is exploring fuel delivery solutions way back in 2017.
"Using the technological advancements in the IT & Telecom Sector we will soon be starting online home delivery of Diesel & Petrol," he wrote in a tweet.
In early 2017, an official committee was formed to amend the Petroleum Rules and a pilot was launched with a limited set of partners and vehicles to study the intricacies involved in taking petrol pumps mobile. Those efforts materialised last year when the government revised the laws and released a Gazette notification to accommodate on-demand fuel services.
"The delivery crew needs to go through hazmat training, the vehicle needs to pass rigorous safety tests, licenses need to be procured for each new region, and more."
Since then, a host of private and public dealers have hopped on the fuel delivery bandwagon. The big three Oil Marketing Companies—BPCL, IOC, and HP—play a central role as they command the fuel sources for anyone who wants to launch a fuel delivery business. In addition to their on-demand fuel solutions, these corporations also supply petrol or diesel to other private companies and startups.
The companies argue that it's beneficial to the customers. They say that it saves people time as well as fuel compared to going to a petrol pump, limits pilferage losses, and prevents drivers from forging bills.
One such startup is Fuel Buddy, which has been an active participant of the fuel delivery discussion and committee. Today, it has a tie-up with BPCL for fuel and its services are available in the NCR Region.
Similarly, Pepfuel, in partnership with Indian Oil, delivers in Ghaziabad, Noida and Greater Noida. Even Mukesh Ambani-led Reliance is expected to throw its hat in the ring in the coming months.
How did this trend emerge in India?
To understand it, we have to look at the state of India's petrol pumps, which have been struggling to cope with the soaring rush of vehicles for a while now. India has a reported 60,000 stations ― nearly half that of the United States and China.
The hope behind on-demand fuel services is that they'll ease the congestion at petrol pumps. These solutions primarily eliminate large vehicles such as school buses and cargo trucks from the queues at service stations, which will free up space.
Apart from fuel, these startups also save the time taken to drive each vehicle to the outlet. Moreover, fuel delivery services are easier to set up than petrol pumps. The dealer doesn't need much land or incur the extortionate operational costs of maintaining a full-fledged petrol pump.
Refuelling diesel generators represent a major share of the on-demand fuel market. No longer do businesses have to rely on unsafe methods like carrying fuel in barrels to power their infrastructure.
With the new amendments, the government aims to essentially offer a legal alternative to these practices and address the growing concerns around the paucity of fuel stations.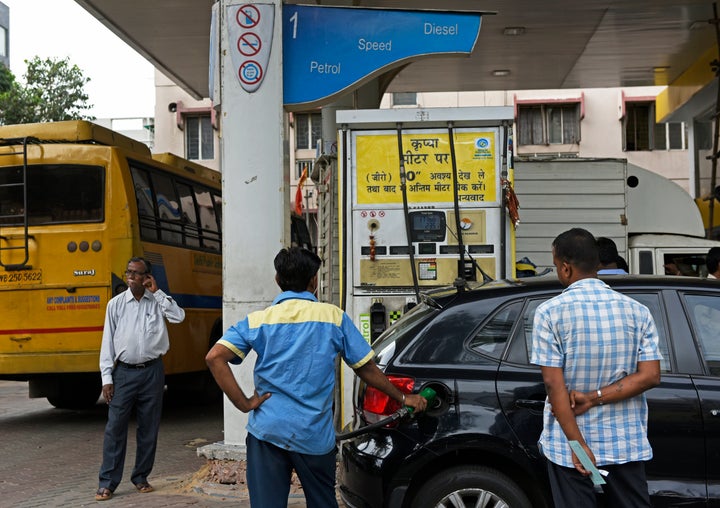 But if it sounds like driving massive fuel tankers to awfully active areas such as schools can be risky, that's because it is. There are a lot of requirement a dealer needs to meet before they're certified to deliver fuel―the crew needs to go through hazmat training, the vehicle needs to pass rigorous safety tests, licenses need to be procured for each new region, and so on.
However, the companies argue that they're safer than the existing systems.
"As opposed to what was currently happening, that is, fuel being sourced in drums/jerry cans/large plastic containers in auto rickshaws, carts and other ways, which always carried the risk of spillage, accidents, and even adulteration —FuelBuddy bowsers are way more advanced and carry no threat at all," said Gautam Malhotra, Strategic Advisor and Co-Founder of Fuel Buddy.
"Plus, at the time of delivery, FuelBuddy uses spill pads, gloves, cones off the area of dispensing, carries fire extinguishers etc. Our drivers and attendants are also trained as per Hazmat and Fire Safety standards."
At present, there's another reason why fuel delivery startups are fairly safe. This is because fuel delivery is currently restricted to diesel products which are relatively less combustible. This, however, could change soon as the government plans to add petrol to the on-demand laws as well soon.
Disrupting the market could be the bigger risk
The more immediate threat, which could end up throwing a wrench in the growth of on-demand fuel startups, is the hue and cry from independent petrol pump owners. Since its inception, the initiative has not sat well with them and for good reason.
The government has been slapdash in its efforts to upgrade to India's petroleum infrastructure. On top of the new on-demand solutions, the petroleum ministry has also announced its plans to double the number of traditional service stations and relax norms to attract new international energy giants such as Saudi Aramco and Total. That's not all. Earlier this month, Reliance Industries entered into a joint venture with British oil major BP Plc and pledged to set up 5,500 fuel retail stations across the country.
"The analysis shows that the economics do not support the addition of 78,000 petrol pumps. CRISIL Research is of the opinion that there is only room for less than half, i e about 30,000 fuel pumps, if the pumps are to maintain current throughput levels," stated a CRISIL Research report.
More players spells a dip in footfall which means pressure for dealers who are already operating on razor-thin margins and struggling to meet targets.
"This is a completely wrong plan. First, you have not increased the margins for petrol pumps. On top of that, you are bringing portable retail outlets... (and) doorstep delivery. So to a dealer who has spent years and lakhs to establish their petrol pump, how can you justify that?," Hemant Sirohi, an independent petrol pump owner and a member of Empowering Petroleum Dealers Foundation, told HuffPost India in a phone interview.
Popular in the Community