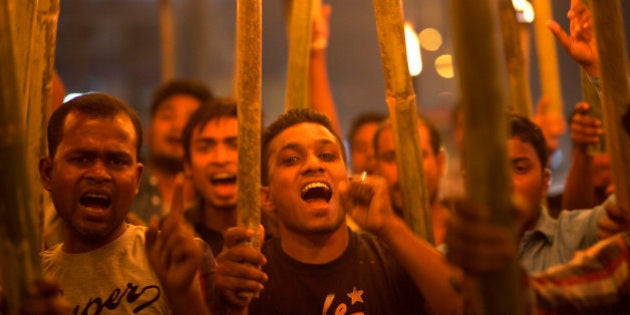 Kohima/Guwahati — The police arrested 22 people on Sunday over last week's storming of a high security prison in Nagaland and subsequent lynching of a rape suspect, an act of mob violence that sparked protests in a region divided on religious and ethnic lines.
Several thousand people in restive Nagaland state attacked the prison to drag out a rape suspect, beat him to death and tied the body to a clock tower on Thursday, forcing authorities to impose a curfew to restore order.
"Twenty-two people have been arrested for rioting and attacking the prison complex," state's top police officer L.L. Doungel told Reuters.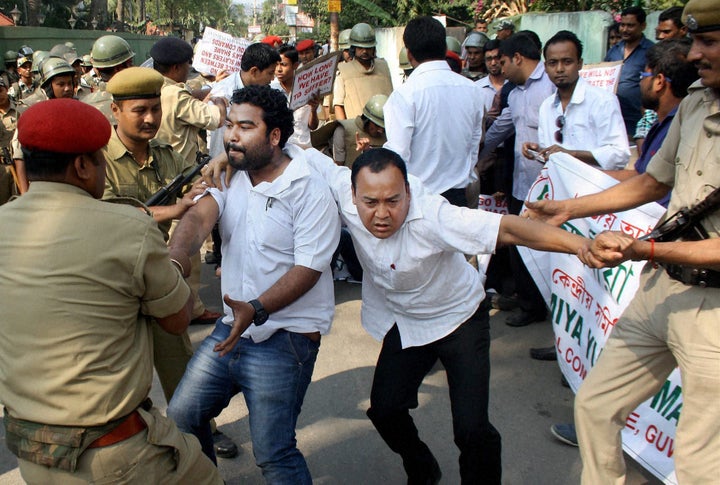 Muslims in Nagaland and Assam protested against the lynching on Saturday and authorities put a freeze on internet and SMS phone messaging services after videos of the attack surfaced.
Police said they were struggling to identify people directly involved in the murder of Syed Farid Khan, 35, who had been accused of raping a 19-year-old Naga tribal woman multiple times.
Khan's brother linked the murder to ethnic tensions within Nagaland, whose indigenous groups have for decades accused a growing number of Muslim migrants from Bangladesh of illegally grabbing their fertile land.
The family accused police of falsely implicating Khan in the rape to try to root out Muslims from Nagaland.
Nagaland rape accused who was lynched was an Indian national, not illegal immigrant: Assam Chief Minister Tarun Gogoi

— NDTV (@ndtv) March 7, 2015
The lynching also follows an outpouring of anger in India over violence against women.
Khan's lynching coincided with controversy over a government order to ban the broadcasting of a documentary about the fatal gang-rape in December 2012 of a young student in New Delhi that caused shock within India and around the world.
Curfew was clamped in Dimapur town as protests rocked many parts of Assam and a 12-hour bandh was observed in the Barak valley.
Additional Director General of Police (Law and Order) G Akheto Seema said that curfew had been imposed in Dimapur town from three pm till 12 midnight on Sunday to maintain peace.
Khan was buried at his native Bosla village in Karimganj district amidst tight security. A large number of people attended the burial with former minister and Karimganj (South) MLA Siddeque Ahmed being present, Karimganj Deputy Commissioner Sanjiv Gohain Boruah said.
Khan's body had been airlifted to Karimganj last evening after Nagaland authorities handed over his body to the Dimapur Muslim Council.
The Barak valley bandh in Assam, called by several political, social and business organisations, was total as shops and market places were closed and vehicular traffic remained off the road, official reports from the districts said.
There was, however, no report of any untoward incident from the three districts of Karimganj, Cachar and Hailakandi of the valley where the bandh was observed, officials said.
The Nagland government has imposed a 48-hour Internet blackout in the state beginning last night after videos related to the lynching of the rape accused in Dimapur surfaced on the net.
STILL defending the Nagaland mob? Remember: Those who don't hesitate to kill on your behalf will not hesitate to kill you on others' behalf.

— Nigel Britto (@NigelBritto) March 7, 2015
The government order published in the local newspapers today also instructed mobile service providers to block SMS/MMS services.
Syed Farid Khan, hailing from Assam, owned a motorparts shop in Dimapur. He had been arrested on suspicion of raping a woman in Dimapur on February 24 and remanded to judicial custody in the Dimapur Central Jail the next day.
On March 5, a mob broke into the jail, dragged him out, stripped him naked, beat him up, pelted him with stones and dragged him towards the centre of Dimapur town, seven kilometres away. He died from his injuries on the way after which the mob displayed his body from a clock tower.
Popular in the Community