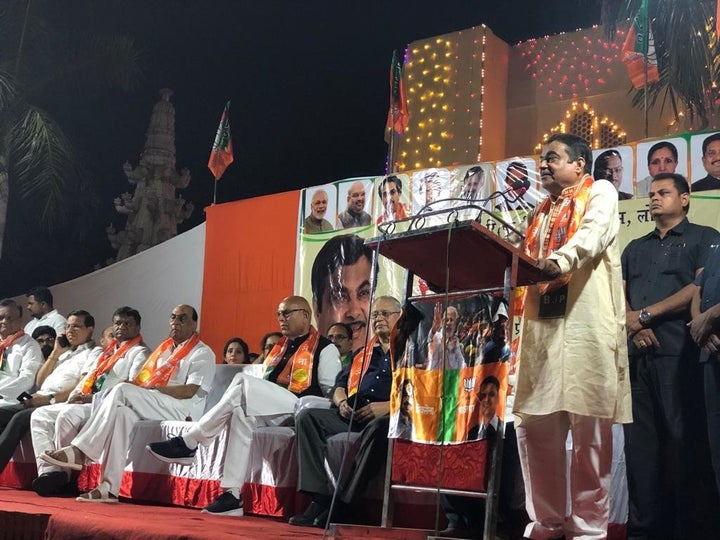 NAGPUR, Maharashtra — Two days before campaigning ended for the first phase of the Lok Sabha election, union minister and senior BJP leader Nitin Gadkari stepped out into the blazing Nagpur sun. He was campaigning that day in the East Nagpur area, a hub of the city's retail trade.
Gadkari, who won his first ever direct election from the Nagpur Lok Sabha seat in 2014 at the height of the 'Modi wave', is looking to defeat a former party colleague this time—Nana Patole, a former BJP MP from Bhandara-Gondiya, who is contesting on a Congress ticket.
Much before Gadkari left his house, hundreds of BJP workers had assembled in the posh Ramnagar locality in cars bikes and e-rickshaws. By the time the minister emerged, the crowd had grown to around 5,000 people.
Throughout the three-hour long rally, East Nagpur residents thronged the streets, chowks and rooftops to catch a glimpse of a man many believe may have a shot at becoming India's next prime minister if the BJP fails to get a majority in the general election beginning Thursday. Nagpur is one of the constituencies voting in the first phase.
But ask any of the jubilant BJP workers what they think of Gadkari's chances and they become guarded.
"Now you are trying to fuel a fire," one of them shot back.
Even a leader as close to the RSS as Gadkari is wary of expressing his political ambitions too openly in the BJP—when his cryptic utterances after the party lost three key states in the assembly election last year began making headlines, a rattled Narendra Modi and Amit Shah sent a senior functionary to warn him off.
Like in 2014, Modi has not campaigned for his long-time rival this time as well, despite visiting districts near Nagpur.
"When he came to Wardha last week, he went via Nagpur but Gadkari did not meet him. Gadkari was instead campaigning in Chandrapur for BJP candidate Hansraj Ahir, who was present in Modi's Wardha rally," said a close associate of Gadkari on condition of anonymity.
Gadkari has denied his prime ministerial ambitions in multiple interviews, and people close to him say that the stress is now visible on his face.
"The way Modi-Shah duo has concentrated power in their own hands, it is troubling him. Many ticket aspirants came to him for tickets this time, but he straightaway directed them to Amit Shah. His health is also a concern," said another BJP office-bearer close to Gadkari.
This person added that Gadkari's eye on the top post has never been a secret.
After all, political observers believe that if it comes down to it, the RSS will always back Gadkari over Modi.
In October, SN Vinod, a senior journalist based in Nagpur, had told HuffPost India that the RSS doesn't want the Modi-Shah combine to come back to power.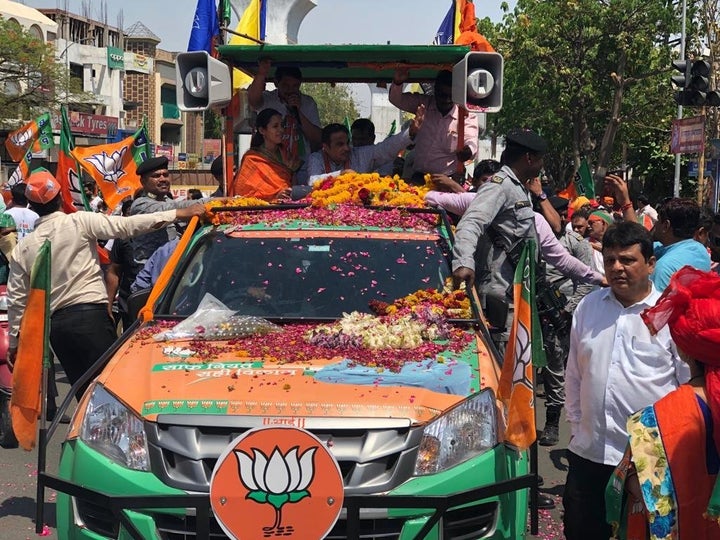 "The RSS and Bhagwat know that Modi, if elected PM again with a comfortable majority, will try to bulldoze the RSS. He will make sure that his man becomes the RSS chief," he had said.
Opinion polls published before voting began to indicate that the BJP will return to power, but its tally will drop from last year's 282 seats.
On the road
Many of the BJP supporters HuffPost India spoke to were unhappy with the party's record on jobs and its policy decisions such as demonetisation and GST, but still maintained they would vote for Gadkari for different reasons.
Ritesh Khairkar, who runs a Chinese food stall, proudly carries a BJP flag, but admits he is not very happy with Gadkari's performance as MP.
"These cement roads and the metro aren't going to educate or feed us," he complained.
"Gadkari, of course. Not only me, my entire family would vote for him. Who else is there? We haven't even seen the Congress candidate. I heard on some TV channels that he (Gadkari) could become PM. We would like to vote for someone who stands a chance to be PM. But they will have to generate employment this time," he said.
Trader Thakurdas Bhagwani, said that GST hit his business badly.
"But I am with the BJP on the issue of Rashtrawad (Nationalism) and Hindutva," he claimed.
Every 500m, groups of BJP supporters rushed to meet Gadkari, who told them to go to 100 families who don't support BJP and convince them to vote for him.
In his speeches, the minister sticks to what he has done for the constituency during his term and what he will do if he wins again. Missing from the address are any mention of his opponent, PM Modi or the issues that appeal to core Hindutva supporters, such as Ram Temple and Pakistan.
"He has asked us not to mention a single negative thing during the campaign," said BJP leader Chandan Goswami.
As the rally passed through the Itwari area, the police stopped traffic on one side. One of the cars stuck waiting for the roadshow to pass belonged to Congress candidate Patole. There was nothing to mark out the vehicle as belonging to the sitting MP's key opponent—no flag, no hangers-on.
"He (Patole) has changed so many parties in his career. It looks like even the Nagpur Congress hasn't accepted him. Look at him and look at our mahaul," exulted a BJP worker, before rushing off to follow his leader.