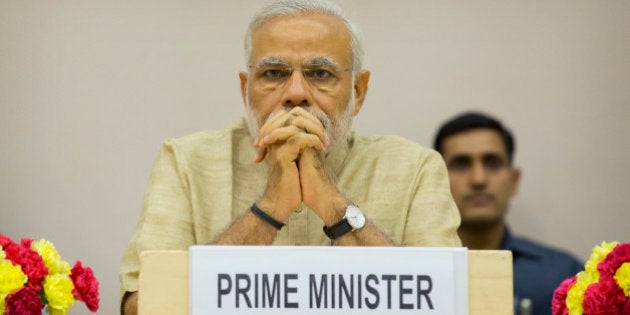 NEW DELHI — As many as four aircraft including a C-130 plane carrying three tonnes of relief supplies and a 40-member rescue team were today pressed into service to assist Nepal after it suffered a devastating earthquake in which hundreds of people have been killed.
The External Affairs Ministry has also set up a 24-hour control room to help its nationals with information and any other assistance.
While two C17 globemasters took off from Hindon airbase, one aircraft was being sent from Bhatinda, Foreign Secretary S Jaishankar told reporters.
The 40-member National Disaster Response Force with their equipment will not only provide relief and rescue services to Indians there but also Nepalese people, he said.
Spoke to PM Sushil Koirala, who is in transit in Bangkok on his way to Kathmandu. Assured all support & assistance during this tough time.

— Narendra Modi (@narendramodi) April 25, 2015
We are in the process of finding more information and are working to reach out to those affected, both at home & in Nepal.

— Narendra Modi (@narendramodi) April 25, 2015
The teams will also assess the damage, he said, adding that tomorrow also India will fly special engineering teams to help the people of Nepal.
Acting on Nepal's request, the government will be sending medical teams and mobile hospitals, the Foreign Secretary added.
The relief supplies include tents and blankets as asked by the Nepalese government, he said, noting that in the meeting chaired by Prime Minister Narendra Modi, the message was very strong that "we should do whatever possible to help Nepal".
MEA opens 24 hour Control Room for queries regarding tragic #NepalEarthquake. Numbers:

+91 11 2301 2113

+91 11 2301 4104

+91 11 2301 7905

— Vikas Swarup (@MEAIndia) April 25, 2015
Asked about Indians stuck there, Jaishankar said the government has received information from several states regarding tourist groups and it was being processed to get the exact number.
External Affairs Minister Sushma Swaraj tweeted that "Indians in Nepal may please contact our mission in Kathmandu.
Our mission will provide you all help."
Hundreds of people were killed in today's 7.9 earthquake with epicentre at Lamjung, around 80 kilometres northwest of Kathmandu. It also had its impact in several Indian states including Bihar, West Bengal and UP and tremors were felt across vast stretches of eastern and northeastern region. It was also felt in China, Bhutan and as far as Pakistan and Bangladesh.