On 10 January 2019, a day before Uri released in theatres, a gaggle of Bollywood A-listers met Prime Minister Narendra Modi for a well-publicised round of schmoozing.
Among the many photos taken at the meeting was a group selfie which would soon be rapidly shared across social media, including by numerous accounts and Facebook pages overtly and secretly managed by the BJP.
Jain, a businessman with an interest in the Mumbai film industry, was the conduit between Modi and the stars present at the meeting. Bhagat, HuffPost India has learnt from a person who worked with the Modi campaign in the past, coordinates many of the activities of the BJP's digital campaigns and is the son of Parindu Bhagat, or Kakubhai, one of Modi's most trusted allies from his years in Gujarat.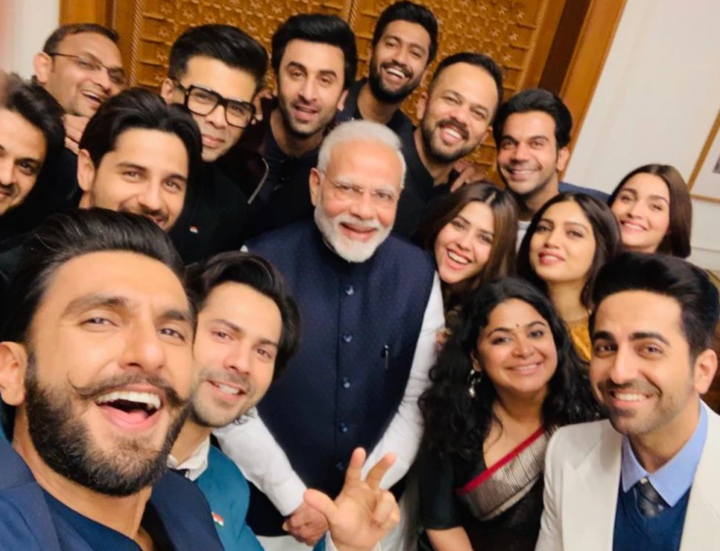 As the selfies with Modi moved rapidly across BJP accounts, it became clear that the party's purpose behind the interaction was to score propaganda points and influence young voters by suggesting that their favourite film stars held the Prime Minister in high regard. At least two attendees who initially did not post their selfies with Modi told HuffPost India that they were gently reminded by members of Modi's team to post the photographs.
When former newsreader and columnist Sagarika Ghose criticised the photograph, Nation With NaMo, a Facebook page run by a shadowy BJP-funded political consultancy called the Association of Billion Minds, posted a sharp rejoinder on their page.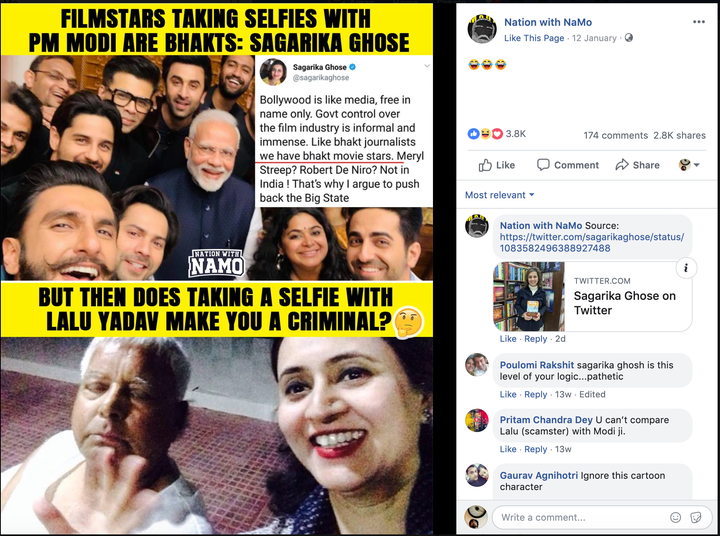 The Bollywood selfie, and the men on its margins, is emblematic of Modi's preternatural talent for self-promotion and ability to leverage casual photo-ops and noncommittal endorsements by public figures into valuable character certificates.
It is also a sad indictment of an industry that has suffered violent censorship and threats at the hands of the BJP and yet continues to mouth homilies and platitudes to the government in power.
Jain and Bhagat, the two quiet men in the background, show how these seemingly spontaneous connections between Modi and Bollywood are actually the result of the tireless efforts of the BJP's quiet foot soldiers.
Some inorganic love
Two months after that meeting, on 14 March 2019, Modi tagged everybody from Aamir Khan, Shah Rukh Khan, AR Rahman, Karan Johar and Akshay Kumar in a series of tweets, urging them to encourage their fans to vote.
The tweets attempted "clever" personalised puns for each Bollywood biggie. The PM's tweet to Karan Johar said, "Because… it's all about loving your democracy" (a reference to Kabhi Khushi Kabhie Gham), while a tweet to Akshay Kumar, Ayushmann Khurrana and Bhumi Pednekar said, "Thoda Dum Lagaiye aur Voting ko Ek Superhit Katha banaiye," a reference to Toilet: Ek Prem Katha and Dum Laga Ke Haisha.
This entire campaign, HuffPost India can reveal, was not an organic exchange of Twitter love and mutual admiration between the Prime Minister and Bollywood, but rather a carefully choreographed show.
The celebrities retweeted Modi's tweet along with a message of their own — giving the impression that they were tacitly endorsing Modi and the BJP.
While Mahavir Jain told HuffPost India that the coordinated tweeting campaign was an idea initiated by the stars on their way to meet Modi in January, at least two attendees denied that this was proposed by Bollywood, and said they were merely going along with a plan that was communicated to them by Mahavir, and presumably drafted by the PMO.
"Over the past two years, Jain said, Modi has had several meetings with Bollywood representatives"
Who is Mahavir Jain?
A quiet, almost worryingly polite businessman and occasional film producer in his early 40s, the most striking feature about Jain is, ironically, his deep desire to remain out of the public eye. Of the many photographs publicly shared from three separate meetings between Bollywood actors and producers and Modi, he appears in very few.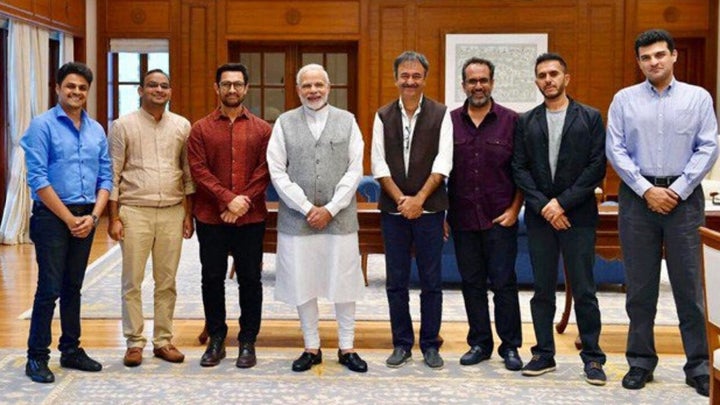 He's the one in the brown linen shirt, second from left, in this photograph from an 18 December 2018 meeting between Modi and a Bollywood delegation. He's a little more animated in the January selfie — he's the one right at the back with his mouth half open.
Last month, Jain agreed to meet with HuffPost India in a stunning sea-facing apartment in Versova, which he described as his "creative space".
He works amidst a tasteful mise-en-scene of a giant Buddha statue smiling beatifically at a room full of antique furniture down up in white and pastel shades. The windows open to an unobstructed view of the Arabian sea. A smiling picture of Sri Sri Ravi Shankar is perched on the wall.
Jain is essentially a businessman with one production credit to his name — Dekh Indian Circus, a Nawazuddin Siddiqui-starrer that has toured festivals but has not been commercially released as yet.
Jain said he had first met Modi many years ago, and since stayed in touch.
Over the past two years, he said, Modi has had several meetings with Bollywood representatives.
"There were several meetings in the last two years. Whenever he would find time, he'd be willing to meet industry stakeholders," Jain said. "His request was only one: I want to meet sensible people."
Among the people Modi met in the last two years are Akshay Kumar, Aamir Khan, producers Ritesh Sidhwani and Siddharth Roy Kapur. "He was very attentive to their concerns," said Jain.
Modi, he said, was a big supporter of the industry.
"Post elections, big news will come," Jain said. "He's sincere, selfless, dedicated, committed visionary. Nor once did he ask anything of them, only wanted to give."
The meeting that resulted in the famous selfie, Jain said, was set up at the initiative of director Karan Johar.
When asked if Modi had specifically asked to meet youngsters, Jain denied it, saying, "No. It was Karan Johar."
Johar did not respond to text messages and phone calls from HuffPost India although conversations with other attendees contradicted Jain's version.
Modi's only request, Jain reiterated, was to get "sensible people."
"Respected people, insightful people, people who can contribute to value addition," he said. "Industry reached out first. Then I reached out to the PMO. And then we got an appointment."
Who pressed for the pictures? Jain isn't sure but he thinks it was either Ranveer Singh or Ayushmann Khurrana.
"Modiji had left after the meeting. Then it struck one of these guys that photo hasn't been taken. So I went and requested. He came back to click the selfie and then even clicked individual photos with everyone."
When asked if he sent messages to the attendees, asking them to share the pictures on their social media feeds, Jain denied that too.
"Why will I force anyone? They all did it by themselves. Some were even asking me for their pictures," Jain said. "They were all so inspired by him that they wanted to post the pictures."
HuffPost India reached out to Khurrana and Singh, who did not respond to requests for comment although another source confirmed that it was Singh who 'spontaneously' leapt out to request for a selfie.
"If you get a call, how do you say no?" said one attendee, making it clear that it wasn't so much an invitation to meet Modi as a directive.
Modi's March vote-tweet campaign, which was directed even at actors who weren't part of the January meeting was a film-industry initiative, said Jain.
"While flying to Delhi, the fraternity people discussed what could be done for the Prime Minister," he said.
According to Jain, Johar was planning to make a short film to urge people to "vote", but that plan was dropped due to time constraints. Instead, everybody agreed to a social media campaign which would be initiated by Modi.
Jain said no instructions were given to the Bollywood actors on who to vote for, as long as they were urging people to vote.
Soon after the meeting, Jain sent HuffPost India an email formally withdrawing his participation in the story because he was an "apolitical person" and would not like to attract any undue attention for his work, which was "for the larger good of our industry."
HuffPost India has decided to retain those sections of the interview that illustrate the close relationship between Bollywood and the BJP.
The Gujarat connection
If Jain was the person who delivered Bollywood to the Prime Minister, Maulik Bhagat is the man tasked with amplifying Modi's public persona.
HuffPost India cannot establish if Bhagat personally oversaw the publicity around the Bollywood visits but Bhagat's role in helping shape Modi's social media strategy dates from his time in Gujarat, according to people who have worked closely on Modi's campaigns.
A 2014 article in the Ahmedabad Mirror credits Bhagat with beginning "Modi's social media revolution some 12 years ago in a small but significant manner". In 2014, an article in DNA described Bhagat as an "independent professional" anchoring Modi's social media strategy from Gujarat. When NDTV journalist Sreenivasan Jain was reporting on Modi's campaign for the 2012 Gujarat assembly elections, he described meeting a 27-year-old Bhagat in an office tower in Ahmedabad.
"He's a new, but integral part of the Modi spin team, creating the concept for a series of popular 'kabbadi' ads, meant to highlight the leaderless state of the Gujarat Congress. Maulik says he is also coordinating the Chief Minister's mammoth online and social media campaign," Jain wrote.
Bhagat's company, Nascent Infotechnologies Pvt. Ltd, has worked on the BJP's social media election campaigns, according to the party's campaign expenditure reports filed with the Election Commission of India.
In the 2017 state elections in Gujarat, for instance, the BJP paid Nascent Info Technologies Rs 43,80,532 for social media advertising.
Maulik Bhagat didn't respond to queries emailed by HuffPost India.
Bhagat's father, Parindu Kanhiyalal Bhagat, is known to be one of Modi's closest confidants over the years. Colloquially known as Kakubhai, Parindu Bhagat was appointed as an independent director to the Indian Oil Corporation of India (IOCL) in December 2015. In FY17-18, he served on the audit committee, chaired the Corporate Social Responsibility and Development Committee of IOCL, India's largest commercial oil company, and was paid Rs 15,22,200 in sitting fees according to IOCL's annual report.
"Mahavir Jain, a businessman with links to Bollywood, and Maulik Bhagat, a businessman with links to Modi, offer a glimpse of how the BJP has used its five years in power to build a wide network of allies in the party's quest to normalise Narendra Modi's past as a riot-tainted Chief Minister of Gujarat"
When Modi became prime minister, multiple media reports suggested that Parindu Bhagat could be appointed the BJP treasurer, though that didn't happen.
Parindu's father, Maulik's grandfather, Kanhaiyalal Bhagat, better known as Bachubhai, was Modi's mentor in the Rashtriya Swayamsevak Sangh (RSS), according to these reports.
Mahavir Jain, a businessman with links to Bollywood, and Maulik Bhagat, a businessman with links to Modi, offer a glimpse of how the BJP has used its five years in power to build a wide network of allies in the party's quest to normalise Narendra Modi's past as a riot-tainted Chief Minister of Gujarat, and painstakingly construct a statesman-like image for the man who hopes to remain India's Prime Minister.
In hindsight, Modi's well-publicised meetings with Bollywood were one part of what appears to be a much broader campaign that has included actor Vivek Oberoi's Modi biopic (which almost released in the midst of elections), and a multi-part Modi series on Eros Now, a video-streaming service.
'Apolitical' bunnies
It is not unknown for film stars to cross over into politics—in 1984, Amitabh Bachchan contested and won from Allahabad on a Congress ticket in elections held in the immediate aftermath of Indira Gandhi's assassination and the anti-Sikh riots that followed.
At the time, Bachchan was at the height of his stardom.
In 1983, he had starred as the genre-defining underdog in Coolie, one of his finest films.
As an aside: Former Prime Minister V.P. Singh, who was the Congress's UP state president at the time, recalls that Bachchan appeared at the party office with his face covered in a towel to avoid attracting too much attention, In his memoir, Manzilon Se Zyaada Safar Singh claims he didn't recognise Bachchan as he didn't watch films.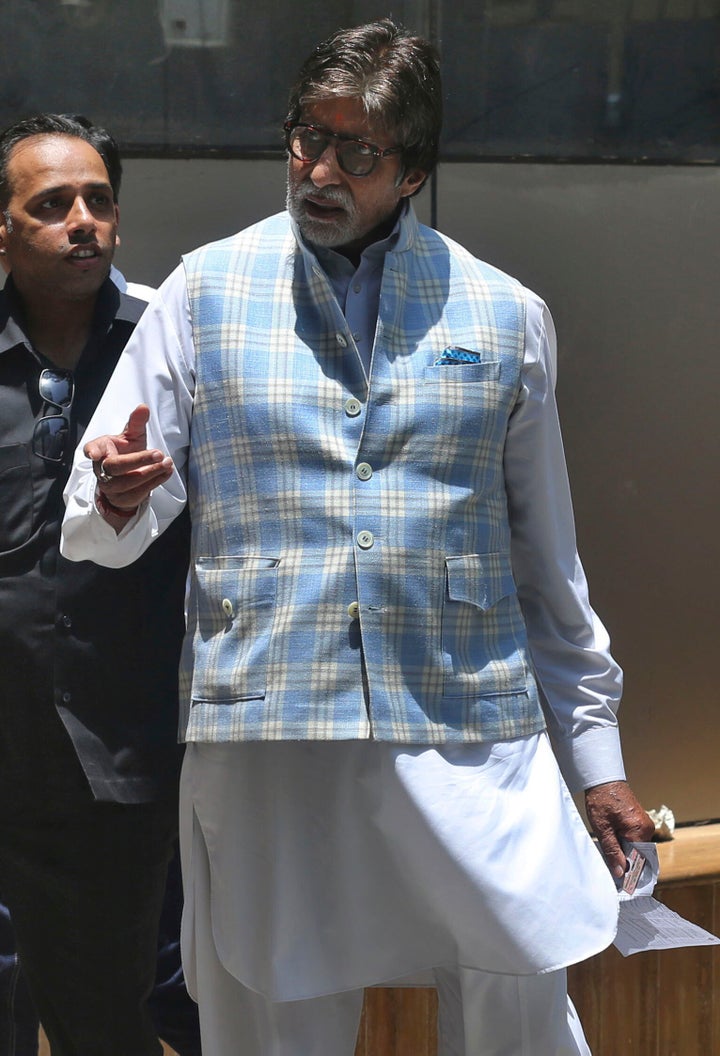 Bachchan went on to win the election by a huge margin, but stepped down midway through his term.
Today's generation of stars have found a different way to engage with power. Where Bachchan conceivably sought to enter the arena, today's A-listers are content to curry favour with the BJP under the guise of "nationalism", but claim to be "apolitical" when they are called out.
"I don't think that we ever give out a very strong political vibe in general as actors," Bhatt demurred, despite posing for the selfie with Modi only a month previously.
Cut back to the day of that meeting. On 10 January, Amit Malviya, the head of the BJP's IT cell, tweeted a video that showed the stars who met Modi crowding the aisle of a chartered jet and chanting a dialogue from Uri, which would soon be appropriated by the party.
"How's the josh?" shouted Vicky Kaushal, Uri's lead actor.
"High, sir!" called back the actors.
The video ended with lusty chants of 'Jai Hind!'
In his tweet, Malviya asked, "Have we ever heard film-stars chanting Jai Hind like this before? This is what changed in 4 years!"