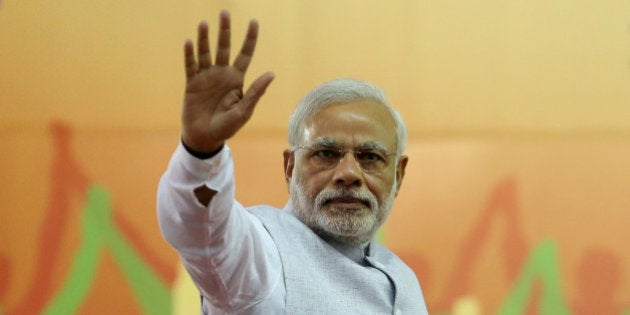 NEW DELHI — Prime Minister Narendra Modi embarks on Thursday on a three-nation tour of France, Germany and Canada that will focus on boosting trade and economic ties, including in defence and railways, keeping in mind the government's Make in India initiative.
The prime minister, who will arrive late on Thursday in Paris, earlier said that his eight-day visit was focused on supporting India's national economic agenda, especially job creation for the youth.
All three destinations are G-7 industrialised democracies, with an economic interest, said Foreign Secretary S. Jaishankar at a media briefing ahead of the visit.
In France, Modi will be accorded a ceremonial welcome and immediately hold two back-to-back roundtables with top French CEOs, one focused on infrastructure and the other on defence technology.
"Infrastructure is high priority for the government, and the French companies have expertise and capability. Defence and nuclear energy are also important facets," Jaishankar said, adding that the cooperation will focus on the Make in India initiative of the government.
Modi will visit the Unesco headquarters and later attend a lunch at the French National Assembly.
In the late afternoon, he will call on President Francois Hollande, during which both sides will hold talks.
The two leaders will be presented with the report of the India-France CEOs forum on ways to boost business ties.
Thereafter, Modi and Hollande are to go on a boat ride on the Seine river, in a "nav pe charcha" moment, the foreign secretary announced.
Hollande will also host a banquet for Modi.
On April 11, the prime minister visits Toulouse, in southern France, where he will go to the Airbus facility and discuss ways of further cooperation, including in transfer of technology and investments.
He will also visit the French space agency CNES.
Modi will drive down to Lille to visit the Neuve Chapelle war memorial to pay homage to the 10,000 Indian soldiers who were killed during World War I, the foreign secretary added.
He will then return to Paris and attend a reception by the Indian community and also meet former French president Nicolas Sarkozy.
On April 12, the prime minister will fly to Hannover in Germany to attend the Hannover Messe fair that has India as the partner country.
According to Jaishankar, the Hannover Messe fair authorities have given the Indian side a large exhibition area - 7,000 square metres as well as 1,200 square metres in the central park.
Around 400 Indian firms are participating in the fair, the world's largest industrial fair, while 120 Indian CEOs would be there, he said. Some 3,000 German business delegates would attend the fair.
"There is a lot of enthusiasm for the Make in India initiative and the potentialities in India among the foreign participants," Jaishankar said.
Modi would then unveil a bust of Mahatma Gandhi at the City Hall in Hannover.
Later, along with German Chancellor Angela Merkel, Modi will attend the fair opening in the evening.
On April 13, the two leaders are to jointly inaugurate the Indian pavilion at the fair and go around the fair and also inaugurate an India-German business summit.
Modi will leave for Berlin where he will attend a science and technology academy.
He will also visit a German railway station, where he will get a view of the railway modernisation.
On April 14, he will arrive in Canada. This will be the first visit by an Indian prime minister to Canada since 1973.
Besides discussions on boosting energy and economic cooperation, Modi will interact with the sizeable Indian community in Canada, said Special Secretary for the Americas R. Swaminathan.
Modi will visit Ottawa, Vancouver and Toronto during the Canada trip.
On April 14, he will be in Ottawa and on April 15, he will be accorded a ceremonial welcome after which he will meet Canadian Governor General David Johnston. He will also meet Prime Minister Stephen Harper over a working lunch.
Modi will then move to Toronto in the evening and attend an event with the diaspora and later attend a reception by Harper.
On April 16, both sides will hold a meeting with the Canadian Pension Fund for investment.
In Vancouver, Modi is to visit the Lakshminarayan temple and also a gurdwara, said the official. He will leave for home that night.



Popular in the Community