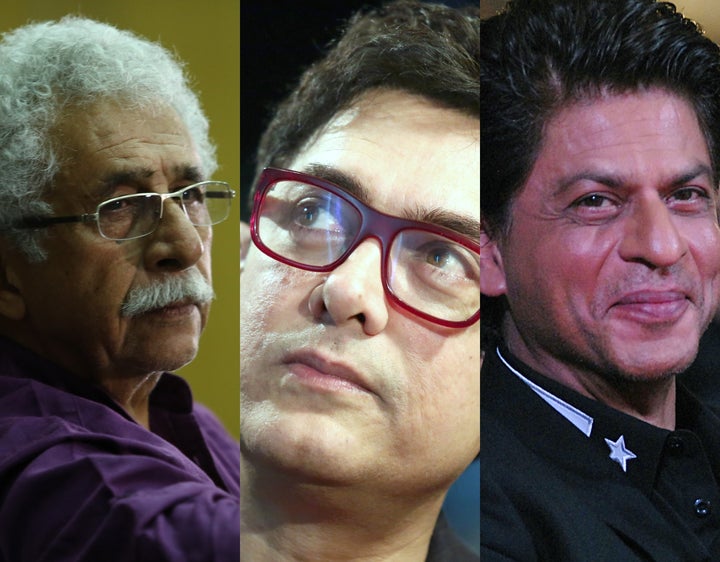 Actor Naseeruddin Shah faced severe backlash, like some of his colleagues from Bollywood have in the past, after he made a comment about the state of minorities in India.
Before Shah, actors Aamir Khan and Shah Rukh Khan had voiced their concerns about a reportedly growing trend of 'intolerance' against minority communities in India. Both of them were severely trolled on social media. Snapdeal, an e-commerce platform Aamir Khan was the brand ambassador for, did not renew his contract following a sustained social media vilification campaign against the actor.
In 2016, after the Uri attacks, Maharashtra Navnirman Sena (MNS) threatened to not allow the release of Ae Dil Hai Mushkil and Raees because they featured Pakistani actors Fawad Khan and Mahira Khan respectively.
While Mahira Khan's role in the movie was retained, she was not invited to India for promotions, according to NDTV. Karan Johar apologised for casting Fawad Khan.
Here's a list of actors who have spoken out against 'intolerance' in India.
Naseeruddin Shah
Following the violence in Uttar Pradesh's Bulandshahr, Shah said at many places the death of a cow is being given more importance than the killing of a policeman.
He also expressed anxiety over the well-being of his children, who he said have not been brought up as followers of any particular religion.
He found himself at the centre of a major controversy soon after his comments and organisers of the Ajmer Literature Festival even called off an event which was set to be addressed by him after protests by right-wing groups.
The Uttar Pradesh Navnirman Sena (UPNS) has said it will send the veteran actor an air-ticket for Pakistan over his comments on the Bulandshahr violence.
"Like him, if anybody else feels scared, the UPNS will also book air-tickets for them to Pakistan," UPNS chief Amit Jani was quoted as saying by PTI.
Amid the controversy, Pakistan Prime Minister Imran Khan said he will "show" the Narendra Modi government "how to treat minorities". In response, Shah told The Indian Express that Imran Khan should stay away from "issues that don't concern him".
Shah has also wondered why his comments on mob violence were being misconstrued with some people calling him a "traitor". He said that he spoke as a "worried Indian" and has the right to express concerns about the country he loves.
His fear for his children's safety is reminiscent of Aamir Khan's comments on intolerance in 2015 that had also sparked a major row.
Aamir Khan
Aamir Khan had said that he was "alarmed" at the growing intolerance and added that his wife Kiran Rao even suggested that they should probably leave the country.
"As an individual, as part of this country as a citizen, we read in the papers what is happening, we see it on the news and certainly, I have been alarmed. I can't deny. I have been alarmed by a number of incidents," he said while speaking at the Ramnath Goenka Excellence in Journalism Awards in 2015.
Later, he attempted to clarify his statements and said it was taken out of context. He added that he has never thought about leaving the country.
However, Khan's statement provoked sharp reactions from some of his Indian colleagues including Anupam Kher and Ram Gopal Verma. Kher hit out at him, saying "India has made him what he is".
BJP leader Shahnawaz Hussain even said there was a "deep political conspiracy" by the Congress to defame the country by harping on an atmosphere of intolerance, after Rahul Gandhi backed the actors comments.
E-commerce major Snapdeal distanced itself from the remarks and its then brand ambassador Khan. Just months later, Snapdeal decided not to renew its contract with Khan as its brand ambassador.
In 2016, he was also removed as the brand ambassador of 'Incredible India' campaign amid speculation that the decision was related to his comments on 'intolerance'.
News18 reported that a sedition case was also filed against Khan at a local court in Kanpur.
Shah Rukh Khan
In 2015, Bollywood superstar Shah Rukh Khan also said that there was "extreme intolerance" in the country. When the writers and filmmakers were returning their awards as a mark of protest, Shah Rukh said he would not hesitate to give up his awards as a "symbolic gesture" if he has to, but feels he does not have to do so.
His remarks received severe backlash with BJP leader Yogi Adityanath even comparing him with Pakistani terrorist Hafiz Saeed. Adityanath also suggested that Shah Rukh should go to Pakistan.
Sadhvi Prachi, a controversial Hindutva leader, had also hit out at Shah Rukh and dubbed him a "Pakistani agent" for his comment, according to Zee News.
Anurag Kashyap
Filmmaker Anurag Kashyap also said in 2015 that intolerance has "always existed" in the nation. "We don't have freedom of expression. It is something we have to live with, do our own bit. Fight and refuse to participate," he was quoted as saying by NDTV.
Swara Bhaskar
Actress Swara Bhaskar had said that the problem of intolerance of opinion continued to haunt the country. She had criticised Padmaavat director Sanjay Leela Bhansali for "glorifying" the now-banned archaic jauhar practise in an open letter.
The actor had received considerable flak on social media for the letter. Bhaskar had said, in the letter, that she felt "reduced to a vagina" by the end of the film.