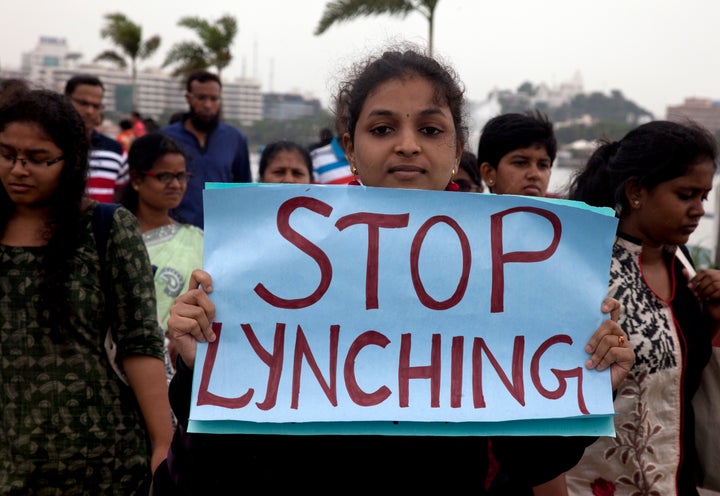 The National Crime Records Bureau (NCRB) did not include a number of parameters in its latest report as data assessed were "vague" and "unreliable", the home ministry said.
A Home Ministry official said the parameters which were not included in the NCRB report include lynching, crime against RTI activists, journalists, social activists, besides others.
"NCRB did not include murder due to lynching and other heads as data based on these parameters was assessed as 'vague/unreliable'," a home ministry official said.
Reports say data on killing by khap panchayats, murder for religious reasons and murder committed by influential people had also been excluded.
The NCRB, under the Union Ministry of Home Affairs, is responsible for collecting and analysing crime data as defined by the Indian Penal Code and special and local laws in the country.
The annual crime data for 2017 was released after a delay of more than a year.
Highlights from the report
— With the registration of over three lakh FIRs, Uttar Pradesh topped the crime list in the country, followed by Maharashtra, Madhya Pradesh, Kerala and Delhi.
Over 50 lakh cases of cognisable crimes were registered across the country in 2017 ― an increase of 3.6 per cent from 2016 when 48 lakh FIRs were lodged.
— As many as 21,796 cases of cyber crime were reported across the country in 2017, showing a 77 per cent hike from 2016.
In 56 per cent of such cases, fraud was the major motive behind the offence, while 6.7 per cent of the cases pertained to sexual exploitation, even as there were cases related to terror activities and inciting hate against the country, the statistics revealed.
— As many as 1,614 rapes and 1,456 other sexual assaults were committed by juveniles in the country in 2017, reveal the latest data of the National Crime Records Bureau (NCRB).
Over 40,000 juveniles were caught across the country in 2017 for their alleged involvement in various offences, with 72 per cent of them belonging to the age group from 16 to 18 years.
On crimes against women
As many as 3,59,849 cases of crime against women were registered across the country in 2017, continuing the upward trend for the third consecutive year.
In 2015, 3,29,243 cases of crimes against women were registered and 3,38,954 cases were registered in 2016.
The cases categorised as crimes against women include murder, rape, dowry death, suicide abetment, acid attack, cruelty against women and kidnapping, etc.
According to the NCRB data for 2017, which was released after a delay of more than a year, the maximum cases were registered in Uttar Pradesh (56,011) ― the country's most populated state.
On fake news
A total of 170 cases of "fake news on social media" were registered across the country in 2017, with Assam recording the maximum number of 56.
Uttar Pradesh registered 21 such cases, falling under cyber crime offences category, during the year.
Madhya Pradesh recorded 17 such cases, while Odisha, Kerala and Maharashtra registered 13, 12 and 11 cases respectively in 2017, the NCRB said.
Popular in the Community