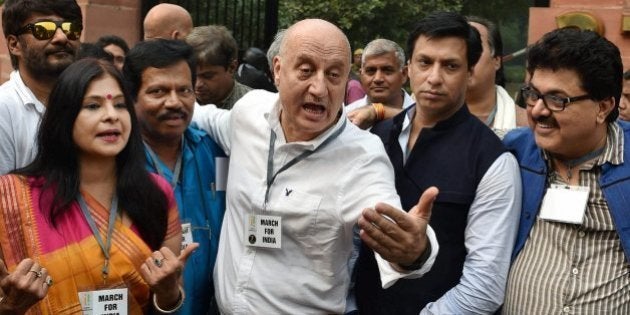 New Delhi -- Several media persons, including a woman journalist from NDTV, were heckled by the participants of the 'March For India' rally organised by Anupam Kher in Delhi today.
NDTV reports: "Angry protesters surrounded NDTV's Bhairavi Singh, who was reporting on the march to the Rashtrapati Bhavan, and verbally abused her. The reporter and her crew were also pushed around and slogans were raised before a police team managed to intervene and escort her to safety."
The 'March For India' rally from National Museum to Rashtrapati Bhavan was also joined by filmmaker Madhur Bhandarkar, Ashoke Pandit, Priyadarshan, Manoj Joshi, Abhijeet Bhattacharya and writer Madhu Kishwar among others.
But the protest turned ugly when some people started shouting anti-media slogans and heckled the journalists.
"A bunch of people were shouting and calling the media biased. They said we practice selective journalism. They heckled us," a reporter from a leading news channel said.
Later, Singh shared her ordeal on Twitter. She alleged that not only was she manhandled by the rally-goers, they also called her a 'prostitute' for doing her job.
First was called a prostitute, heckled, chased just for saying that the Indian creative world is divided on this issue @AnupamPkher

— Bhairavi Singh (@Bhairavi_NDTV) November 7, 2015
Shaken, scared by goons who didn't understand a word of what I said at the March @AnupamPkher

— Bhairavi Singh (@Bhairavi_NDTV) November 7, 2015
Being proud Hindu means terrorising anyone who says anything @AnupamPkher I was abused, heckled, pushed by educated people and a mob

— Bhairavi Singh (@Bhairavi_NDTV) November 7, 2015
Now of course being terrorised on Twitter as well... @AnupamPkher just for giving my point of view !

— Bhairavi Singh (@Bhairavi_NDTV) November 7, 2015
NDTV released a video of the 'protesters' cracking down on journalists and some others shared disturbing pictures of violent protesters on Twitter.
The 'protesters' then marched to Rashtrapati Bhavan to hand over a memorandum signed by more than 90 personalities including actress Vidya Balan, Shekhar Kapoor, Kamal Haasan, Raveena Tandon, to President Pranab Mukherjee.
Criticising people returning their National Award, Kher alleged that the "award-wapsi" campaign was to defame the country by projecting a "wrong" picture of the situation.
"India is a very tolerant country. Some people have coined the term 'growing intolerance'. They are very few. Not every Indian thinks like that. We are secular people. We do not believe in pseudo-secularism, selective outrage or selective patriotism," Kher, who is the spouse of BJP MP from Chandigarh Kirron Kher, said.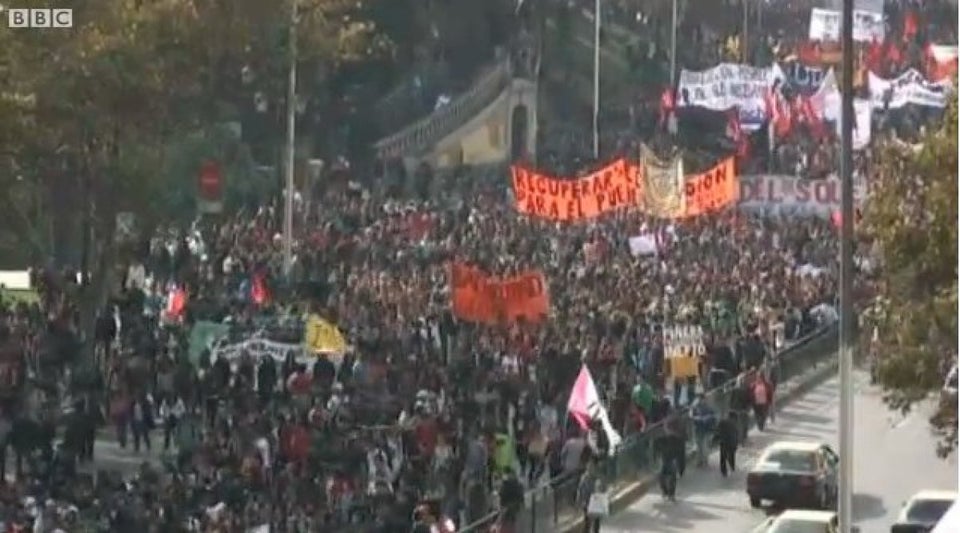 Student Protests Around The World In 2012