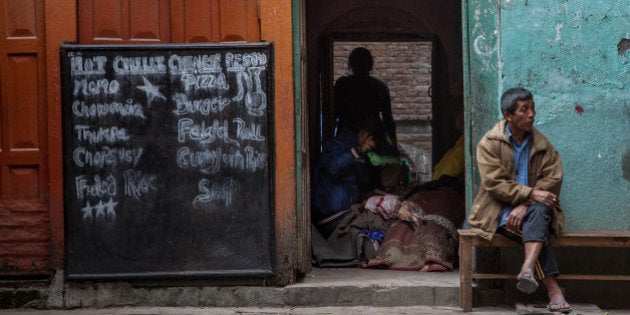 The aftermath of the 7.9 magnitude earthquake that hit Nepal and adjoining areas on Saturday will be felt for a long time. As the death toll crossed 4,000 — and is likely to even hit 10,000, according to the country's Prime Minister — there are tens of thousands left behind who need to build their lives back slowly, painfully.
A group of 10 photographers in and around Kathmandu have started the 'NepalPhotoProject', capturing visuals as the rescue operations are underway. The group has also invited submissions from others through their Facebook page and Instagram profile, and believe that these images can help disseminate information amongst aid agencies and those tracking their loved ones in Nepal.
Here are some of the images the group has captured since they hit the ground on Saturday, shortly after the earthquake took place.
Panicked residents have thronged open spaces, sleeping under tents and whatever other shelter they can find even as it rains and temperatures dip at night.
While there's been a mass exodus of people from the city, getting out is not as easy as buying a ticket.
For others left behind, they are trying their best to cope with scarce supplies. "Life must go on," as one of the photographers part of the project shows us.
Many locals have come forward, helping distribute resources among other earthquake survivors, many of whom are not left with any possessions at all.
Thousands are camping out in the open, and with water, medicine, and other resources running out fast, Nepal will be heavily relying on external aid to slowly cope with the physical loss of so many of its people, resources, and heritage.
The button below indicates how much has been raised on Crowdrise's "Nepal Earthquake Relief" page. Click to visit the site and donate.



Popular in the Community