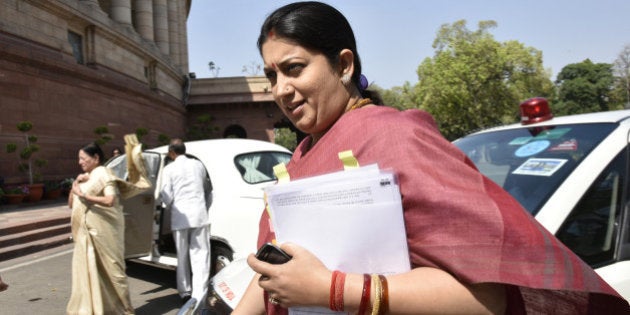 To become eligible for appointment as assistant professors in colleges and universities, clearing the the National Eligibility Test (NET) was compulsory all this while.
The HRD minister announced on Tuesday that scholars who completed a PhD or registered for one before 2009 would be eligible for lectureship without clearing the NET.
The move will help create a larger talent pool for teaching jobs.
"There has been a long-standing challenge faced by researchers/aspiring teachers. The UGC today in conjunction with the government has taken this decision," Irani said.
At present, as per the regulations of 2009 on minimum qualification for appointment of teachers in colleges and universities, a student who has a postgraduate degree or an MPhil has to clear the NET/SET (state-level eligibility test) to be eligible for lectureship in a college or university.
The Supreme Court, too, upheld this regulation in 2015 on the ground that it would help maintain the standard of higher education in the country.
The UGC's decision on Tuesday to no longer NET as compulsory would come as a relief to thousands of students.
However, there are certain conditions to be fulfilled if one needs to be exempted. The candidate's PhD degree should be awarded in regular mode and the research thesis should have been evaluated by at least two external examiners. Also, the candidate should have appeared for viva-voce and have published at least two papers based on the Ph.d thesis in research journals.
The UGC also relaxed norms allowing female and differently-abled research scholars students eight years instead of the current six years to complete their Ph.D degrees. Candidates will get three years instead of two to complete M.Phil degrees.
In addition, women candidates will also be provided maternity, child care leave for up to 240 days once in the entire duration of their M.Phil or Ph.D degrees.
Popular in the Community