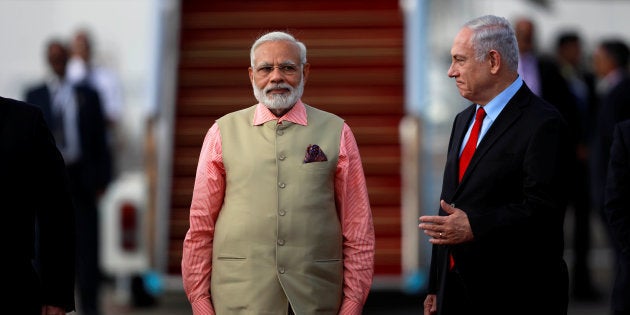 JERUSALEM -- Citing strong ties with Asian giants India and China, Israeli Prime Minister Benjamin Netanyahu launched a blistering attack against the European Union (EU) describing its treatment of the Jewish state as "crazy" and "self-defeating".
"We have a peculiar situation. The European Union is the only association of countries in the world that conditions the relations with Israel, that produces technology in every area, on political conditions. The only one," Netanyahu told four European leaders yesterday during a closed meeting that was inadvertently caught by an open microphone.
The details of the meeting accidentally got broadcast to journalists in a nearby room because of the open microphone.
The feed was cut off as soon as it was discovered.
Pointing towards Israel's growing technological collaborations with India and China, without such conditions, Netanyahu emphasised that Chinese President Xi Jinping called Israel an "innovation giant".
"We have a special relationship with China and they don't care about the political issues," local media quoted him as saying.
The Israeli leader also referred to Prime Minister Narendra Modi's recent visit to Israel, saying that the Indian leader said he needed to take care of India s interests.
"I need more water, clean water. Where will I get it...," Netanyahu quoted Modi as saying.
He made the comments during the closed meeting with Hungarian Prime Minister Viktor Orban, Czech Republic Prime Minister Bohuslav Sobotka, Polish Prime Minister Beata Szydlo and Slovakian Prime Minister Robert Fico.
"I think it is crazy, I think it is actually crazy," Netanyahu said. "I am not talking about my interests, Israel s interests; I m talking about Europe s interests."
"Europe is endangering its own development by endangering its ties with Israel over this crazy attempt to create conditions" for peace between Israel and the Palestinians, he said, adding that Israel is right there and Europe is disconnecting itself from this massive center of innovation.
"If this were only about my interests, I wouldn't have brought it up. Don't undermine the only country in the region that is looking after Europe's interests. Stop attacking Israel, support Israel," the Israeli premier warned.
Orban responded to Netanyahu in a conciliatory tone, saying that EU sets similar conditions to its member states as well.
"Europe must decide if it wants to live and prosper or wither and disappear. I see you're shocked because I'm not being politically correct," Netanyahu told the EU leaders in an unprecedented tirade.
He went on to further talk about his disagreements with former president Barack Obama and even accepted hitting arms transfers to Lebanese militant group Hezbollah in Syria dozens of times, something the international media attributes to Israel but the Jewish state maintains ambiguity around it, neither accepting responsibility nor denying it.
"We had a big problem with US policy. It's different now.
There's a stronger stance against Iran. There's a renewed American presence in our region and more bombings, and that's positive," Netanyahu said.
"I told (Russian President Vladimir) Putin, when we see (Iran) transferring weapons to Hezbollah, we'll hit them.
We've done it dozens of times," he was heard as saying.
The hawkish leader was trying to convince his counterparts to communicate to their colleagues the need to push forward the EU-Israel Association agreement that has been frozen since Israel's Operation Cast Lead in Gaza in 2008- 2009.
Popular in the Community