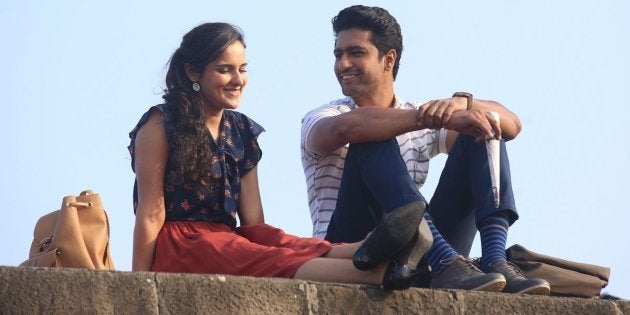 (The following review contains spoilers)
In a city where the punishingly-priced real estate is prohibitive enough to make most well-earning folks slip into depression, every square foot matters.
The desire to own a piece of land in Mumbai isn't a rite-of-passage or a routine logistical hassle of adult life, it's a hugely-coveted reward the city-dwellers slog their entire lives working for and yet fall short in attaining.
The city might give its countless inhabitants a roof to sleep under but it doesn't give the promise of that roof staying intact – as many Mumbaikars living in dilapidated buildings would testify.
Sanjay Chaturvedi (Vicky Kaushal) is one such urban-dweller who's spent his life in railway quarters his father was allotted because of his government job. As the Dad prepares for retirement, he aspires to escape his reality and fantasizes about a house of his own – a dream shared by his Catholic colleague, Karina D'souza (Angira Dhar), and most people who reside in rented apartments in Mumbai.
Both Sanjay and Karina, who are involved with different partners who they feel conflicting emotions for – enter a 'deal' to share an apartment, if they win a lottery meant only for married couples (like the MHADA housing scheme, which is open for all). While it's okay for the characters to have not thought through the specifics of how a deal like that can work (unless they are in love, or get married, which at that point they aren't), it feels the writers and director are also confused about how they are going to see through the complicated proceedings.
While writer Sumeet Vyas's light-hearted wit and crackling one-liners keep the film's vibe nice, natural and breezy, contrivances of plot soon begin to burden the narrative.
In one scene, Vicky's character wants a loan so he can live there with his married boss, who he's having an affair with. In another, he's over it and in hot pursuit of Angira's character, who's already committed to another guy, who's even bought her a house (but perhaps not the one she desires). Again, that subplot is tied off hastily and doesn't quite ring true.
More than reflecting the confusion of the characters, the film itself feels a little confused. Do the two just want the house? Are they in love? (initial scenes promise that only to drag it down). Are they in love with the house? Or are they pretending to be in love to get the house? None of it is clear – not even in the end, a hastily assembled climax, something that would fit more easily in a David Dhawan/Sajid Khan movie, as it features an elaborate sequence which gives the sense that a lot of writing decisions were taken impromptu.
A sub-plot involving Sanjay's supposed infidelity is another weak link, purely because of how unbearably annoying the character of Rashi (debutante Alankrita Sahay) is. She's shown as a character who wants to keep her affair with Sanjay a secret (mainly because she's in a senior position and he is a mid-level IT guy). But towards the end, she has no qualms walking out of the office and declaring in front of everybody she's pregnant with his child (an archaic attempt at a blackmail that also reveals the character's inconsistency). The film, showing no loyalty towards tone, slips into ho-hum slapstick territory.
Instead of bringing in an affair that give a false sense of conflict, adding nothing to the narrative, the makers could've focused on the very real, relatable, and exhaustingly tiring struggle of securing a house in Mumbai, which happens fairly easily for the occupants of this movie.
Anand Tiwari, whose previous credentials include YRF's mini-series Bang Baaja Baarat, is an interesting writer-director but he seems to have aesthetic sensibilities that don't necessarily sit comfortably on Netflix. Which is the reason why Love Per Square Foot feels the way it does – it looks and feels like a hurriedly made web-series truncated into a film with limited attention to detail and character. Tiwari's direction has no space for subtleties, internalization, or retrospection. His lens appears garishly loud and one wishes, he left some room for an emotional layover, where one could process the motivations and decisions of the primary characters.
Everything is spelled out and yelled out, something one doesn't associate with the premium, understated, and deftly-directed content on Netflix (in any case, this wasn't a commissioned project but an acquired one).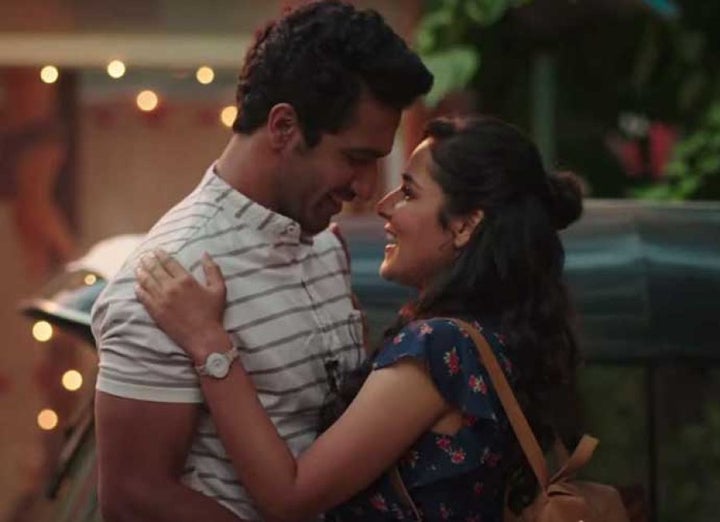 One can see that Tiwari wanted to encapsulate the middle-class struggle of owning a house in Mumbai and the idea of a space-starved city which makes it impossible to keep one's intimate moments private as they unfold in full public view but that core idea is lost, forgotten, and ignored in the course of the convoluted love story, where the essential conflict itself (of an affair that wasn't) falls flat.
The housing premise feels synthetic and as unrealistic as the depiction of the house itself, which appears to be a little too plush for a MHADA flat (not particularly known for their aesthetic value.) The Bollywoodisation of that aspect feels like a betrayal to the illustrious standards internationally set by Netflix.
What could have been a great commentary on the real-estate crisis plaguing millennials with a love story weaved in, is instead a sappy, overdramatic rom com, with the housing crisis just a prop, a 'different' backdrop.
The best moments in the film (other than the gorgeously-filmed opening sequence punctuated by a rap by Divine) come between Raghubir Yadav (what a delight to hear him sing) and Supriya Pathak, who play Sanjay's parents with aplomb. Ratna Pathak Shah (Karina's mother), who could play Batman if she wanted, is terrific in what she does, but her Eccentric-Catholic-Mom is a bit of a stereotype with, you guessed it, countless Jesus references. The inter-religious marriage bit (Chaturvedi-D'souza) is a nice touch but it doesn't take long before all of it goes overboard with characters doing over-the-top filmy things that happen only in filmy films.
The saving grace of the film is the chemistry between Vicky Kaushal, who is remarkably good, and Angira Dhar, who quietly slips into her character. The terrific ensemble of supporting actors make the film watchable.
What could have been a great commentary on the real-estate crisis plaguing millennials with a love story weaved in, is instead a sappy, overdramatic love story, with the housing crisis just a prop, a 'different' backdrop.
Probably that's the film Tiwari wanted to make.
A simply good rom-com. But Love Per Square Foot is neither simple, nor particularly good, and that makes you speculate about everything else that it could have been.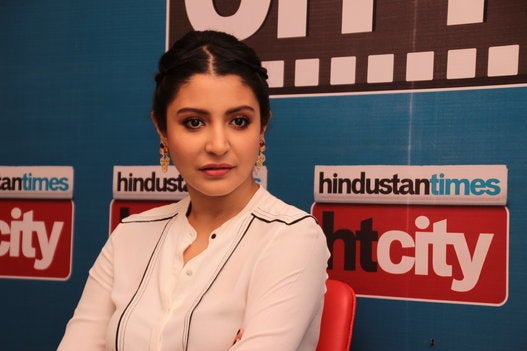 6 Times Anushka Sharma Nailed It While Speaking About Censorship
Popular in the Community