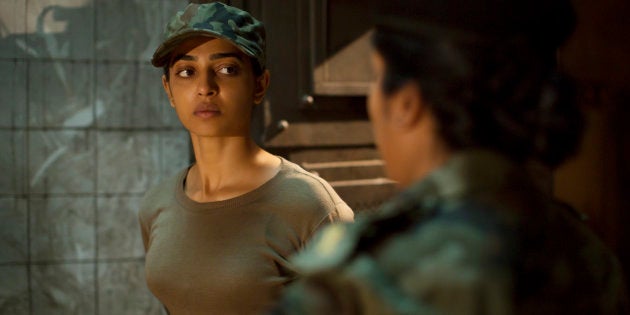 In the first episode of director Patrick Graham's three-part Netflix series, Ghoul, a Muslim man is stopped by the police who ask him for his ID. The man flashes what ostensibly appears to be his Aadhaar card, a clever move by the makers, as later on, we learn that India has transitioned into a surveillance state run by a totalitarian regime.
The state, with access to sophisticated snooping apparatus, has instituted covert detention centres—a Guantanamo Bay-meets-Abu Ghraib industrial prison of sorts—where professors, dissidents, student activists and opposition leaders are thrown in. In this dystopian India, the military appears to have absolute power and anybody questioning the state is sent for 'reconditioning,' a euphemism for third-degree torture.
While Radhika Apte is introduced as a Muslim woman eager to assert her loyalty towards the nation, her father is a university professor, a dissident, who comes in the crossfire of his daughter's quest to prove her nationalism. She's inducted into an elite military force and dispatched to a detention camp called Meghdoot 31, where she unearths a mystery involving psychics and occult practices. Incidentally, Meghdoot was also the name of the operation launched by the Indian Armed Forces, in, well, 1984, to claim the disputed Siachen glacier in Kashmir.
Essentially a psychological thriller with a supernatural element weaved in, Ghoul is an allegory to the rising polarisation and communal divides engulfing contemporary India and other parts of the world. In it, a futuristic India has turned into a Hindu nation—almost all of Apte's colleagues at the detention camp are upper-caste Hindu men and she's constantly treated with scepticism for her religious identity.
In Ghoul's India, those who dare to dissent or question are called 'traitors' and 'anti-nationals,' words that don't seem out of place today. When a Muslim man's car is being searched, the cop casually asks, "are you trying to smuggle a cow?", a direct reference to the cow vigilantism that has claimed many lives in the country already.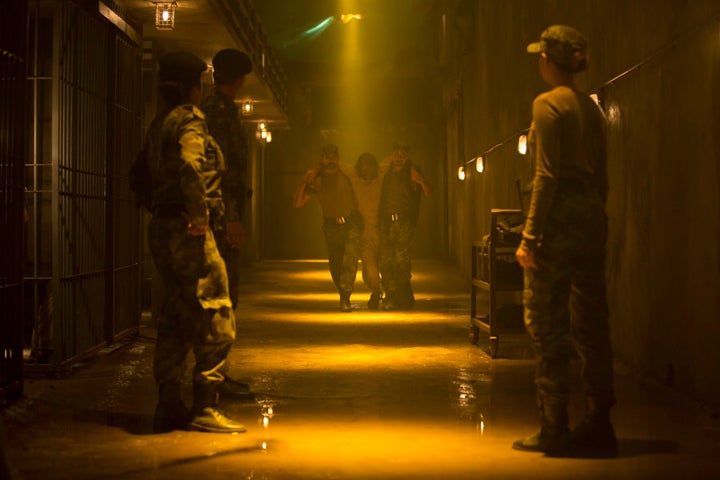 The detention camp, a seemingly extra-judicial setup installed to extract forced confessions and inflict torture, contains only Muslim incarcerates, another indication of a majoritarian regime in place. Those who guard the place show complete submission to the country, especially Manav Kaul's Sunil Dacunha, who often says, "I'm a soldier, I can do anything for the country."
While the relevance of the show to the current discourse cannot be overstated, the show suffers from expository writing, especially in places where the viewer's intelligence should've been respected. The dialogues by Kartik Krishnan feel a bit over-written and verbose. What works, to an extent, is the mood and its Trent Reznor and Atticus Ross-esque background score. The show, though derivative on a technical level, ticks off all the boxes that make for delicious noir—haunting darkness, raging thunderstorms, howling dogs and a crazy killer on the loose. Could it've been better paced? Yes. For a show that has only three episodes, Ghoul can feel like it's too long.
Yet, despite its shortcomings (Kaul seems like a complete caricature), Ghoul's real victory is how it works as a fantastic antidote to the neo-nationalist wave that seems to be slowly creeping into Bollywood. The scariest part of the show is how the 1984-like Orwellian world it imagines for India feels uneasily familiar.
Popular in the Community