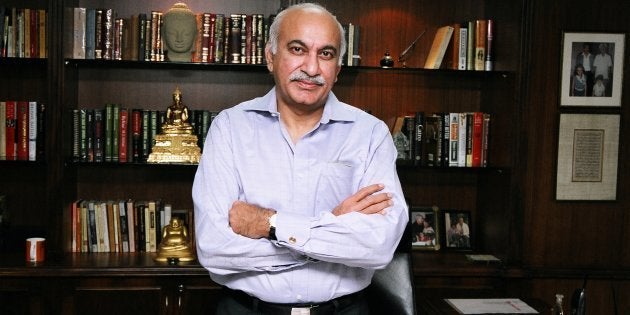 NEW DELHI — On the last day of Majlie de Puy Kamp's internship at the The Asian Age newspaper in the spring of 2007, she walked up two flights of stairs from the news floor to the office of the editor MJ Akbar.
One of her tasks at the paper was to show Akbar options for the lead photograph for the next morning's front page.
"These moments, where I would go up and give him the photos, were always kind of awkward," de Puy Kamp said. "I would give him the photos, he would look through them and not say anything, and then do this head wobble over one of them."
The interaction would last less than five minutes, there was never much conversation.
That particular day, as Akbar looked over the pictures, de Puy Kamp thanked him for letting her intern at his paper.
"He got up and walked around his desk to where I was sitting, so I also got up and I extended my hand." de Puy Kamp recalled in a conversation this week. "He grabbed me right under my shoulders, on my arms, and pulled me in and kissed me on my mouth and forced his tongue into my mouth, and I just stood there."
Akbar was 56 years old at the time; de Puy Kamp was 18, and on her gap year after finishing high school.
"What he did was disgusting, he violated my boundaries, betrayed my trust and that of my parents," du Puy Kamp told HuffPost India in an email, adding that she met Akbar through her parents who had worked as foreign correspondents in Delhi in the 1980s. "He was my parent's friend, he was supposed to pull through for me if I ever got in trouble while living in a foreign country."
"What he did was disgusting, he violated my boundaries, betrayed my trust and that of my parents."
HuffPost India corroborated de Puy Kamp's account—which has not been written about before—by reviewing emails between de Puy Kamp's father and Akbar, and in interviews with three people who spoke to her immediately after her ordeal.
In the emails, reproduced below, Akbar said, "These are issues which are so prone to misunderstanding, that there is no point debating them. My profoundest apologies if there was anything inappropriate."
"These are issues which are so prone to misunderstanding, that there is no point debating them. My profoundest apologies if there was anything inappropriate."
HuffPost India has reached out to Akbar and will update this story if he responds.
Akbar, now the minister of state for external affairs, had maintained a studied silence on the wave of allegations against him until Sunday, when he returned to India after an official tour in Africa. He has now issued a statement denying the multiple allegations, calling them "false, baseless and wild".
This week, many women journalists said Akbar had subjected them to violent harassment in the newsroom. The allegations ranged from experiences like de Puy Kamp's, to harrowing accounts of violent harassment lasting months. HuffPost India spoke to survivors, Akbar's peers and former colleagues to find a pattern of sexual predation that changed little over a career spanning nearly half a century.
Journalists told HuffPost India that the women Akbar assaulted feared retaliation, and worried about the careers they had worked so hard to build.
"Most of us were either the first generation or second generation of women who had come out to work from their families. Definitely the first in our families to say 'I want to cover crime, I want to go places'," said Suparna Sharma, who joined The Asian Age in New Delhi in 1993. "I remember two years into the job, he sent me to cover the Karnataka election."
Sharma, currently the resident editor of The Asian Age in New Delhi, said Akbar had harassed her in the past.
Another journalist in Mumbai, who joined The Asian Age in Mumbai in 2004 and alleges she was harassed by Akbar inside and outside the newsroom, said on condition of anonymity, "He's extremely schizophrenic. He can be equally brilliant but then there is the side of him being driven by hormones. There were no nuances with MJ Akbar. It was sexual harassment through and through."
A journalist in Delhi, who was in her twenties when Akbar ran TheSunday Guardian in 2014, speaking on the condition of anonymity, said that it was common knowledge that Akbar stared at the breasts of his reporters at weekly meetings and the newsroom knew about it. At the time, he was in his sixties.
"He stares at you in a way that you cannot look him in the face. You look down, you look away. It was as if he was propositioning you, looking for a cue," she said. ″We just wanted the meetings to get over."
Another male employee of TheSunday Guardian confirmed how Akbar behaved. "He used to stare at women's chests. That was very evident."
"These are issues which are so prone to misunderstanding, that there is no point debating them. My profoundest apologies if there was anything inappropriate."
Newsrooms designed for men
"MJ Akbar was the hero that every reporter wanted to be when he joined journalism," said a senior male contemporary, recalling Akbar's dizzying rise. "But he had a reputation."
Akbar's rise as a newspaperman was swift and well documented: He joined the Calcutta edition of The Times of India as a trainee in 1971, became the editor of the fortnightly magazine Onlooker in 1973, when he was only 22 and editor of Sunday in 1976. When The Telegraph launched in 1982 with him as editor, he was still only 31.
Over the years, he founded two more newspapers, The Asian Age and The Sunday Guardian, joined the Bharatiya Janata Party and became the Minister of State for External Affairs—a position he continues to hold as the current wave of allegations break.
But stories of his behaviour towards his female colleagues followed him throughout his career. For his male counterparts, his pursuit of women only added to a legend, already burnished with tales of his grandeur.
When Akbar stayed at the Oberoi at Nariman Point, one story went, the hotel staff made a point to reserve room 1951,a premier room with a view of the bay and the same number as the year of his birth.
"There were rumours of his affairs, but no one ever complained, so we assumed it was consensual," said a male editor who worked with Akbar.
Male journalists interviewed by HuffPost India recalled the 1980s and 1990s as a time of great bonhomie and equality between male and female journalists.
Women journalists recalled these years differently.
When Nandini Mehta joined the Hindustan Times as weekend editor in 1981, she was shocked to find a used condom on her desk.
"I would find one every day, somewhere on my desk, for eight months," Mehta said. "And then one day it finally stopped."
The newsrooms weren't just male-dominated, they were designed for men.
Radhika Ramaseshan, a senior political journalist, recalled how the first two Bombay newsrooms she worked—CY Gopinath's Soul Features and Vinod Mehta's Sunday Observer—didn't have women's toilets. The Indian Newspaper Society building in Delhi didn't have a proper women's toilet either.
"When we joined, it was drilled into our heads that the newsroom is a gender-neutral space—which we welcomed," Ramaseshan said. "But in time, I realised this was a very convenient way to stop women from complaining."
"I realised this was a very convenient way to stop women from complaining."
If a colleague or a boss harassed a female colleague, Ramaseshan said, "you were expected to accept it as part of the back-slapping, boys' club culture".
As more and more women joined newsrooms in the 1990s, the presumed equality and informality of the Indian newsroom became an excuse for men to push themselves onto women, even as the women were chided for being prudish, or insufficiently liberated, when they spoke up.
Akbar—with his legend firmly established—revelled in this atmosphere.
"As time passed, and he moved from Calcutta to Delhi, he came closer to power and became more and more entitled," said the male editor.
In the mid 2000s, a young journalist in her twenties found herself in the lobby of the ITC Grand Central Hotel in Lower Parel, Mumbai, contemplating a fearful dilemma:
Akbar, in town from Delhi, had summoned her to his hotel room. On the one hand, she wanted to go through with the meeting and prove she was a professional. On the other, she knew Akbar was serial molester.
She ran through a checklist in her head.
"I knew I was dressed conservatively," she told HuffPost India in an interview. "I always double-checked that I was conservatively dressed. No sleeveless, no bra strap showing out. No heels."
She summoned her courage and took the elevator up to his room.
Akbar was drinking whisky, she said. He offered her a drink, which she declined, and a few minutes later, Akbar had forced himself upon her, kissing her face and lips. She froze.
"When you are young, your instincts are sharp but your reflexes are not," she said. "A creep will find a way to creep you out."
"When you are young, your instincts are sharp but your reflexes are not."
She freed herself and ran down the stairs because she did not dare wait for the elevator.
"It was a huge deal for a young woman to be a journalist at the time," she said, explaining why she continued to work at The Asian Age.
Fifteen years later, the woman made her experience public without naming her harasser, and she chooses to remain anonymous. The woman told HuffPost India that Akbar was the man who harassed her.
The woman said she was still too traumatised to put her name to this account.
"There is no end to his vindictiveness," she said. "I don't think even Harvey Weinstein has hurt so many women as MJ Akbar."
"I don't think even Harvey Weinstein has hurt so many women as MJ Akbar."
The woman said it was commonplace for Akbar to touch women inappropriately and comment on their appearance. "I know this is a terrible thing to say but unless you were downright ugly, there is no way that he did not tap you," she said. "It was like a harem."
Other women have shared similar experiences of being invited to a hotel room, only to be molested.
A thread of tweets by Shutapa Paul, who worked alongside Akbar at India Today in 2010, describes a similar experience of being invited to the ITC Sonar in Kolkata.
Thank you for the msgs of support and courage that I have received till now. I needed some time to gather my thoughts and relive what happened to me 8 years ago. #MeToo#MJAkbar 1/n

— Shutapa Paul (@ShutapaPaul) October 10, 2018
Ghazala Waheed, meanwhile, detailed a startlingly violent account of months of harassment at Akbar's hands.
At least ten women publicly spoken out on Twitter thus far.
"It was a huge deal for a young woman to be journalist at the time."
Media's open secret
Over time, as word spread in the newsroom and beyond, Akbar's harassment became an open secret.
"Many of us would talk about it over chai and cigarette breaks," said Sharma, the journalist who had joined The Asian Age in 1993. "Sometimes, there would be longer discussions amongst women about his behaviour and the culture he had created."
A former male journalist, who worked in the Mumbai office of The Asian Age, said, "He's an awful man . A serial molester. Every woman had a story about him."
The woman in Mumbai said, "He once told me that he likes my 'dusky skin'. I said 'are you propositioning me'. He said 'nothing like that'. I was not asking sarcastically. I was asking out of fear."
Sharma explained it was a price they paid for freedom. It boiled down to women steeling themselves for a shot at being part of a dynamic newsroom, advancing their careers and proving something to themselves.
"There was a heady atmosphere. We were breaking stories every day. We learnt a lot from him. He was most generous with his time as a teacher, as a mentor and as an editor," she said.
Sharma recalled the parties at Asian Age that would last till two or three in the morning.
"Akbar would play Dev Anand songs which we did not like because we wanted to dance. He would use the opportunity to pursue someone, touch someone inappropriately," she said. "The next day, we would roll out of bed and make it to the office by 1 pm or 2 pm. He would be there by 11:00 am."
"There was a heady atmosphere. We were breaking stories every day."
Journalists speak of a toxicity that eventually pervaded the Asian Age newsrooms as Akbar used his access to pursue and harass women. Office politics complicated matters.
For instance, Wahab has written about her bureau chief, Seema Mustafa's response to her complaints of harassment at Akbar's hands:
She heard me. She was not surprised. She said that the call was entirely mine; that I should decide what I wanted to do.
Mustafa has since issued a carefully worded statement condemning Akbar's statement.
"A lot of women tried to escape his jaal. Some went to on to have affairs and fall in love with him. Some hated him, could not take and left.," said Sharma. "Some dealt with it, put a stop to it and continued to have a long and fruitful association with him."
These were the women who then went on to occupy senior positions at Asian Age and made sure that women felt safe in their newsrooms, Sharma said. In fact, she said, these women made sure that female reporters never met Akbar alone. "They would send six of them together," she said.
Eventually though, women across three generations rationalised and concluded that complaining against Akbar would have "three outcomes", and none of them had to with accountability.
"There would be three outcomes if a woman complained against him. She would look weak or get talked of as a troublemaker or as a loose woman," said the woman in Mumbai. "Another thing that was said was 'suck it up' and give it back to him when you can."
"She would look weak or get talked of as a troublemaker or as a loose woman."
And Akbar said
When de Puy Kamp, the eighteen-year-old intern mentioned in the beginning of this story, returned to the US, her father Jurriaan Kamp wrote an email to Akbar. The email—quiet, understated, but poignant—appears symptomatic of the shock that many felt when they learnt that Akbar, a much admired journalist, was a sexual predator.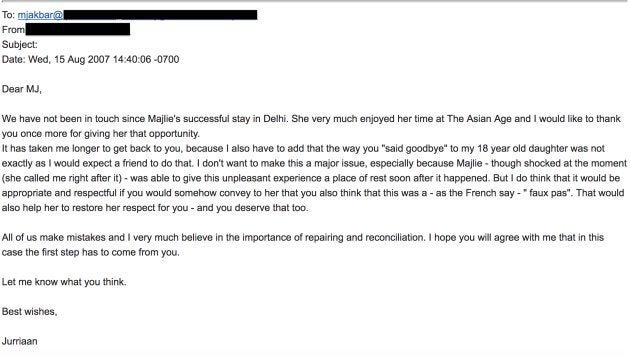 Akbar's reply is calm and unflustered. There is no shock, no agitation, just the self-assurance of a man with a long history of handling such allegations.

du Puy Kamp, now a journalist in New York, said she had complicated feelings about that day in Akbar's office twelve years ago. In an email to HuffPost India, she wrote about why she felt it was time to share her story:
It happened twelve years ago, why didn't I say something sooner? I'd locked it away, I really didn't think about it much at all. His disturbing behavior in no way broke my spirit. It may have made me more cautious, or maybe I just grew older and wiser – I don't know. But regardless, I never felt the need to say anything because it had had little effect on my life. When Twitter exploded a few days ago I felt strangely emotional and cried a little. Somehow I felt if I had made a bigger scene 12 years ago, maybe there could have been put a stop to this back then.

The reason I'm saying this now, and the reason I'm attaching my name to it mostly has to do with being a journalist myself. I ask people on a daily basis to share intimate stories with me because I think it is important they see the light of day, that they're heard. So if I, living in a foreign country far from MJ Akbar's reach and influence, can't bring myself to speak up now – I couldn't do my job with integrity going forward. Which is not to say that every female journalist has to publicly speak about her #metoo experience, it's a deeply personal thing and everybody needs to do exactly what feels right to them. For me, that is saying something now.
This story has been updated to include Akbar's reaction to the allegations against him.