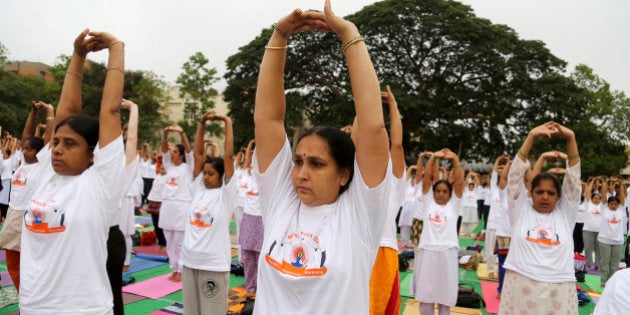 India's national carrier Air India has told its newly recruited pilots and cabin crew to be ready for yoga sessions at 6:30 in the morning everyday as part of their training in Hyderabad.
This new rule, a first for the airline, is in keeping with Prime Minister Narendra Modi's focus on yoga. This will cover 300 cabin crew members and 78 pilots, said a report in the Economic Times.
The sessions will begin from June 1, when their training starts. "We have introduced yoga for the first time in our training module for pilots and cabin crew, as we believe that yoga brings in a sense of discipline as well as helps cope better with the stress of the job. This is true for each one of us," said an official quoted in the report.
Senior management of the airline will be going to Sri Sri Ravi Shankar's Art of Living ashram in Bangalore to learn relaxation techniques in a two-day workshop.
June 21st has been designated as International Yoga Day by the United Nations. Modi has claimed credit for that. "I put forth a proposal of 'International Yoga Day' before the United Nations, which was passed in 100 days through support of 177 nations. It's a matter of honour for our nation; did anyone think that yoga can also be used as a toll to connect different nations?" said Prime Minister Modi while addressing the nation in his 'Mann Ki Baat' programme.
To mark the day, Modi will join an expected crowd of 35,000 for an outdoor session at 7 am in Rajpath, New Delhi. Senior civil servants have received letters from his office asking them to join in the mass session.