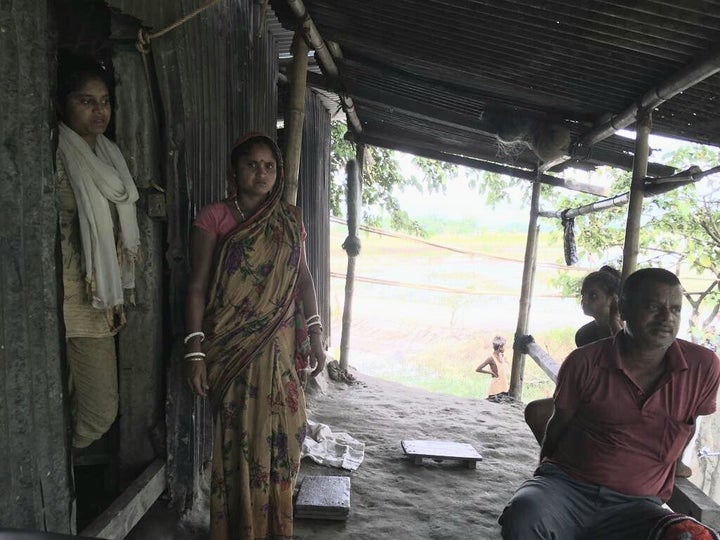 MORIGAON, Assam — All of 15 years old, Kalpana's friends had left — married, moved to towns to study — when she returned to her village in Assam earlier this year. But there was a bigger problem at hand, her 11-year-old sister Archana refused to speak to their father or share a room with him. And they had but one tiny room in the bamboo and mud hut atop a muddy hillock in Mayang, a village of roughly 700 people in Morigaon district.
Twelve years ago, Kalpana's father Dilip Biswas had an argument with the village headman, who retaliated by falsely telling the police that the Biswas family was Bangladeshi. Three years later, the Biswas family was forcibly separated and incarcerated in separate facilities 300 kilometres away from their home: Kalpana, who was 6 years old at the time, and Archana, who was only 2, were marched off to a foreigner detention camp inside a jail in Assam's Kokrajhar district along with their mother Romoni. Dilip was sent to another camp in Goalpara district.
They were released on bail in March this year, after a social worker familiar with their case referred it to Human Rights Law Network's Guwahati branch and they moved court on behalf of him. When the Biswas family returned to Mayang, their children and the village they once called home had changed beyond recognition.
In the nine intervening years, Archana had grown into a quiet, self-possessed girl who had convinced herself that she did not have a father. Kalpana had run out of family memories of all four of them together, missed several years of school and can barely read or write. The sleepy village market where Dilip once sold snacks was teeming with brightly lit shops, while Romini found the roof of their home had given way in parts.
"What is jail like?" the children in school often asked Archana.
"Bhalo," Archana would reply. Jail is good.
MISUSE OF POWER
On August 31 2019, Assam's government shall release an updated National Register of Citizens — the culmination of a years-long exercise meant to separate Assam residents from so-called "outsiders". A preliminary list, released in August 2018, excluded over 4 million residents.
Last week, the government announced those people left out of the National Register for Citizens will not be immediately declared foreigners and will have 120 days to appeal their case. Others have warned against conflating the NRC process (which claims to be a register of Indian citizens in Assam) with the Foreigners Tribunal process (which aims to identify and eventually deport undocumented foreigners from Indian soil) — arguing that these are essentially two separate processes.
Yet, the Foreigner Tribunal process — and its victims like Biswas family — offer a terrifying glimpse of what most likely awaits those left out of the NRC. Events on the ground suggest that thousands of Assam's linguistic, ethnic and religious minorities who fail the appeals process will find themselves before a Foreigners Tribunal with the scales unfairly tipped against them.
The plight of the Biswas family is emblematic of the ethnic prejudice baked into the process of ostensibly identifying so-called foreigners in Assam, and offers useful context to the circumstances in which the NRC process is being conducted.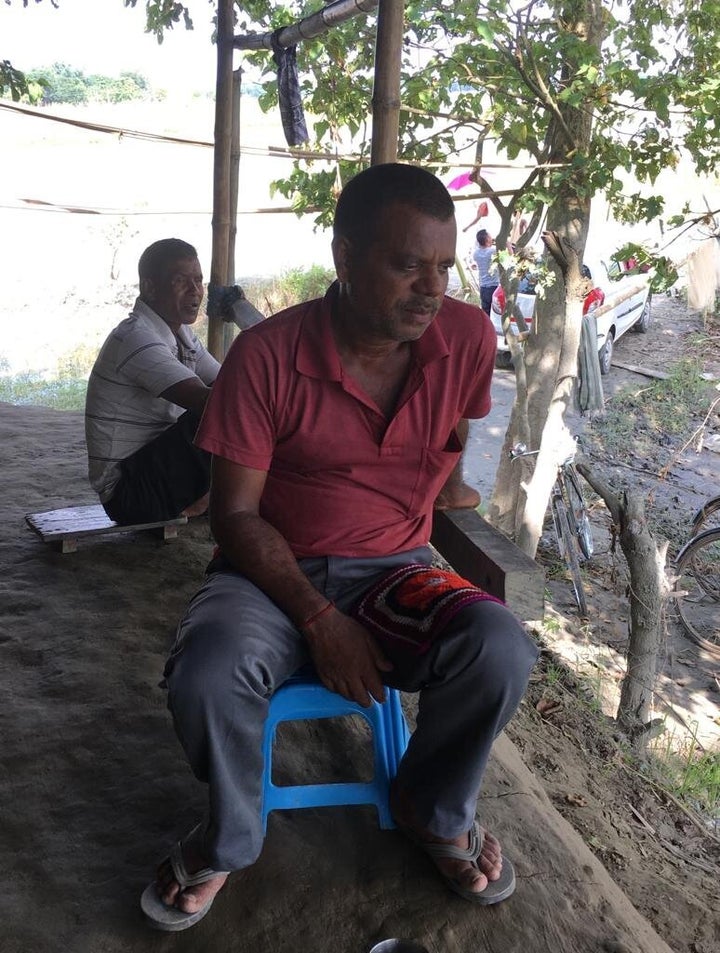 The Biswas family is ethnic Bengali, but Dilip Biswas's ancestors moved to Assam before Independence and even owned land in Morigaon district. However, the land was engulfed by the Brahmaputra during a flood — a persistent problem with many residents of riverside villages in Assam.
Biswas' family moved homes twice after — both times the piece of land on which their hut stood washed away in the floods — and settled in Mayang, three years before he was arrested. His mother and his elder's brother's family was not summoned to prove their citizenship strengthening Biswas' belief that the case against him was vendetta.
The fact that the land Biswas' family owned 40 years ago does not exist anymore — though the papers proving they had land do — combined with his failure to turn up at hearings the first time round, went against him.
Lawyer Debasmita Ghosh, who heads HRLN's Guwahati operations pointed out that the Assam Land and Revenue Regulation gives headmen the power to report 'suspicious' people occupying land in their respective villages. "Since these laws were never updated, they concentrated power in the hands of a few people and made many people like Biswas vulnerable,'' she said. Ghosh, who has handled hundreds of foreigner tribunal cases, saw a clear pattern in the process of targeting people to prove their citizenship in tribunals. "The people pulled up by the police and then summoned by the tribunals are all poor, uneducated people like Biswas. People who work as maids, as labourers, carpenters," she said.
""The people pulled up by the police and then summoned by the tribunals are all poor, uneducated people like Biswas. People who work as maids, as labourers, carpenters"
Released on bail, Biswas and his family have not figured in the NRC. His ailing mother who saw her son barely two-three times in nine years, died a few weeks after Biswas was released. He also has to turn up at the local police station every day and sign a log book. Ghosh had written to the concerned circle officer repeatedly to vet Biswas' documents in the past few months but his office claims that they are swamped with 'NRC work' and can only look into this later, after the final list is published.
A FIGHT AND A CONSPIRACY
Twelve years ago, in 2007, Dilip Biswas moved to Mayang and started to make a living selling snacks and tea at a small shop in the village market. As dusk fell each evening, people lined up before his shop, polishing off plates of his popular ghugni (a spicy white peas curry) and vegetable fritters with tea.
One of these men — villagers returning from work, or from their fields and farms — was the village headman, or 'gaon burah' as they are called in Assam.
Biswas, who was born in Assam and lived there his entire life, knew there were rules to play as an ethnic Bengali minority in a remote village in the state. So the headman's tea was usually complementary and his snacks, mostly free. Then one summer day, a couple of months after they had arrived in Mayang in 2007, the headman turned up with a group of men — nearly 10 or 12, said Biswas' lawyer — and demanded all of them be fed for free. Biswas refused, there was a fight and the next he knew, the village headman had told the local police that he suspected Biswas to be a Bangladeshi.
"Those days were terrible, there was no newspapers covering this and these people could do anything," Biswas told HuffPost India, sitting in his courtyard on a low plastic stool.
Lawyer Ghosh told HuffPost India that Biswas languished in detention camps on a flimsy case filed on personal vendetta.
The police in Assam makes a reference to a foreigner tribunal if they suspect someone's nationality, the tribunal sends a notice and the concerned person has to prove that he is a citizen of the country with the documents he can furnish. Usually, testimonies of village headmen are considered crucial in proving citizenship as they are considered trusted resources to determine a person's lineage. In Biswas' case, that very man had raised concerns about his citizenship.
"He said, 'either you go back to Bangladesh where you came from, or go to jail'"
"At first, an ex-parte order declaring him a foreigner was issued against Biswas in 2007 as he had not turned up at the tribunal to testify. The police said that they had gone with the headman to Biswas' house to deliver the notice, and he was not there," Ghosh said. "However, Biswas never received the first notice and the case was decided without him appearing to plead his side."
It was only after the police came to arrest him the first time, late in 2007, that Biswas realised what had happened and then appealed to Guwahati High Court against the Morigaon foreigner tribunal's order. The high court referred it back to the tribunal and Biswas said, he spent the next three years, fighting a 'lost' case, against the combined forces of a largely unempathetic police, locals and even the tribunal judge who seemed to have taken offence at him not testifying the first time around and then moving HC against his order.
"One day in 2010, I had just opened my shop and started chopping chillies and onions, when the village headman turned up with the border police, who asked me to sign a paper. He said, 'either you go back to Bangladesh where you came from, or go to jail'," Biswas told HuffPost India.
He alleges that some policemen even came to demand a bribe, but he couldn't pay them as he had lawyers' fees to pay. In the few months between Biswas being declared a foreigner and his family bundled off to detention camps, he spend nearly Rs 2.5 lakh.
"I pawned off a small plot of land I had, borrowed from some people, not to mention the money my brother and mother lent me," Biswas said.
"I fell to the judges feet and cried. I said over and over again, 'please spare me'. He said, 'didn't you go to the High Court? Go ask them to save you'," Biswas said. The judge did not listen. Instead, Biswas mentioned several times in the conversation, the judge kept munching biscuits as he read out Biswas's sentence in 2010.
Ghosh pointed out that the staggering discrepancies in the case shocked her. "Biswas has documents showing his father owned land in Assam, the jamabandi (deed) was mutated to include his and his brother's names after the father's death and the document clearly mentions that the land was eroded by the river. Moreover, police had made a reference against just Biswas, the tribunal sent notices to his wife and 3-year-old daughter to prove their citizenship too. They could not even plead the case," Ghosh said.
"When Biswas landed in jail, he was broke, poorer by Rs 2.5 lakh, and had also used up a lot of his brother's savings."
In the tribunal's process, furnishing a document is not enough, it has to be vetted afresh by the concerned government department, which Ghosh said, Biswas' earlier lawyers dragged their feet on and did not manage to produce. Biswas, who is uneducated, said he had no clue that these processes needed to be followed 12 years ago so he assumed that the lawyers were doing what was necessary. Till he landed in jail.
"One day, six, seven months into the detention camp, I told my brother that there was no point in starving to get us out, we had been taken for a ride by many lawyers by then and our land was gone. And that was that," he said.
A WHOLE NEW WORLD
Biswas had lost count of the number of times he had made the rounds of courts, when in 2010, his lawyer informed him that he was needed at the tribunal for a crucial hearing. "It was hot that day. I had to harvest the rice that we grew in a small plot of land. My mother said nothing untoward will happen and to comfort me insisted that I can leave the rice work for later when I am back in the evening. I was still feeling strangely uneasy," he said.
That day, Kalpana recalled, some village elders arrived at her school, asking her to pack up because her parents were needed for some work in the town and they had to go along. Her father was not there, her mother hugging women from the neighbourhood, crying and shouting and her baby sister sleeping when she reached home.
"I had only seen something like that when someone in the village had died," Kalpana said.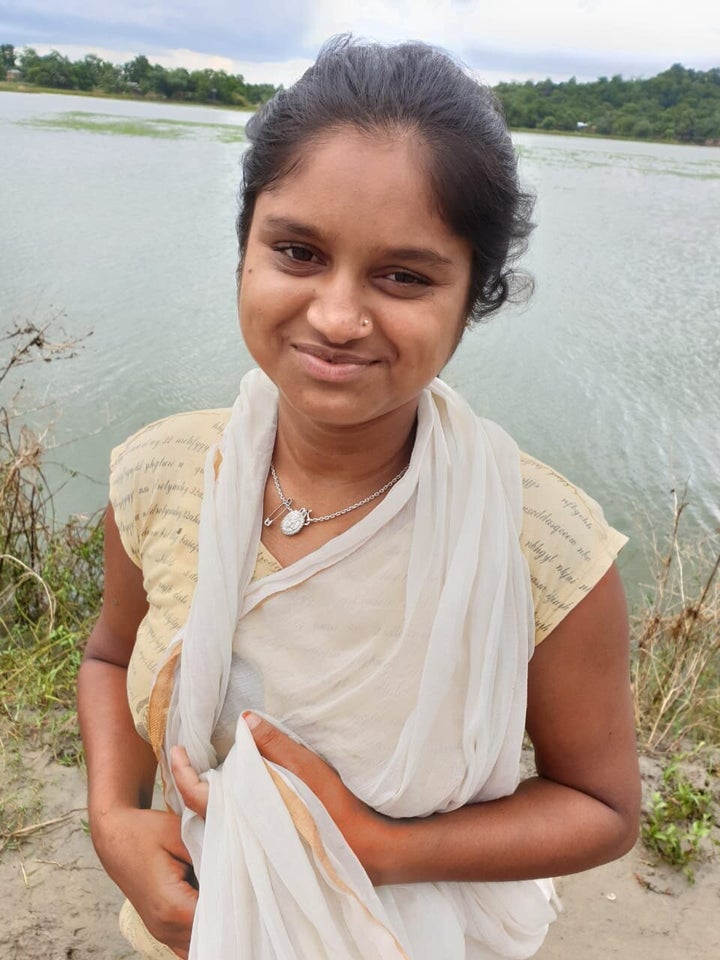 That afternoon they were packed into a hired van by their relatives and sent off to the Morigaon tribunal. They were arrested there and the 6-year-old, baby sister and mother in tow, found herself in the Morigaon jail that evening.
"Mother sat in one corner and kept crying. Some women were shouting and laughing at us, don't quite remember what they were saying," she said. The children and their mother spent the next three months in the local jail with other prisoners in for theft, kidnapping and even murder.
"The children slept hungry every day, they couldn't even cry for food because they were scared. If they whimpered, the prisoners yelled abuses," Romoni said. Then three months later, they were moved to Kokrajhar district jail. In Assam, at present, the jails double up as detention centers with a separate area for 'illegal immigrants'. A proposal to create separate detention camps floated in 2010 is yet to see the light of the day.
The fear of living with convicted criminals, however, dimmed in comparison to the fear of being sent off to Bangladesh. "Women in the jail called us Bangladeshis and said we should be sent there. I thought that was going to happen even if we came out," Romoni said.
What would they do in Bangladesh? Would the children be taken away from them? Will they be put in a jail in Bangladesh? What if they starved to death in a new country, they were not even educated, Romoni thought. "It seemed like the worst crime to have committed was to be a Bangladeshi. And we were not even ones," Biswas said, recollecting how the prisoners mocked them.
WOMEN UNDER SIEGE
Romoni, who doesn't know how to read or write, had stayed out of the court proceedings. Like most women in poor households in rural India, the courts and law were left to the men to decide. So when she and her children were taken to the jail, Romoni only had a vague idea of why they were there.
"When my daughter asked, why were they locked up, why couldn't they eat the food they eat, why were they being given rice and watery dal and why were they sleeping in a room with strange women, I only said, our luck was jinxed," Romoni said.
The young children — two and six — stopped eating. Two-year-old Archana used to only have milk, biscuits or fruits, and occasionally some curd and rice and she couldn't swallow a morsel of jail food. She cried from hunger and then fell asleep when she was tired. Slightly older, Kaplana refused to eat the jail food for hours, but then when she was blinded with hunger, Romoni managed to feed her some rice.
"Every day, for almost a year and then some more, they cried while eating. They wanted biscuits, they wanted milk with sugar. And they couldn't understand why they were not getting any," she said.
When Archana fell sick from not eating, Romoni had to scold and force the toddler to eat the jail food. "It felt like we would be better off dead than be here," Romoni said.
A year or so in the detention camp, the visits from family dwindled — they couldn't afford to visit frequently anymore — and the children had to get used to the food given in jail. Romoni started to eagerly look forward to visits from NGOs and other organisations that would donate food once or twice a year for the kids.
"If I were not in jail, I would make them peethe (a rice flour dough with with sweet coconut filling) and payesh (a sweet ice and milk porridge)," Romoni said. "Kalpana had eaten them so she kept asking for a year or two. Then she forgot what it tasted like. Archana never had all that all her life."
Romoni is free to make peethe now but the price of ghee, coconut, sugar would get them two-three meals, so she can't afford to now.
Kalpana was in the first standard when they landed in the detention camp. She had barely learned to write alphabets in Bengali, Assamese and some English, recognise numbers when her education abruptly stopped.
"At first, we were told we would have to buy books and copies if we wanted for the children ourselves, where did we have the money?" Romoni said.
Kalpana remembers, months after they entered the detention camp, the superintendent gave her a few notepads, pencils and a couple of books. "But who would teach me? Most of the inmates were women like my mother, no one knew how to read or write," Kalpana told HuffPost India. "Also, I had not learnt to read properly that I could learn from the books myself," she said.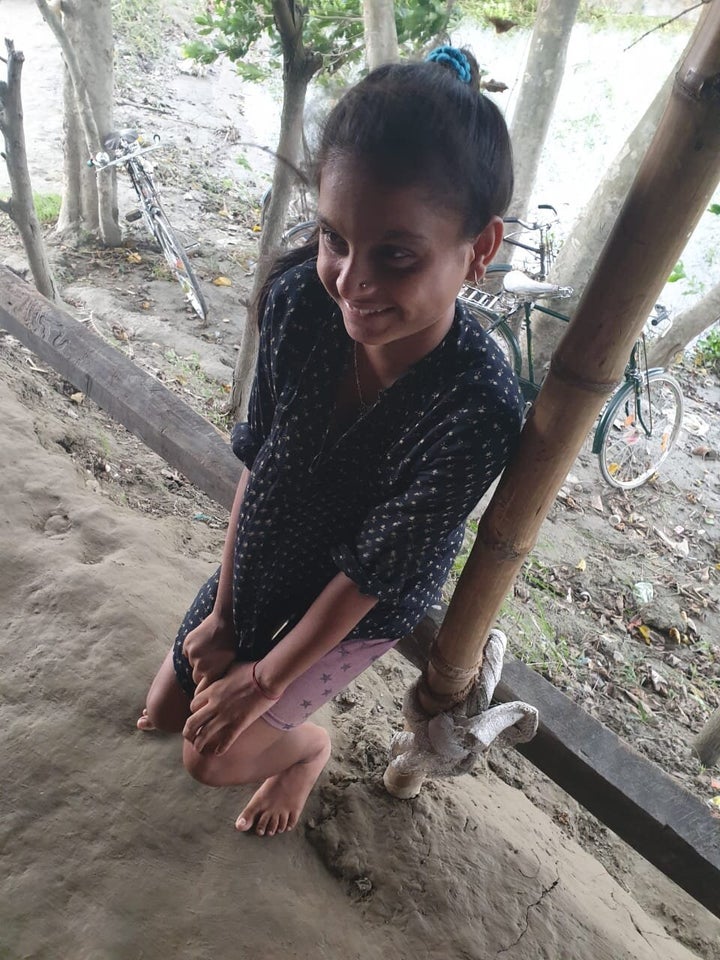 She can somewhat scribble her name in Bengali, but still occasionally gets the alphabet wrong, Archana pointed out as the sisters broke out in laughter. "My sister is very good in studies. She can even say sentences in English," Kalpana added, beaming at the younger girl.
Slowly, Kalpana forgot what she learnt in school and when a teacher was finally appointed to teach children inside the detention camp, Kalpana was considered too old to attend the class.
"There were older boys and all. So I was not allowed to attend the class. Only, the children went there," she said. But Kalpana did not give up. She lurked outside the class and watched as the teacher taught the younger children. "I remember one class… he was teaching them Sunday, Monday. I came back and tried to write them down on a notepad but the spellings were all wrong," she said.
Non-profits often landed in the camps urging the women to give up the children for adoption or have them stay in orphanages. But Romoni refused. "They are not orphans. Also, both of them are girls. My family has no money to visit or take care of them. Who knows what will happen to them in that outside world, if we can be in jail for no crime, anything can happen," she said, explaining, she realised they girls will be at least safe with her. A few months later, another NGO offered to enroll Archana into a local school — she and other children would be chaperoned by the prison guard to and back from school.
"One day, my sister came back and said she has had something called 'kurkuri' (Kurkure) and wished I could have too. A girl in the class had given her some," Kalpana said, adding she kept haranguing her mother for some till she later yelled at her.
Unlike regular prisoners in jail, the women and men in detention camps are not given any work, which means they are also not paid a wage or allowance. So even when Archana went to school, she never had even a few rupees to purchase a biscuit or chocolate. "I used to hope my friends would give. And they did now and then," she said.
THE LIFE AFTER
As one year blurred into the next, Biswas took help from an inmate and made him write more than a dozen letters he wanted to send Romoni. He gave the letters to the warden hoping he would send them to Romoni.
When he finally left the jail, the warden handed him a stack of letters saying they were never sent.
"I read them and later threw them away. They just bring pain," Romoni said.
Biswas borrowed money from a man he met at the detention camp in Tezpur, another Bengali who runs a garage in Guwahati. He restarted his business but had enough money to buy only 5 utensils including spoons and spatulas. "I make the ghugni, some fritters, keep boiled egg and chana. But there are so many new shops, people barely come to mine," he said.
Kalpana made a round of the houses she knew and found all her friends had left. So Archana introduced her to the girls she made friends with after coming out. But the elders ticked off Kalpana. "I saw a pond after so long. We were all running along it and some women came and pulled me away. I am not a child anymore, no?" she said, smiling apologetically.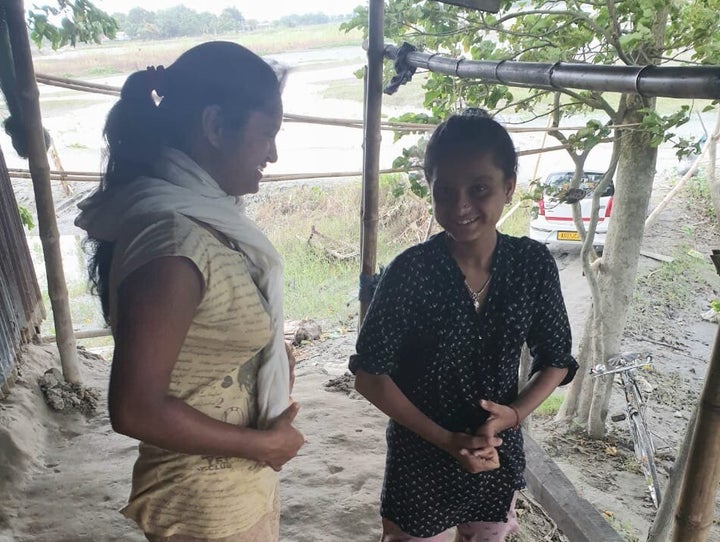 Archana has been reading Peter Dickinson's poems in school and often reads them out to her sister. "She sounds like a city girl," Kalpana said, laughing.
When Romoni stepped out of the jail with her children, it felt like "coming out of the mother's womb', like she was born again. But Archana was least excited. "I don't know him," she murmurs when asked about her father.
"I couldn't recognise them too when they came out. They have become so big! One policeman in the jail used to come and mock me, 'your elder daughter is old enough to get married, you are still rotting here'," Biswas said, breaking down moments later. Romoni quietly wiped her tears.
Kalpana is less morose. She goes to neighbour's houses to watch TV, follows her sister around when she goes to play with her friend and helps her mother with household chores. "My favourite film is Hum Saath Saath Hai. You know, I like watching those films where mother, father, brother, sister are all together and singing and dancing, do you like it?" she asked this reporter.
Biswas and his family's name have not figured in the NRC, his mother died a few months after he was released. "What new problem will happen now with the NRC?" he said. He also has to turn up at the local police station every day and sign a log book.
"I used to sing a song in the jail, it calmed me."
"Amar baul ghore, hoi go, jonmo bare bar
Ami chai na re shukh, chai na re dukh,
Ami bhikkha magigo dware dware,
Pai jaa, tai bhalo
('Let me born as a wandering minstrel,
I don't seek joy, I don't seek pain,
I beg from door to door,
Whatever I get, I am happy with it.')"