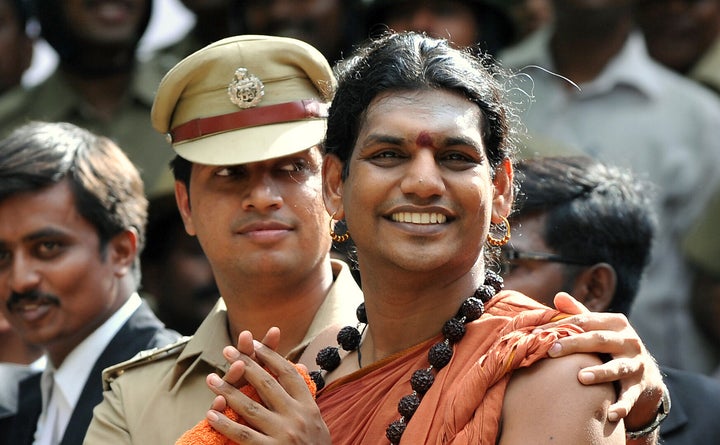 Nithyananda, who fled from India after a rape case was registered against him in Karnataka, seems to have founded his own country Kailaasa which is supposed to be the "greatest hindu nation".
Nithyananda has been accused of rape, child abuse and wrongful confinement of children. It was reported in November that he had fled the country on an expired passport.
Now, it seems that he has his very own country with its very own government and constitution. A website called kailaasa.org describes the nation as:
"Kailaasa is a nation without borders created by dispossessed Hindus from around the world who lost the right to practice Hinduism authentically in their own countries.

Though the Kailaasa movement is founded in the United States, and spearheaded by members of the Hindu Adi Shaivite minority community, it is created for, and offers a safe haven to all the world's practicing, aspiring or persecuted Hindus, irrespective of race, gender, sect, caste, or creed, where they can peacefully live and express their spirituality, arts, and culture free from denigration, interference and violence."
The grand description, however, fails to mention where this country is actually located. There is a section called "government" but there are no names of the ministers in this government.
There is also a section about Nithyananda and he is addressed as "his divine holiness". Here's how Nithyananda describes himself:
"He is the founder of the largest Shaiva Aadheenam – Bengaluru Aadheenam; He is the Acharya Mahamandaleshwar (spiritual head) of Atal Akhada & Mahanirvani Peetha. His Divine Holiness is the founder and spiritual head of Nithyananda Hindu University – world's largest Hindu University.

He and His Sangha (spiritual community) around the globe is serving humanity by reviving the science of completion, science of Enlightenment and manifesting various extraordinary spiritual powers as per the Vedic Agamic tradition of Sanatana Hindu Dharma. He is author of 350 books, which are translated and published in 500 titles and various international languages."
An IANS report said that experts suggest that this website was created in on 21 October, 2018 and last updated during October this year. The experts said that the website was registered in Panama and its IP address was located in Dallas in the US.
This comes two days after a Gujarat court rejected the bail plea of two of Nithyananda's aides who were arrested on charges of of kidnapping and wrongful confinement of children at an ashram in Ahmedabad in Gujarat.
PTI reported that Judicial Magistrate Garima Yadav rejected the bail pleas of Pran Priyananda and Priyatatva Riddhi Kiran, who ran Nithyananda's ashram 'Yogini Sarvagyapeetham' in Ahmedabad, on the grounds that the offences against them were serious in nature and affects society at large.
The report said that were arrested on November 20 on charges of kidnapping and keeping children in wrongful confinement and using them as labourers to collect donation from followers. Nithyananda was also booked on the same charges after four children told police they were confined in a flat here and made to work at the ashram.
In June 2018, a trial court in Karnataka framed charges against the "godman" under Sections 376 (rape), 377 (unnatural sex), 420 (cheating), 114 (criminal abetment), 201 (disappearance of evidence, giving false information), 120B (criminal conspiracy) and other charges under the Indian Penal Code (IPC).
"Volunteer understands that the Program may involve the learning and practice of ancient tantric secrets associated with male and female ecstasy, including the use of sexual energy for increased intimacy/spiritual connection, pleasure, harmony, and freedom. Volunteer understands that these activities could be physically and mentally challenging, and may involve nudity, access to visual images, graphic visual depictions, and descriptions of nudity and sexual activity, close physical proximity and intimacy, verbal and written descriptions and audio sounds of a sexually oriented, and erotic nature, etc."
In 2014, a 24-year-old woman had died under mysterious circumstances in Nithyananda's ashram near Bengaluru. The mother of the woman told News18 last month, "The CBI should probe my daughter's case as the Bengaluru Police failed to conduct an inquiry into Sangeetha's death. Many women and children who reside in the Bengaluru ashram are being tortured and killed. To make sure they are safe, the CBI should investigate the case."
The woman's family had earlier alleged that she was assaulted and killed even as the ashram alleged that it was because of a heart attack.