Endangered North Atlantic right whales are facing an increasingly bleak future as researchers report they haven't spotted any new calves this season.
Trained spotters look for newborns from December to the end of March by flying over the coasts of Florida and Georgia, where female right whales typically give birth. If they don't see any new calves by next Saturday, it will be the first time since 1989 that newborns haven't been found.
Barb Zoodsma, who oversees the right whale recovery program in the U.S. Southeast for the National Marine Fisheries Service, told The Associated Press that the dearth of calves could signal the "beginning of the end" for the species.
"Right now, the sky is falling," Zoodsma said. "I do think we can turn this around. But ... what's our willpower to do so? This is a time for all hands on deck."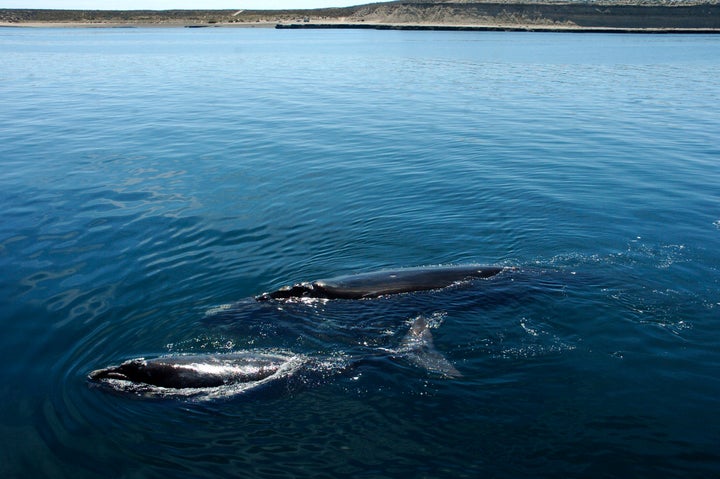 Spotters were already alarmed in December by the lack of female right whales off the southeastern U.S. coast, NPR reported. The whales typically live off New England and Canada, but pregnant females head south starting in November to give birth and raise their calves in warmer water. But this year, spotters didn't see any females in the south until the end of January.
Only about 450 North Atlantic right whales exist, and only 100 of them are breeding females. Seventeen of the animals washed up dead in 2017, and one was found this year. Many were struck by ships or entangled in fishing line, including line between floating buoys and lobster traps. The line can cut through the whales' fins, cause infections and drag them down, sapping their strength.
Only five newborns were spotted during calving season in 2017. The whales typically average about 17 births a year.
Some scientists are holding out hope that the mothers have shifted their locations and that calves might be somewhere spotters aren't looking — or that the births may rebound in the future.
But many researchers fear that the species is being decimated by ship strikes, fishing line and climate change. The whales feed on phytoplankton, which is temperature-sensitive. As water temperatures increase off New England, the phytoplankton population is decreasing.