Gurdaspur (Punjab): 'Hindustan zindabad tha, zindabad hai aur zindabad rahega'. When actor-turned-politician Sunny Deol, the BJP's Gurdaspur candidate, recited this dialogue from his blockbuster movie 'Gadar-Ek Prem Katha', a cheer went through the crowd attending his rally in Dinanagar, a small town adjoining the international border between India and Pakistan.
"Hun taan Pakistan ne wi live sun leya hona…(Pakistan must have heard him as well), said an elated Gurdeep Singh, who had travelled from Bamihal village, situated on the India-Pakistan border, to catch a glimpse of his hero.
The actor's candidacy was announced late by his party—it has not even been a month since he joined the BJP—but that didn't affect the enthusiasm of the crowds turning out to meet Deol, best known for movies where he let his fists do most of the talking.
Deol has been candid about his lack of political knowledge—in a video that went viral, he calmly said he didn't know much about the Balakot airstrikes that his party has milked dry in its election campaign—and has called himself a patriot who wants to work for his country.
Speaking to HuffPost India while campaigning in the border district, the actor was frank in his responses, making no attempt to talk up PM Narendra Modi's track record in the past five years.
"If he has done good, people will give him another chance or else will pronounce the verdict in someone else's favour. There is no point in making speculations about his performance in the last five years," said Deol.
Punjab's 13 seats will go to the polls in the last phase of elections, on 19 May. Deol is taking on the Congress's sitting MP Sunil Jhakhar, who had won the seat in a by-election in 2017, held after the death of former MP and actor Vinod Khanna.
While the Congress is likely to gain in Punjab, the choice of Deol has turned Gurdaspur into one of the most-watched seats in the country. The fight here is between Congress and the Deols, without much of a Modi influence.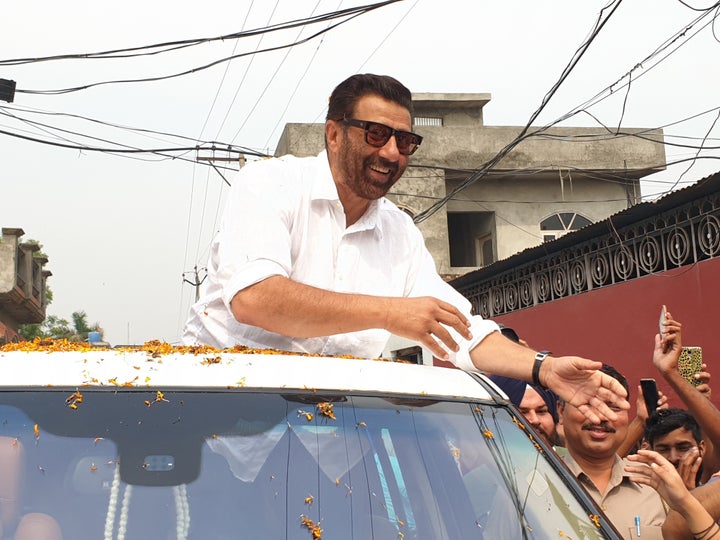 No Modi and Shah, only Sunny
The Pulwama attack and Balakot strikes, which Modi and BJP president Amit Shah had harped on in the initial phases of the campaign, does not find truck in this border district. Instead, the people here demand peace between India and Pakistan.
Even the BJP local cadre was focused on promoting Deol and the patriotic characters he has played in movies such as Gadar, Ghatak, Apne and Border. The party's official pamphlets and other media releases named only Deol, not Modi.
"We as a border state witnessed a lot of bloodshed and participated in all the wars that India witnessed during and after partition. Every second house here has someone in the army. National security and patriotism is supreme, but we need peace. We will not vote for a party just because of the surgical or Balakot strikes. We need a leader who can ensure a job, a house and safe drinking water and air for us," said Kamaljit Singh, a retired teacher from Bhulle-Chak village.
Many Punjabis still hold a grudge against the Shiromani Akali Dal-BJP alliance, in whose regime multiple sacrilege incidents were reported in the state, hurting the religious sentiments of devotees.
Deol seemed to have read the pulse of the people here. His campaign vehicle, a Range Rover, did not carry any BJP symbol or flag or photographs of Modi. His clothes were also obviously chosen more for comfort—a white shirt and blue jeans, no trace of saffron anywhere.
"I am not here to play the role of a political leader but to work as one who understands their problem and has the will to solve them. Many generations in Punjab were lost to menaces like terrorism, drugs and brain drain. We cannot afford to lose the present generation to unemployment and agrarian crisis. We need to find a way and if there is not one, we have to make it," said Deol.
So his fans thrilled to his famous "yeh dhai kilo ka haath" and ″Hindustan Zindabad rahega" dialogues as he urged voters to give him a chance to bring some 'change' into their lives.
His team was also careful to seek votes only on the basis of Deol's fan base. The Deol family—Sunny, his mother Prakash Kaur and Dharmendra—would also stick to the script, not letting communal hatred or Congress-bashing seep into their campaign.
For Gurdaspur, a star has descended on the road
At the base camp for Deol's campaign, a palatial house called 'The Kothi', situated in the picturesque village Sardara, hundreds of people thronged to meet the star.
"Though I do not get much time to interact with everyone, I try to meet as many people as possible. The emotional outbursts they show while showing the old pictures of my father during his stardom days provides a much-needed boost to the feeling that I still remain a son of this soil," he said.
Deol would start his day with a glass of lassi, soon followed by a hot cup of coffee. He would also make sure not to miss his daily exercise.
Even before the actor stepped out of the house,the front lawn was filled with fans, some from states like Delhi, Haryana and Rajasthan. Soon, a group began singing the song 'Jab hum jawan honge…' from Betaab as they waited.
Neeraj from Machrala, a nearby village, had arrived with a portrait of Dharmendra to gift the candidate.
"I will tell him to win the seat and then I will make his portrait too," said the artist.
Like him, Subhash Chander of Mugrala had also brought a small picture of Dharmendra, which was cut out from a newspaper in 1962.
"I was studying in class 9th that time and had cut this photograph from a local paper. For me, he is nothing less than a god," said Singh.
Arjun Kumar, a 25-year-old street vendor from Gurgaon, had walked over 600 kilometres from his village to meet the actor.
"I could have travelled by train or by bus to meet him here but then he would not have given me time. I wanted to be special and so I travelled on foot," said Kumar, showing off the bruises on his feet.
Kumar became Deol's fan as a child after watching 'Ghatak' in 2003. He was so impressed with his gravelly voice, dialogues and personality, that he began to act like him.
"I used to dress like him, started breaking bricks with hands and even ride a bullock cart and used to recite his dialogues while roaming all over the village. People thought I had gone mad and even complained to my mother," said Kumar.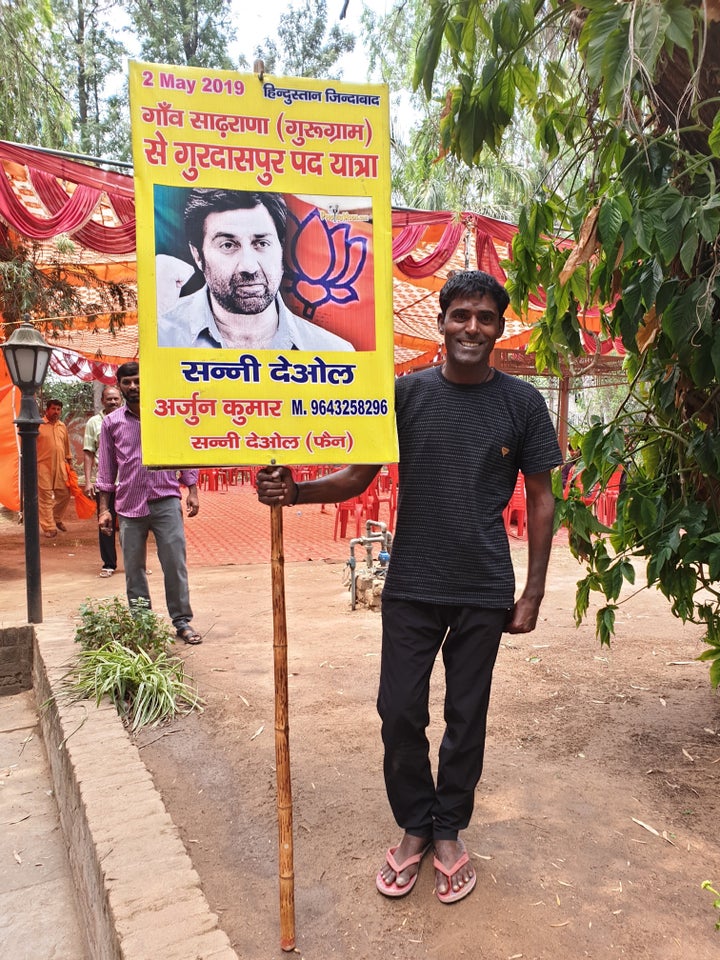 He even ran away from home in 2006 to meet Deol but then returned home on the third day after he fell short of money.
The actor, however, could only meet a few fortunate fans who managed to enter the house thanks to their contacts. Already late, he left through the back door, trailed by journalists and local political leader. Many local youths also joined his cavalcade on motorbikes, looking for an opportunity to click a selfie whenever he would peep out from the sunroof of his Range Rover to greet the villagers.
So does he think he'll win?
"So far I have played roles and succeeded in giving life to them. Don't you think I will be able to do justice in reality too?" asked the actor, standing on his seat to wave at an excited group of students standing outside their college.
Popular in the Community