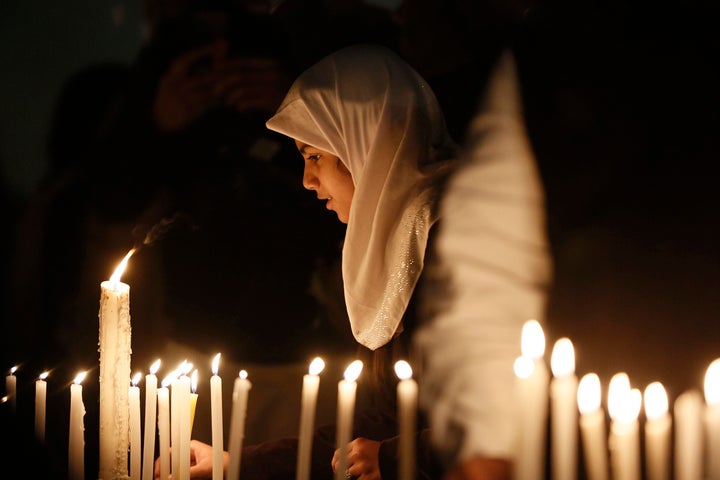 A Kashmiri student spent Friday hiding in the room he rents in Ambala, Haryana. The 18-year-old switched off the light and prayed that no one would break down his door, drag him into the street and thrash him.
"I have never been so scared in all my life," the teenager from Anantnag told HuffPost India over the phone.
The Kashmiri student went into hiding one day after a 19-year-old Kashmiri, Adil Ahmed Dar, rammed a vehicle filled with explosives into a convoy of security personnel, killing 49 soldiers in Pulwama district.
In a country where the weekly passing of one or two Indian soldiers scarcely registers with its citizenry, it took 49 deaths for people to notice the devastating loss of life that is persisting in the conflict-ravaged region. And then, Chitresh Singh Bisht, a major in the army, was killed while defusing an improvised explosive device in Jammu on Saturday.
With emotions running high in the aftermath of the Pulwama attack, the Kashmiri student's landlord told him not to step outside. A few hours later, he saw a video in which the sarpanch of Mullana — the locality where he and other Kashmiri students live on rent — was calling on landlords to evict all Kashmiri students.
Soon after watching the video, the student heard that two Kashmiris were beaten up in his locality. His friend, he said, forwarded him a text message that instructed Kashmiris to leave within 24 hours.
The student left Ambala on Saturday afternoon and reached his friend's house in Chandigarh in the evening.
The BSc (Bachelor of Science) student, who left Kashmir for the first time in September last year, told HuffPost India that he isn't sure whether he will return to complete his education.
"My life is more precious than a degree," he said.
"I have never been so scared in all my life."
In the three days that have passed since one of the deadliest attacks against Indian security forces in decades, Kashmiris living in different parts of India have been intimidated, threatened and attacked by locals and right-wing activists.
While authorities have failed to put an end to the threats and intimidation, students have either locked themselves in their hostel rooms or fled their college campuses.
Some, like the BSc student in Ambala, want to head to Kashmir, but they don't know how to make their way back.
There are reports of some making it as far as Jammu, where they are stuck either due to the weather or the curfew imposed by the state government. They cannot find transport to get to Kashmir by road. Some are staying with friends, while others have hunkered down in makeshift shelters in cities like Chandigarh and Jammu.
While the authorities have imposed a curfew following violent protests in Jammu, incidents of mob violence and stone pelting have persisted.
The BSc student, who has left Haryana, said, "I've told my parents that I'm okay. There is nothing else I can do except to wait," he said.
Leave, empty out
At least eight students across colleges in Uttarakhand, Rajasthan and Uttar Pradesh have been either suspended or expelled for allegedly expressing contrarian and "offensive" views on the Pulwama attacks. One student in Bangalore, who allegedly praised the suicide bomber on Whatsapp, has been booked for sedition.
In Ambala, Naresh Kumar, a local sarpanch, admitted that he called on landlords in the locality of Mullana to expel Kashmiris.
In a video that was widely circulated among Kashmiri students in Mullana, a man is heard saying, "All young Kashmiri men and women, who are living on rent in Mullana, should be thrown out of your homes within 24 hours.... if you do not expel them in 24 hours, the panchayat and the entire village will give dharna in front of the houses inhabited by these students."
The man also says that anyone who does not expel Kashmiris within 24 hours will be declared a "traitor of the village." Another man in the crowd says, "Desh ka gaddar" (traitor of the country).
It is unclear how many students have been thrown out of their accommodation in Mullana, but locals estimate between 100 to 150. HuffPost India cannot confirm this figure. While some have moved to the hostel of the Maharishi Markandeshwar (MM) college, where they study, others have left Ambala.
In Patna, men armed with sticks and rods, shouted "Kashmiris wapas jao" and "Bharat Mata ki jai" as they entered a local market. "Close the shop, close the shop," the men are heard shouting in a video that captures the incident.
"Close it immediately. It should empty out within 24 hours," they shout.
When a woman asks them to stop throwing the wares of the Kashmiri shopkeepers, a man says, "44 died yesterday because of them. If it was someone from your family then you would understand."
The Times of India reported that Kashmiri carpet sellers have shuttered eight shops at the Kashmiri Bazaar in Patna and four shopkeepers were thrashed by the goons.
"At least 30 to 40 bike borne youths armed with bamboo sticks and other blunt objects barged inside the market and started attacking us," Bashir Ahmed Wani, a carpet seller told TOI. They forcibly asked us to chant 'Jai Shree Ram' and 'Bharat Mata ki jai' while hurling non stop abuses at us."
On the run
The Punjab branch of the Jammu and Kashmir Students Organization, which has set up a shelter in Chandigarh, was accommodating 50 Kashmiri students as of Sunday morning.
Khawaja Itrat, who is in charge of operations in Chandigarh, told that HuffPost India that 150 students have been evacuated from Dehradun. "Dehradun is the worst. Students were locked in their room for three days. They were having to go to the toilet in polythene bags," he said.
A 20-year-old student of the Combined Institute of Medical Sciences and Research in Dehradun said that members of the Bajrang Dal had reached where Kashmiri students were living and and threatened their landlords.
"They were coming to our rooms and telling us to leave," the student, who hails from Baramulla, told HuffPost India from the shelter. "We put locks outside our houses for three days. We did not switch on the light. We did not even remove the curtains for a minute. We did not go outside to get food," he said.
The student added, "No Kashmiri is safe in Dehradun."
Vikas Verma, Bajrang Dal's convenor in Uttarakhand, told TOI, "We will ensure that no Kashmiri Muslim studies or stays here."
"No Kashmiri is safe in Dehradun."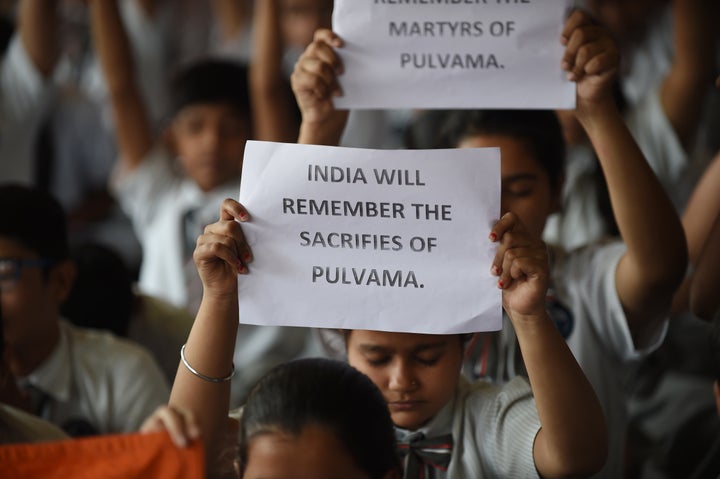 Stuck in hostels
Speaking with HuffPost India on Saturday, a Kashmiri student said that she was sitting in the dark at the girl's hostel of the Dolphin Institute in Dehradun.
"The lights are off. A lot of people have come and surrounded the hostel," the 24-year-old geology student said. "There are 15 to 20 girls. We just want to get home safely."
At this point, the phone got disconnected and HuffPost India could not reach the geology student in Dehradun.
Shehla Rashid, a Kashmiri political activist, who is coordinating efforts to reach Kashmiri students facing threats and intimidation, told HuffPost India that the Uttarakhand police had reached the women students. When Rashid tweeted about the plight of the students, Uttarakhand police dismissed her claims in a counter tweet. The police added, "Initially there was an allegation that Kashmiri students raised pro Pakistan slogans," inadvertently adding to the unrest facing the students.
Rashid said, "The Uttarakhand Police is protecting the victims and I'm personally in touch with the girls. The claims of the police on social media are misleading. Why would they put up a helpline and protect the girls if all is well?"
Noting that Bajrang Dal's Verma had gone on the record about harassing Kashmiris, Rashid asked why the police was not arresting him.
At the Maharishi Markandeshwar (MM) college in Ambala, a Kashmiri student, who is studying to be a pharmacist, said that he had locked his hostel room and he was only stepping out for his meals.
The 30 to 40 Kashmiri students inside the hostel, he said, went to the mess together.
"You can feel the tension even in the mess. People who were speaking with us before are no longer speaking with us," he said. "They are not even looking at us. They look the other side."
The 21-year-old student said that it was impossible for them to leave for Kashmir because they could not risk leaving the hostel and stepping into the city. The student said that Kashmiris were not even risking the few kilometers they had to walk to get to their classes.
"We are not going to class. We cannot risk stepping out. Anything could happen," he said.
At the Aligarh Muslim University in Uttar Pradesh, a Kashmiri student has been suspended for a "highly objectionable" tweet about the attack in Pulwama, and booked for "promoting enmity" under Section 153A of the Indian Penal Code (IPC).
On Saturday, the administration of AMU issued a notice, advising all resident Kashmiri students to "stay in the Hall" and refrain from leaving the university campus.
A PhD student, who hails from Pulwama, told HuffPost India that Kashmiri students were afraid to leave the campus.
While talking about the 19-year-old suicide bomber, who was beaten and humiliated by security forces three years ago, the 26-year-old student said that many Kashmiris experienced mistreatment by the police and the army in Kashmir, but "nothing justified" the attack on the Indian soldiers.
The student also said there was no space left to express a "different" opinion on the Kashmir conflict and Kashmiri students were "sick" of the backlash against them.
"We are from a conflict area. No one understands death better than us. We know how it feels to lose a father, a brother, a son. We can never celebrate death," he said.
Editor's note: The names of students have been concealed to protect them from backlash. This report was updated with Shehla Rashid's response to the Uttarakhand police's tweet.