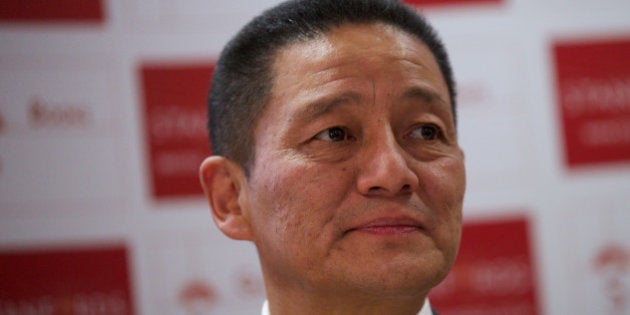 Ten Indian women trekkers, led to safety by Jamling -- the son of legendary mountaineer Tenzing Norgay -- in Kathmandu, are back in the Indian capital.
Their 17-day trek to Mount Everest Base Camp was halted by the 7.9-magnitude earthquake, five days into the trek.
"The girls were airlifted by a helicopter and they were taken to Kathmandu in the morning today (Wednesday). They left for New Delhi, and we are happy they are home," Akshay Kumar, CEO, Mercury Himalayan Explorations (MHE), an organisation involved with the trek, told IANS.
The team took an Indian Airlines flight back to Delhi.
Jamling has stayed back in Kathandu to check on the damage that his office there may have suffered, Kumar said.
Jamling, 49, and the 10 women -- aged between 21 to 41 -- had been waiting to be evacuated from Tengboche village in Khumbu region of northeastern Nepal.
Jamling and the team were headed to the Base Camp of the world's highest peak as part of a 'Fulfill Your Everest' initiative, launched by Star Plus channel and Fair and Lovely (FAL) Foundation. This was being done as an extension of the channel's show "Everest", produced by filmmaker Ashutosh Gowariker.
At the village they had access to food and shelter.
Jamling, who summited Everest in 1996 and is the son of Tenzing who climbed Everest with Edmund Hillary in 1953, was in constant touch with MHE, communicating about the team's status through a satellite phone.
The team had taken off on a flight to Kathmandu from Delhi on April 20 and upon reaching there they took off for Lukla, from where they started the long trek.
Popular in the Community