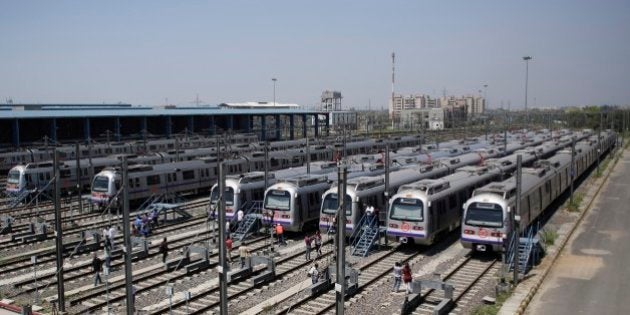 One of the downsides of shopping online is making sure you're available to receive your deliveries. Some offices are sniffy about your new frying pan or thermal underwear landing up in the reception area and many security guards in building complexes follow a 'policy' of not safeguarding your parcels while you're away. It can be maddening.
To the rescue comes none other than Delhi Metro.
This month on, many metro stations will unveil "Automated Parcel Delivery Terminals" for passengers to pick up their packages. An official from the Delhi Metro Retro Corporation (DMRC) explained how it works, "Customers can select a metro station while ordering on an e-commerce portal. They will receive an SMS after ordering. They can show the SMS to the officials present at the kiosk to pick up the package."
He added, "We are working with e-commerce partners and this is a great revenue generation opportunity for the railways."
In addition to this, the start-up Smartbox has already placed kiosks at many metro stations in Delhi and is about to kick-off the operation soon.
We spoke to Smartbox, who shared, "We are aiming to provide the service to customers who are always on the move. They can order anytime and pick up the package from the kiosk by entering the OTP (One Time Password) they get while ordering. We are also providing options for cash on delivery and have facilities to accommodate all the major credit and debit cards – Users can swipe their card at our 'smartbox' and pick up the delivery. We have developed an in-house technology to make secure but easy-to-use kiosks."
What's more, many other cities could be welcoming this convenience soon. "We are planning to launch the service in Delhi-NCR, Mumbai and Bangalore first and then expand to eight metros in India during phase-1 of our operations."