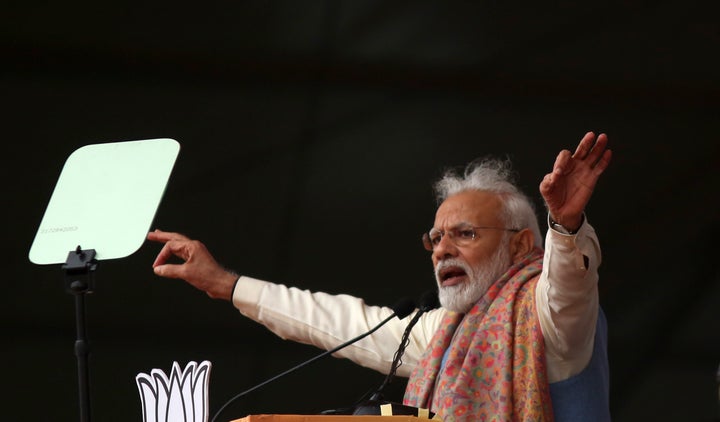 The protests have turned violent in some places in the past week, and 22 people have died so far across India, 18 from just Uttar Pradesh alone. Eyewitness accounts and videos have revealed the police in Delhi, Uttar Pradesh and Mangaluru cracking down brutally on unarmed protesters, including students, using guns and lathis to inflict severe damage.
Modi, who has tweeted appeals to "everyone to stay away from any sort of rumour mongering and falsehoods", used his rally on Sunday at Ramlila Maidan to openly contradict his own home minister's claims, outrightly lying at times.
The prime minister claimed that the CAA and the NRC would not harm any Muslims in the country, and attributed the massive protests to lies spread by "urban naxals" and the Congress.
As protests are still being held across the country, here's a quick fact-check of some of Modi's claims at the rally.
1. "Since my government first came to power in 2014, I want to tell 130 crore countrymen, there has never been a discussion on this NRC."
This is false. Not only did the BJP promise to implement the NRC in other parts of the country in its manifesto for the 2019 Lok Sabha elections, home minister Amit Shah has repeatedly said at election rallies that the BJP government would implement an all-India NRC.
"First we will pass the Citizenship Amendment bill and ensure that all the refugees from the neighbouring nations get the Indian citizenship. After that NRC will be made and we will detect and deport every infiltrator from our motherland," Shah had said in May, before the BJP won its landslide victory.
Also here's a look at the BJP manifesto: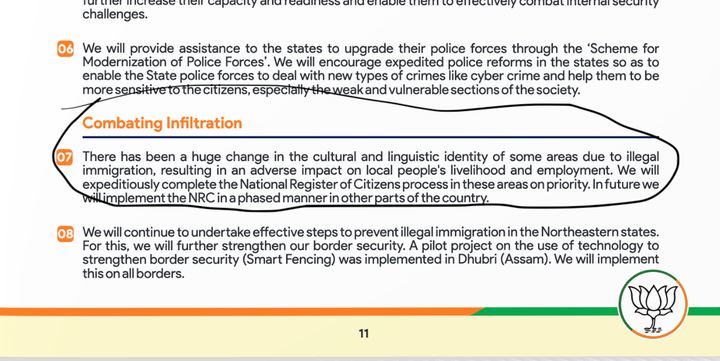 Shah had also mentioned the all-India NRC in the recently concluded Parliament session.
2. "Rumours of detention centres raised by Congress and urban naxals is a lie"
This is, again, an outright lie by the prime minister. Several publications have reported that detention centres are being built in at least three places — Assam, Mumbai and Bengaluru.
The Indian Express's Abhishek Saha has reported that construction for a detention centre which can house up to 3,000 "illegal foreigners" began in Assam's Matia last December. The report said that the centre was being built "as per guidelines laid down by the Centre and circulated in January 2019″.
Mumbai Mirror had reported in September 2019 that Maharashtra's home department had sought 3 acres of land from CIDCO, Navi Mumbai's planning authority, to build a detention centre.
Principal Secretary (special), Home, Amitabh Gupta told the daily that the process of identifying this land had begun in July 2019.
The News Minute had reported visiting a detention centre near Bengaluru in October 2019. The report said that the building, built in 1992, was originally meant to be a hostel for SC/ST students, and was later turned into a detention centre in 2018. Two watch towers and a security room was built later.
The Telegraph reported in November that Nityanand Rai, minister of state for home, told the Rajya Sabha that 28 people have died in Assam's detention camps. The report said that according to the Citizens for Justice and Peace, most of these deaths occurred after 2016.
3. "If you want to burn, then burn the effigy of Modi, but do not harm the poor. What will you get by hurling stones at policemen, injuring them?"
While the prime minister didn't express any sadness over the number of people killed in the protests, he claimed that "certain people" were creating violent situations across many cities by hurting policemen. But, as eyewitness accounts and videos have shown, it is the police in BJP-ruled states that has been accused of brutally attacking protesters, especially in economically backward neighbourhoods.
In Delhi — where the police is controlled by the central government — last week there were violent police crackdown in areas such as Seelampur and Daryaganj. In Jamia Millia Islamia university, defenceless students studying in the library bore the brunt of police violence (hours after Modi himself made the blatantly communal statement at an election rally that "protesters could be identified by their clothes").
The Telegraph quoted Arshad Alam, a resident, as saying, "The police not only targeted peaceful protesters but also local people trapped in the crowd. After the beatings, they picked up several people, including minors, at random and took them to the Daryaganj and Jama Masjid police stations."
In Uttar Pradesh, 18 people, including an 8-year-old boy, were killed during the protests. Reports from the state suggest that the police have been given a free rein to wreak havoc in Muslim neighbourhoods.
4. "The citizenship law or the NRC has nothing to do with Indian Muslims."
While Modi and some of his ministers have said that Indian Muslims have nothing to fear from the CAA or NRC, the linking of the two—as mentioned explicitly by Shah multiple times—will effectively mean that thousands of Muslims who may be left out of the flawed NRC process will have to try and prove their Indian ancestry. Failing to do so would mean they are stripped of their Indian citizenship (the government has still not clarified what documents would need to be produced for this exercise).
In a speech in April 2019, Shah had made it clear that the CAA would first give citizenship to Hindu, Buddhist, Sikh, Jain and Christian refugees from Afghanistan, Bangladesh and Pakistan, and then the government would bring in the NRC to flush out "infiltrators".
Rohan Venkat of Scroll.in has explained how this would work: "[The] Citizenship Act first grants citizenship to every non-Muslim "refugee" – and, according to Amit Shah, Hindus in the state don't even need documents to prove that they were refugees. The NRC that follows would then force only Muslims to prove their Indian ancestry. If, simply because they are unable to do so considering it is a complicated, bureaucratic process, they will effectively be declared stateless."
5. "Urban Naxals and Congress spreading rumours"
Leave alone the fact that the prime minister has easily branded the thousands of protesters who have been showing up for rally after rally as "Urban Naxals", blaming the protests on the Congress is nothing but a joke. The party has been criticised for showing barely any initiative during the protests—leader Rahul Gandhi took off to South Korea on a "pre-planned trip" while people would have reasonably expected him to lead the party's cadre on to the streets. In an emoji-heavy tweet on Monday, he has now invited "students and youth" to join him at a protest in Raj Ghat.
So leave the Congress out. One of the fascinating things about this series of protests has been that ordinary citizens, young and old, have spontaneously turned out on the streets day after day to fight for India's secular values. This includes people who have never protested before, as well as those who voted for the BJP earlier. We'll leave you with photos of some of the massive anti-CAA rallies from the past week to decide whether these protests look "misguided" and "manufactured" or not.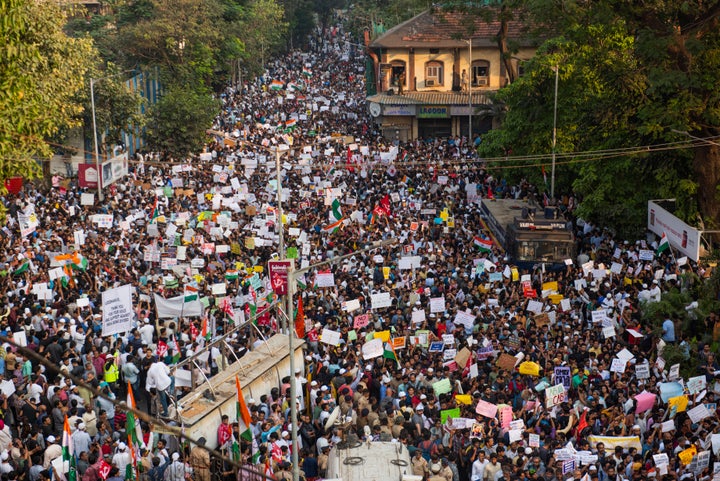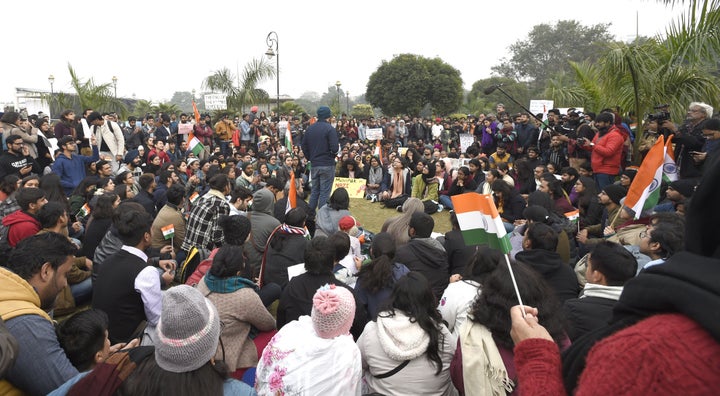 Protests in Kolkata on December 22: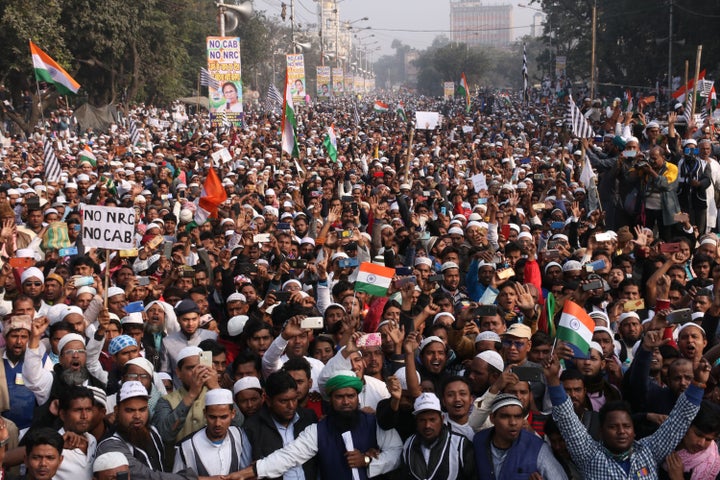 Are these students from IIT Madras, IIM Bangalore and IIT Bombay also "urban naxals"?