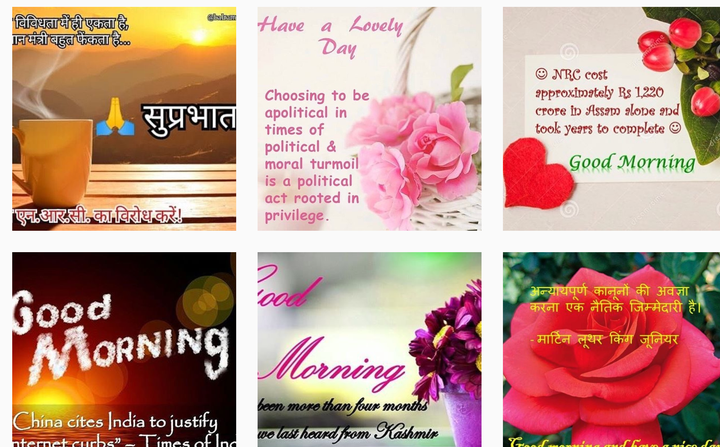 While people (in places where the Indian government hasn't shut the internet down) are using Instagram for everything from sharing protest and policemen's locations to protest art to legal and mental health resources, one handle, @sodonechilling, has decided to take this ideological fight to the heart of casual bigotry in India – Whatsapp.
As anyone on an Indian Whatsapp group knows, the platform is a hub for bigotry of all flavours couched in 'funny' and 'informative' forwards that double as highly effective propaganda. The CAA and NRC has proven no different.
Uncles, aunts, resident society members, teachers, former school and college mates – everyone wears their offensive and dangerous opinions about Islam, women, trans rights and a host of other issues openly on the platform.
Whatsapp groups are a particularly painful part of social life and family duties for most of us as the platform is the chosen medium for propaganda to worm its way into our lives. 'Whatsapp University' is an impossibly efficient, hydra-like organism that churns out Islamophobia faster than you can say 'CAA' or 'chi'.
The idea for 'New Whatsapp University' came to one of @sodonechilling's administrators two years ago. In an email to HuffPost India, they wrote, "I was thinking about wholesome Whatsapp artworks to counter the disgusting misogyny that pervades family and alumni WhatsApp groups" but the project's only taken shape now.
The ubiquity and instantly familiar aesthetic of the Whatsapp forward instantly rings some warning bells in our heads, and that's exactly what the account's work is subverting by changing the messages in these forwards into ones that directly chafe against accepted biases.
The change in tone has not gone unnoticed. "People have been sending screenshots of the artworks in their family groups and we have seen or heard of reactions of absolute confusion, upset, astonishment, anger. Sometimes though less often - joy, gratitude, relief," said one of the people behind @sodonechilling.
Adding, "We've seen an absolutely bizarre Chanakya forward about "anti-nationals" met with an equally bizarre Chanakya forward (ours) about government and dissent."
The messages aren't meant to replace the actual act of turning up in the streets and protesting, instead they support the ideas that are fuelling these protests and make it easier to spread outside the socio-economic echo chambers we're prone to.
Emphasising the value of "accessible art" as a type of protest, one of the administrators said, "As art directors, we think speaking people's own language (in this case in the very aesthetic and format they are engaging with) is so important."
Adding, "400+ million Indians are on WhatsApp and a huge percentage of those will be familiar with the Good Morning messages and constant hoaxes. Additionally it's so imperative to push back at bigotry, apathy and ambivalence in our own families."
The internet is definitely picking up what the account has put down, with the administrators saying they'd seen over 10,000 shares in just 48 hours of starting the account. It has only grown since then, with people sending in their own versions of such forwards and sharing them across Instagram, Whatsapp, Twitter and Facebook.
The response has been heartening for the group behind @sodonechilling to say the least. One administrator said, "Uncles are finally the ones leaving WhatsApp groups! This response alone makes it worth it."
@sondonechilling's 'New Whatsapp University' isn't just bringing a much-needed element of (politically charged) humour to our Instagram feeds, it's also allowing some of us to brave the vitriolic environments of our family and other groups, making it slightly easier to stick up for our beliefs and get others to question theirs in what is effectively a public space. Ultimately, that's what art is for.
Popular in the Community