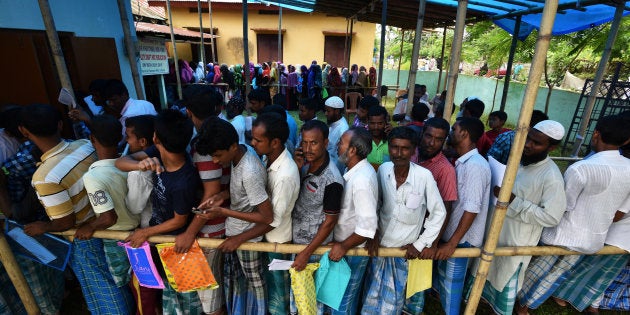 GUWAHATI, Assam — At 9.45am on Monday, July 30, in a room full of television cameras in the Guwahati office of the National Register of Citizens (NRC), state officials and local journalists stood up and sang the Assamese state anthem in dulcet tones: "Oh land of my birth, Oh my mother Assam."
The State Coordinator Prateek Hajela, a telegenic Assam-cadre IAS officer from Bhopal, asked the waiting journalists to volunteer their application numbers to search them live on the NRC website, projected on a large screen.
Two journalists—Tridip Mondal and Rajiv Bhattacharya—offered theirs. Neither had featured in the first draft published in December 2017.
Hajela typed their numbers. Their details came up.
"Yes!" he exclaimed, "You've made it!"
The journalists beamed with joy and relief.
Over the past three years, 3.29 crore, (32.9 million) people in Assam have submitted a bewildering array of documents to prove they are Indian citizens — a process that sounds like a routine bureaucratic practice, but in reality has disrupted the lives of millions.
On Monday, it emerged that over 12 percent, or 40 lakh, of those who applied have been excluded. Of these, Hajela said 2.48 lakh were persons declared foreigners by 100 tribunals across the state, or marked doubtful voters by the election commission, and their descendants were automatically excluded from the NRC process.
In the hour-long press conference, officials said those excluded would not be subject to punitive action, detention or deportation — yet.
Satyendra Garg, Joint Secretary, Ministry of Home Affairs, quoted Minister Rajnath Singh's assertion last week that the latest list was a "final draft", implying the application process had ended, but those left out could still appeal their exclusion.
"Based on this draft, there is no question of anybody being taken to detention or foreigner's tribunals," said Garg.
"I repeatedly repeat that anyone who is excluded will have adequate opportunity to file claims and objections with the NRC," said Sailesh, the Registrar General and Census Commissioner of India. "No Indian citizen should have any fear or panic."
Yet there is little clarity on what will finally happen to those who lose the appeals process — called 'claims and objections' — and are termed foreigners in a country they have lived in for decades. The Union and Assam government are silent on the fate of those who fail to reclaim their citizenship when the process is finally complete.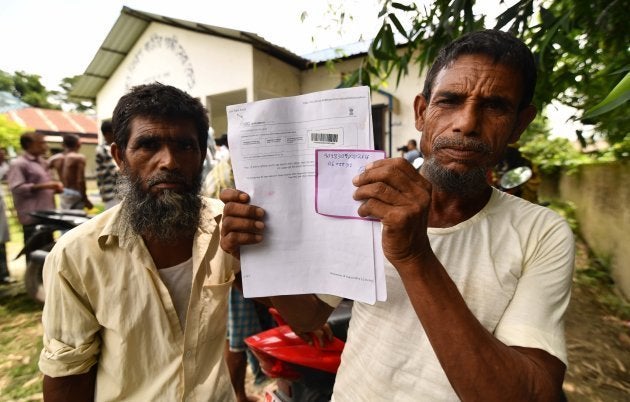 Old Divide
The National Register of Citizens is a list of people who can prove that they came to Assam by midnight on 24 March 1971, a day before neighbouring Bangladesh declared independence.
Those on the list—formulated only for Assam—are deemed genuine Indian citizens, under laws and rules quite different from the rest of India, where citizenship is linked to 1947, the year of Indian independence. The 1971 date was decided in an agreement between the All Assam Students Union, Assam state government, and then Indian Prime Minister Rajiv Gandhi after a violent agitation against foreigners in the early eighties.
Assam shares a 284km border with Bangladesh, and has seen internal migration for decades. A palpable anxiety about the growing Muslim population here underscores politics in the state, and is often erroneously ascribed to illegal migration.
Local Assamese groups claim the NRC is the only answer to the concerns about illegal immigration from Bangladesh. Sammujjal Bhattacharya, advisor to AASU that lead the 38-year-long movement against foreigners, said, "The NRC is a culmination of our long struggle against Bangladeshi infiltration, and we welcome it."
The process, monitored by the Supreme Court, seeks to be identity-neutral. In an interview to HuffPost India, Hajela called it "an exercise that is entirely about an individual, and his/her paperwork, not their religion, gender or language."
In practice, the three-year-long NRC process has rekindled simmering old divides, most visible today as warring claims about indigeneity between Assamese-speakers (especially caste Hindus) and Bengali-origin Muslims, both having historical roots in the region.
Changing demography, loss of land, and political competition has intensified the question of who has a right to live in Assam. In addition, the Hindu nationalism of the state's first Bharatiya Janta Party (BJP) government— evident for instance in their heavily opposedCitizenship (Amendment) Bill 2016 that seeks to enfranchise only non-Muslim migrants from neighbouring countries— has made the NRC as much a political exercise as it is a bureaucratic process.
What Now?
In Sathkali village in Durrung district, 25-year-old Jintumoni Deka shrugs when asked if he found his name on the list.
"Of course, my name will be there," he said admitting that he had not checked. "I'm Khilonjia"—Assamese for indigenous.
Although an Assamese speaker, 26-year-old Aporia Islam does not share Deka's confidence. Islam checked the NRC website on his mobile as soon as the list was out, and is thrilled to find his six-member family included. It is validation.
"The tension is over," he said. "I have a full address. It proves that I'm also Khilonjia."
In an NRC centre in Kamrup rural district, just outside Guwahati, 30-year-old Bengali-origin Muslim fish seller Khairul Islam ran his finger along the printed NRC list. When he found his name, he tapped it thrice excitedly, "It's come. It's come."
Relief was writ large on his face. His family had a scare earlier this year when another family claimed descendance to his grandfather.
After a joint hearing held by the NRC officials, a spelling error was ascertained. "I would have gone mad if excluded—if I'm not Indian, I don't know what I am," Islam said.
Hajela said he could not elaborate on the reasons for exclusion of 40,07,707 names, but that they can file claims in the NRC centres from August 7 onwards.
Some people are unsure on what basis they can question their exclusion.
"I have presented my best documents, gone for family hearings, cleared spelling errors, everything," says 41-year-old Gulzar Husain from the riverside Dholaguri Pathar village in Dhekiajuli district, where large numbers of Bengali-speakers live.
His wife Saleema Begum is also excluded – but she knows why. In the absence of a birth certificate or school certificate, she had submitted a panchayat link certificate to establish connection to her father. Issued by the village headman to declare that she moved to Dhekiajuli after marriage, it was deemed unverifiable.
Saleema's predicament is common, especially after Hajela issued a notice in May declaring that NRC officials treat the panchayat link certificate—the refuge of many illiterate women across communities — as a "weak document".
An NRC official in a centre in Sipajhar Bazar admitted that in the 10 villages he oversaw, over 500 women were excluded because their village headman has not kept a register that would help verify the certificates he issued in the past decades.
The over 40 lakh excluded are at risk of statelessness, but technically, they can still approach the NRC office for appeals in the coming months.
The existing 2.48 lakh marked doubtful or declared foreigners, however, are already at the mercy of the Assam border police and quasi-judicial tribunals that are widely considered opaque and arbitrary.
Doubtful voters are those disenfranchised during electoral roll revision for allegedly not having proper citizenship credentials with their case pending in one of 100 Foreigner's Tribunals across the state. Once declared a foreigner, the person is sent to one of the six detention camps before eventual deportation.
"D-voters" and declared foreigners were automatically excluded from the NRC process. In controversial decrees, their descendants have also been excluded from the list. These parallel systems of determining citizenship have caused additional havoc in the state.
In Dhekiajuli, Romesa Khatun, who won her case in the Foreigner's Tribunal and was declared Indian, does not find her name in the latest NRC list. The local NRC officer told her that he did not receive the updated list from the Foreigner's Tribunal.
Not having been part of the NRC process, Khatun cannot approach the registry for redressal. She must wait in hope that the database will be updated.
"What am I to do now?" she asks. "How many times do I have to prove in court that I'm Indian, before they'll put me on the NRC list?"
Popular in the Community