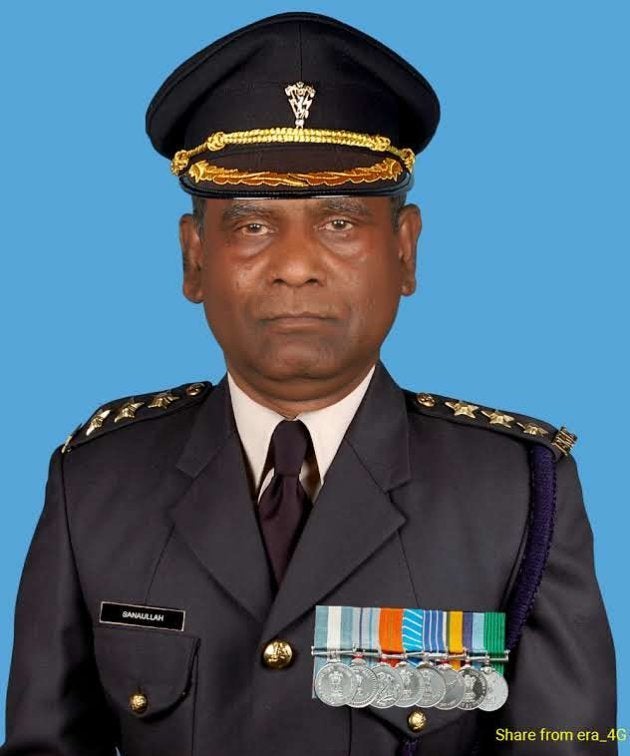 GUWAHATI, Assam — A former Indian Air Force sergeant with a love for words, Sadullah Ahmed has been trying to write about what it means to be Indian. Since the release of the final draft of the National Register of Citizens in Assam, the 48-year-old said, "Everything is ruined. My mind is numb, my soul is crushed."
Ahmed's name does not feature in the NRC list. His two sons, aged 15 and 22, are also excluded.
"My younger son was teased as a Bangladeshi in school yesterday," he said, his voice quaking with agony. "He came home hurt and asked me, papa what's the point of you being in the Air Force if we can't even prove we are Indian?"
Ahmed explained that when he joined the armed forces, the Air Force verified all his documents to make sure he was Indian.
"Going to the armed forces is not a joke," he said. "Everything was okay, that's why I was admitted. Why the doubt now?
Sitting next to him, Azmal Hoque, a retired junior commissioned officer in the Indian army, motioned to Ahmed to calm down. Fifty eight-year-old Hoque, and his children – a son in military college, and a daughter in an army school – have been left out of the NRC as well. Ahmed saw Hoque's story in a newspaper in Guwahati, and got in touch.
"When we talked, we realised that we personally know at least 15 armed forces personnel who have been excluded," said Hoque. "All are Bengali. Hindu and Muslim."
They decided to protest as a group, hoping it would put greater pressure on the government, and also protect each individual from any threats. Seven of them signed a letter, which they shared with journalists they trusted.
At the bottom of the letter is a single plea: "Please expose our grievances in front of my beloved nation."
The Excluded
These soldiers are among the over 40 lakh people who have been excluded from the NRC's list released on 30 July 2018. The NRC is a list of people who have been able to prove that they were in India before the midnight of 24 March 1971, when neighbouring Bangladesh declared independence. Assam is the only state with such a registry, which seeks to detect immigrants from Bangladesh who may have entered India illegally after 1971.
Immigration and citizenship have been thorny issues in the state. Large sections of Assamese-speaking caste Hindus carry an unshakeable fear of being overtaken by the Bengali-speaking community, especially Muslims. Riots and state-run anti-immigration programmes have often targeted Bengali-speaking Muslims and Hindus who have lived in the region for generations. After an especially violent agitation led by the All Assam Students Union in the early eighties, the Assam state government, AASU and the then Prime Minister Rajiv Gandhi signed the tripartite Assam Accord in 1985. The cut-off date of 1971, which the NRC today follows, was decided in this Accord.
Of over 3.29 crore applicants, 2.89 crore made it to the list. More than 40 lakh have been excluded, among them 2.48 lakh doubtful voters, declared foreigners and their descendants. The NRC State Coordinator Prateek Hajela has repeatedly clarified that the excluded people (except the doubt voters and foreigners) are not foreigners, and will not be deported or detained. They can appeal with further proof from August 7, 2018.
Yet those excluded cannot understand why they didn't make it on the list in the first place.
Ahmed laid out an array of paperwork that he submitted while applying for the NRC. He has legacy proof: his father's name appears in the first NRC draft drawn in 1951, and in several voter lists after that. The NRC calls these List A documents, which establish ancestral presence before 1971. For List B documents that prove that Ahmed is his father's son, he submitted birth certificates, school and college certificates, and land documents.
It should have been a breeze, even if he was not an Indian solider.
In a conversation, Shamsul Hoque, a senior non-commissioned officer for 35 years in the Air Force, repeated his date and place of birth thrice with increasing emphasis: First January 1961 in Barpeta, India. When he came home in 2014 after retirement, he found that he was marked a doubtful voter. Doubtful voters, disenfranchised during electoral roll revision, and people declared foreigners by the 100 Foreigner's Tribunals in Assam, were automatically excluded from the NRC process.
"There was no investigation before I was marked 'D'," said Shamsul, but as a soldier, "and a genuine Indian", he said he felt confident about going to court. A Foreigner's Tribunal declared him "not a doubtful voter or a foreigner" in 2016—he read those words to mean "Indian".
"And yet, my entire family is not on the NRC," said Shamsul. His daughter, an IT professional, and son, a cruise line manager, both live in the United States of America. "What will happen to their lives if they are stripped of their Indian citizenship?"
Enamul Haque, a 29-year-old from Barpeta and a sepoy in the Uttarakhand Army Service Corps today, is also not on the NRC. Oddly, his parents and siblings are included. Honorary army captain Sana Ullah, from Barpeta, served for 30 years in Manipur, Kashmir, Ladakh and Madhya Pradesh—he and his three children are not on the NRC.
Former army sergeant Mohiruddin Ahmed, also from Barpeta, said that he did not expect much more than a life of respect and peace when he retired after a 26-year-long service. "But now, is the country I served saying that the entire basis of my existence is a lie?" he asked.
Another officer, a Bengali Hindu soldier, did not make it to the final draft of the NRC. He agreed to meet this reporter initially, but refused afterwards. Under the condition of anonymity, he said on the phone that he was afraid that "too much highlighting" might be counterproductive. "I shouldn't think this way, but I have to think of my children... I hold some hope that the BJP government in Assam will not penalise Hindus."
The retired soldier has documents that show his family was ancestrally from India. But his hope for leniency stems from the BJP-led central government's attempt to pass The Citizenship (Amendment) Bill 2016, which seeks to provide citizenship only to non-Muslim refugees from neighbouring countries. Indigenous Assamese groups have opposed the bill for trying to regularise Bengali Hindu immigrants who might have entered India after 1971. While the bill is yet to be tabled in parliament, it has managed to drive a wedge between Bengali-speakers in Assam.
"It can look like the drama of documents and clerical errors sometimes," said Ahmed. "But that's not all it is. It is narrow-minded bias. Why spend Rs. 1200 crores of public money in determining who's Indian, when all that matters is what community I'm from?"
The retired soldiers are all torn between a bravado about their Indian-ness and the helplessness of belonging to communities the Assamese mistrust. Hoque said he had insisted that his children join the army because of how secular it felt, and how honoured he was to call himself an Indian soldier. He started to say once more that he was born in India, but stopped to laugh. "I am tired of proving it."