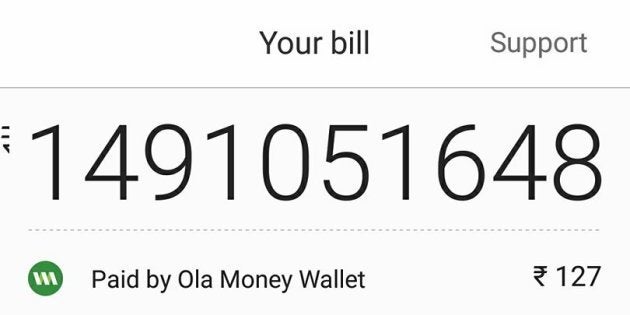 Mumbai-based design consultant Sushil Narsian had an April Fools' Day that he is unlikely to forget in a hurry. The timing of what befell him was certainly perfect.
Narsian had booked an Ola cab from Mulund to Versova Market but by the time he reached the cab, the driver had cancelled the trip. Once the driver cancelled, Narsian was unable to book another one because he now apparently had an unpaid bill amounting to a mere ₹1,49,10,45,368!
Ola had charged him this tidy sum for a travelling a distance of 300 metres. A flummoxed Narsian contacted Ola Cabs and told them about the bill, explaining that he had not even traversed the 300 metres he had ostensibly been charged for. He tweeted out his Fools' Day travails as well.
Ola explained within minutes that it was all a glitch and not a brainwave that they had come up with to wipe out their accumulated debt burden, and returned the ₹127 they had cut from Narsian's wallet.
Looking back it will be one hell of a story to tell!