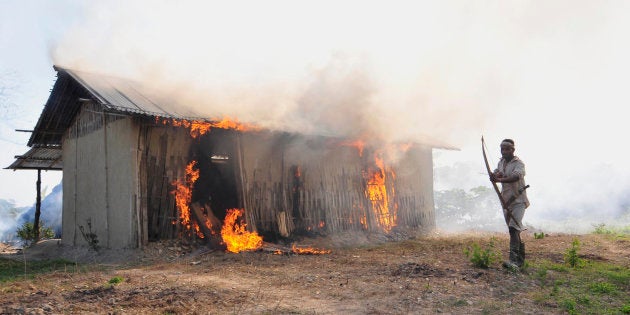 India ranked fourth in the world in 2015--after Syria, Nigeria and Iraq--as having the highest social hostilities involving religion, according to research by Pew. India's ranking worsened sharply since 2014, but was better than in previous years.
Pew Research Centre, an independent non-partisan polling and research organisation, has been publishing its annual Global Restrictions on Religion Report since 2009. For the latest report, it used 18 main sources, including US Department of State reports, reports by UN and other multilateral agencies and reports by international non-governmental groups, to compose two indices--the Government Restrictions Index and the Social Hostilities Index. While the former measures government restrictions on the free practice of religion, the latter looks at hostilities between groups around the issue of religion. In 2015, it ranked 198 countries.
The Social Hostilities Index looks at 13 indicators including crimes motivated by religious hatred, mob violence related to religion, communal violence, religion-related terrorist groups, using force to prevent religious groups from operating, the harassment of women for 'violating' religious dress codes and violence over conversion or proselytising. India ranked 'very high' on the index with an index value of 8.7 out of 10, 10 being the worst. Syria ranked at 9.2, Nigeria at 9.1 and Iraq at 8.9.
Katayoun Kishi, the study's lead researcher, told Huffington Post India in an email interview that hostilities between Hindus and Muslims factored into the India's poor ranking. "[O]ne of the indicators in the Social Hostilities Index looks at whether incidents of violence occurred as a result of tensions between religious groups. In India in 2015, there were instances of attacks by Hindus on Muslims due to alleged cow slaughter, rioting after clashes between Hindus and Muslims, and mob violence involving the two groups," she said.
Government restrictions on religion in India are rated as "high" and increased over 2014 but were lower than for previous years. These include government interference in religion practice or proselytising, government hostility to minority religions and government inaction on complaints of discrimination. Government restrictions on religious practice in India were largely directed towards minorities, Ms. Kishi said. "Much of the government restrictions were aimed at non-Hindus in India. For example, the ban on cow slaughter impacted Muslims during Eid al-Adha, and Christians complained about a lack of police action after incidents of religiously-motivated violence towards them," she said.
Globally, government restrictions on religion and social hostilities involving religion increased in 2015 for the first time in three years. "The global rise in social hostilities reflected a number of factors, including increases in mob violence related to religion, individuals being assaulted or displaced due to their faith, and incidents where violence was used to enforce religious norms," Pew said. The increase in government restrictions was linked to a surge in government harassment and use of force against religious groups.
In Europe, hostilities toward Muslims in particular increased considerably. In 2015, 32 countries in Europe experienced social hostilities toward Muslims. Christians and Muslims were harassed in the most countries in 2015, continuing a trend from previous years, owing in part to their highly dispersed populations globally.
Hindus, on the other hand, were harassed in 18 countries, but 99% of Hindus live in those countries. "[T]he vast majority of the world's Hindus (95%) live in India, where harassment of Hindus by both government and social groups was reported in 2015...Coupled with harassment of Hindus in several other countries with considerable Hindu populations, including Nepal, Bangladesh, Pakistan and Sri Lanka, this meant that 1 billion Hindus, or 99% of the world's Hindus, lived in countries where Hindus were harassed in 2015," the report said,
"[L]ower caste Hindus faced impediments to education, jobs and some government services. Crimes against them often went unpunished by authorities, sometimes because the victims did not report the crimes due to fear of retaliation," Kishi said. "When considering social hostilities, Hindus were sometimes the target of hostilities by Muslims as a result of long-standing tensions between the groups (and vice-versa, were sometimes the perpetrators of hostilities). This was not limited to lower caste Hindus," she said.
Both indices, despite registering an increase over 2014, have seen a general downward trend in India since 2007, the first year that Pew published the data for. While India's ranking on the Social Hostilities Index has worsened since 2014, it has been the second worst country in the world on social hostilities involving religion for several past years including 2008-2011.