Despite its success in the mid-range, particularly in Tier 2 and Tier 3 cities courtesy the big retail and advertising push, Oppo hasn't had a winner in the high-end that could challenge the likes of Samsung or Huawei. Last year's Oppo Find X was a step forward, showcasing the brand's design and tech chops, but it's the new Oppo Reno 10x Zoom that will likely move the needle for the brand. Its triple camera system rivals the Huawei P30 Pro in reach and versatility, and a unique shark-fin popup selfie camera affords it a full-screen AMOLED display. The top-shelf hardware and large battery at a price that's competitive makes a strong case as well.
The Oppo Reno 10x Zoom is available in Ocean Green or Jet Black 6GB RAM/ 128GB storage and 8GB RAM/ 256GB storage variants on Flipkart and Amazon, and retails for Rs 39,990/ Rs 49,990 with no-cost EMIs/ additional exchange offers. There's also a standard Oppo Reno (Rs 32,990) which shares the same main camera but lacks the 10x zoom, and is also smaller and less powerful.
Oppo Reno 10x Zoom—Pros
Classy Design: Without a doubt, the Oppo Reno 10x Zoom is one of the classiest phones to come out thus far this year. With its smooth flowing curves and rounded corners and that particularly stunning Green Ocean color variant, the fit and finish on the Oppo Reno 10x Zoom is excellent and right up there with the premium flagships.
With the front sporting a notch-free display and super-slim bezels, the Oppo Reno 10x Zoom looks a lot like the OnePlus 7 Pro, but what sets it apart is the shark-fin-style popup camera module. The larger size of the module (as compared to a regular pop-up shooter) allows Oppo to cram in the earpiece and a selfie flash alongside the front camera and a dual LED flash for the rear cameras. Oppo claims the apparatus takes 0.8 seconds to deploy—it certainly feels fast enough while using for face unlock or selfies, though you can use the equally snappy second-generation in-screen fingerprint sensor.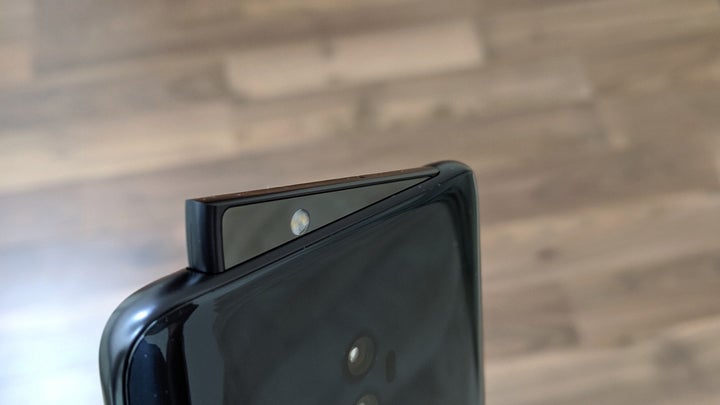 Like popup modules, it safeguards itself by automatically retracting should it detect a fall. However, the shark fin does gather dust and thanks to the moving parts, this shark can't take a dip in water! There's no wireless charging either, which is a bit of a shame given that it's targeting the premium end.
What's interesting is that while the Reno 10x Zoom uses a prism-periscope setup to bend light 90-degrees onto the camera's sensor (much like the Huawei P30 Pro) to achieve its optical zoom, so there's no camera bump on the rear and the lenses are flush with the body. There's a slight protrusion to ensure that the camera lenses don't get scratched when the phone is lying on a flat surface but the result is that the phone rocks to and fro when placed rear down on a table. The smoothened rear and no bump come at a cost - at 215 grams and 9.3mm thick, the phone has a bulky heft that is impossible to ignore.
Cameras: From the name and the marketing blitz around the launch, you'd think the phone packs in a native 10x optical zoom, but it doesn't. In reality, it's a 5x zoom, not unlike the Huawei P30 Pro, and the rest is done by a combination of software and optics, or what is called hybrid zoom. As for the hardware, there's a 48MP f/1.7 Sony IMX 586 primary camera that takes pixel-binned 12MP shots, a 13MP f/3.0 telephoto lens and an 8MP f/2.2 ultra-wide-angle shooter, both with optical stabilisation.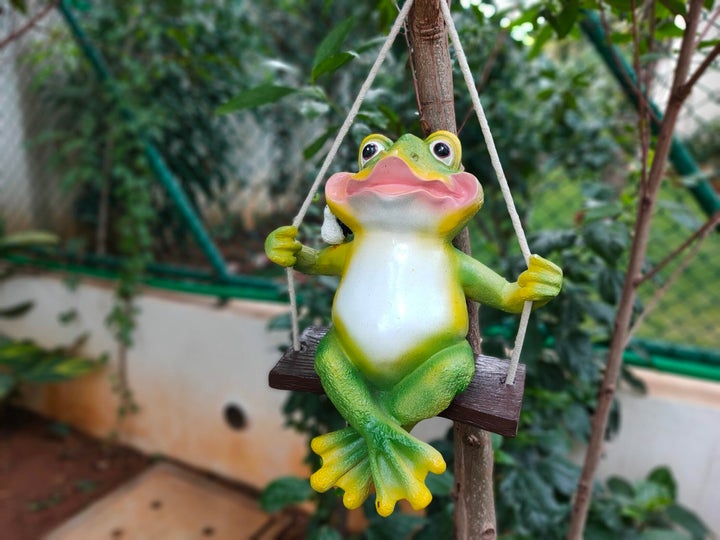 The results are spectacular, particularly in daylight. Detail levels are high, colors accurate and the HDR mode brings out excellent details in the shadows. Ultra-wide images are pleasing, as are selfies from the 16MP front camera. Thanks to the wide aperture and pixel-binning magic, the low-light images are good as well, plus there's a dedicated night mode to let in more light.
Zoomed in images are good up to 10x, but beyond that the quality goes down drastically. In comparison, the Huawei P30 Pro edges ahead slightly in low-light images and at zoom levels above 10x, but you're paying a lot more for the Huawei as well.
Display: Without a notch of any sort, the full fascia of the Reno 10x Zoom is dominated by a 6.6-inch full HD+ AMOLED display. The effect is rather striking, with games and videos getting super immersive. The colors are vibrant and contrast levels are excellent, and there's Widevine L1 DRM support for streaming high-definition videos from Netflix and others. Compared to the OnePlus 7 Pro, the panel has a standard 60Hz refresh rate, but given that the base variant of the Oppo Reno 10x Zoom undercuts the OnePlus 7 Pro by Rs 10,000 despite its zoom capabilities, this decision makes sense.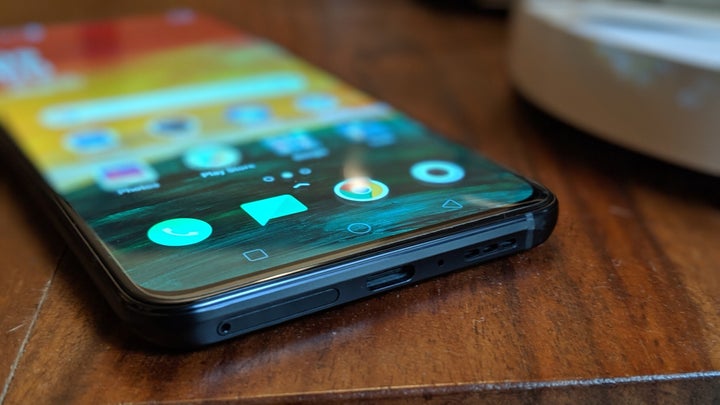 Hardware: Oppo devices have for the longest time used mid-range chips, so it's a pleasant surprise that the Oppo Reno 10x Zoom goes toe-to-toe with the OnePlus 7 Pro in its use of the Snapdragon 855 chip with 6GB or 8GB of RAM and 128GB/256GB of storage (expandable via microSD), another design win. As can be expected, ColorOS 6 flies on the phone though we have our misgivings about the amount of bloatware on the device. The 4065mAh battery is good for a full day of heavy use and charges fully from empty in a little under 90 minutes using the 20W fast charger.
Oppo Reno 10x Zoom—Cons
Bloatware: While ColorOS is vastly improved from its iOS-clone origins and bases itself on Android 9.0 Pie, there's a ton of bloatware to contend with, right from Lock Screen info-nuggets to a bunch of pre-installed apps and even a parallel app store!
Obvious misses: Wireless charging, no waterproofing and no headphone jack. Heavy and a tad bulky.